We here at S|A enjoy a good odd ball story or review on occasion. That's why I'd like to present to you a review, of Newegg's mid-size shipping box. I'd also like you to know, that it's my veritable and most esteemed hope that you are both technically satisfied and proportionally entertained by this review of a cardboard box.
Let's dive in! … by breaking down the hi-tech specs of this mass produced and rather irrelevant single-walled container. Our measurements, taken in S|A's orbital review lab, shows this most fibrous carton as 16 inches long, 8 1/2 inches wide, and 6 1/4 inches deep. The exterior of the box appears to be in rather good condition. The lack of crushed edges stands as a testament to how well Newegg's design choices allowed this electronic components container to withstand UPS's torture *ahem* shipping methods.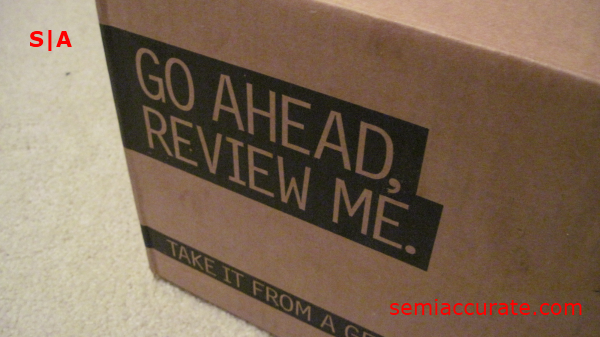 One of the major features of Newegg's current packaging style is the way in which they managed to personalize their packaging to the market they serve.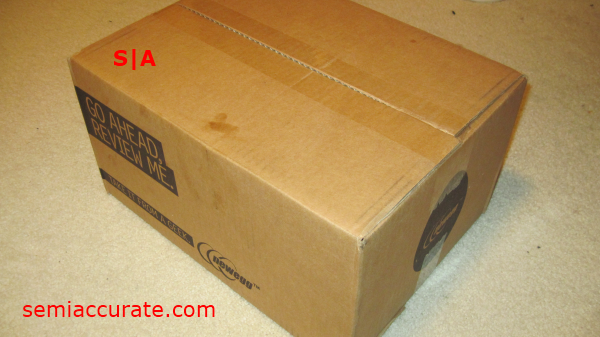 When you buy something off of Amazon they'll ship it to you in cardboard box with a few of their logo's on the sides. It's not much to see, and it's really not that much to talk about, it just says Amazon.
Newegg used to send out their wares in similar boxes, but recently introduced this new more entertaining style, of shipping box.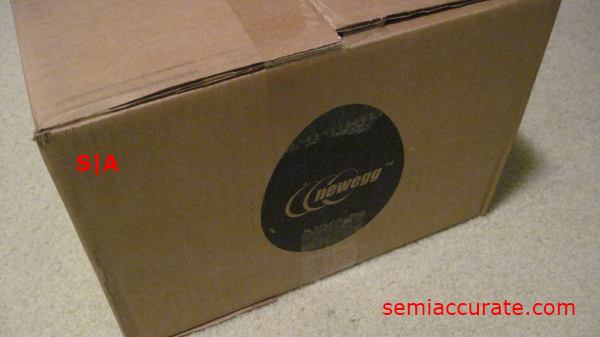 The place where Newegg really differentiates itself from the rest of the online shopping pack is with these little slogans. "Go ahead, Review Me." they say. Messages like these are really beneficial to Newegg's image as an online retailer, and as an innovator in box design. *ahem* The more reviews of a product your customers submit, the more likely potential buyers are to be swayed by the wisdom of past purchasers. You might call it a snow ball effect.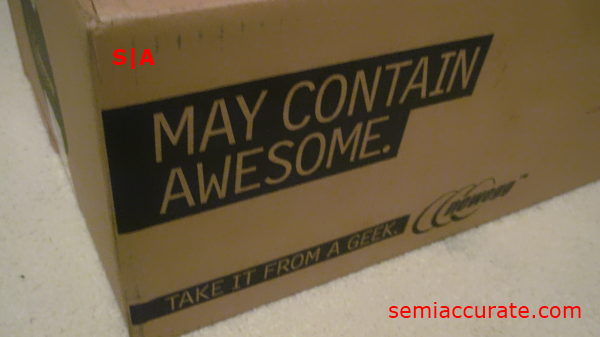 As we prepare to slice open the top on this shipping box one more eye catching slogan presents itself. "May Contain Awesome." I'm going to assume that many of you, much like myself, enjoyed a slight smirk  as you read these words. Admittedly, it's pretty silly and rather meaningless, but it does have the effect of reinforcing your positive thoughts on your recent spending spree.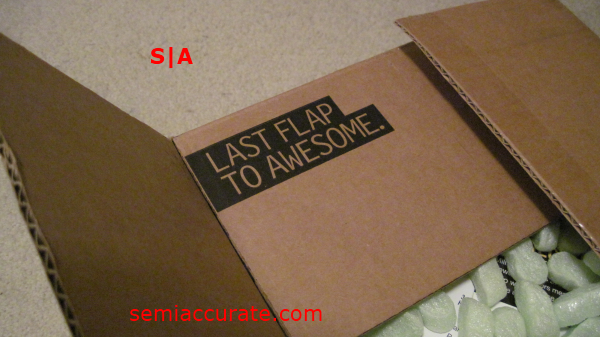 In a well received attempt to build enthusiasm for un-boxing, Newegg added this slogan to one of the inside flaps on it's shipping box. "Last Flap to Awesome", need anyone say more? But enough of these scheme's let's get into to the pulp and packing peanuts.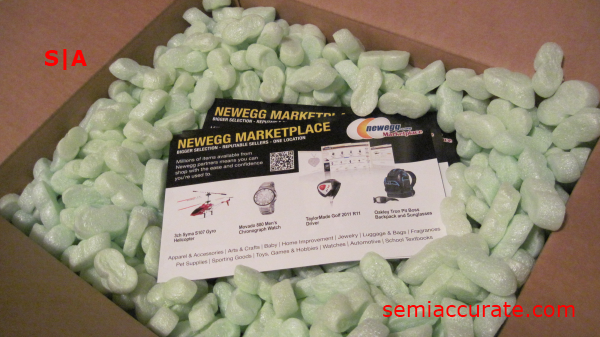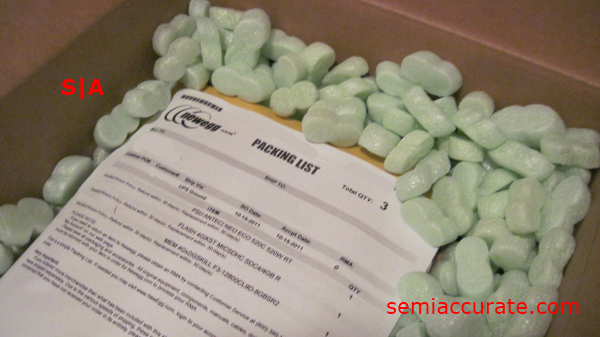 This layer of light green packing peanuts acts as a spacer between the top of the box and its contents. just under this layer I found a set of promotional flyers for things on Newegg. Another layer under that was Newegg's, "Packing List" which is essentially an invoice, but also acts as a package manifest.
The RAM and freebie SD card that I ordered were placed inside a rather sturdy envelope. The envelope was labeled in red permanent marker, "2". I assume this was because it was the second of two sub-packages inside this shipping box, but it could also be because two is Newegg's favorite number. You'll have to call and ask their customer service rep to find out.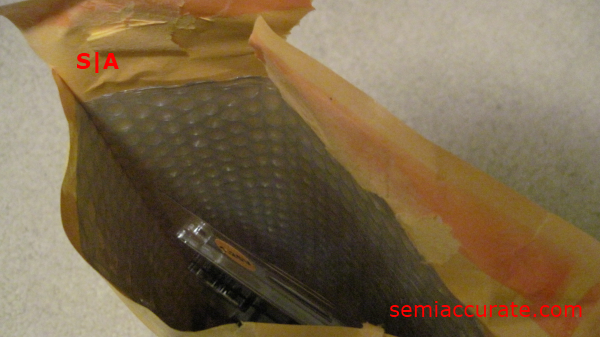 The envelope was lined with everyone's favorite kind of protective packaging, bubble wrap. Holding the envelope actually gives you the impression that the objects inside of it are rather well protected. But at the same time it could easily be punctured by a stray, and poorly packaged fender, from one conveyor belt over while making it's way through the UPS distribution center.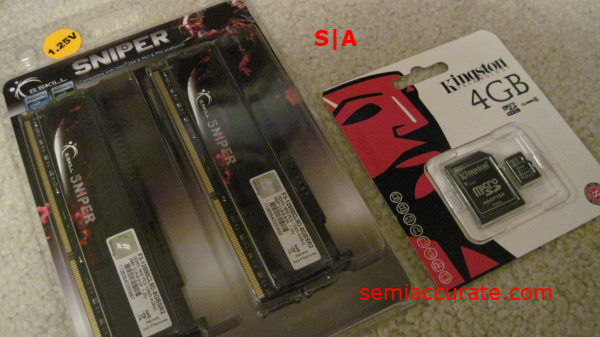 My RAM and SD card look to be in excellent condition. A tip of the hat goes out to Newegg for that.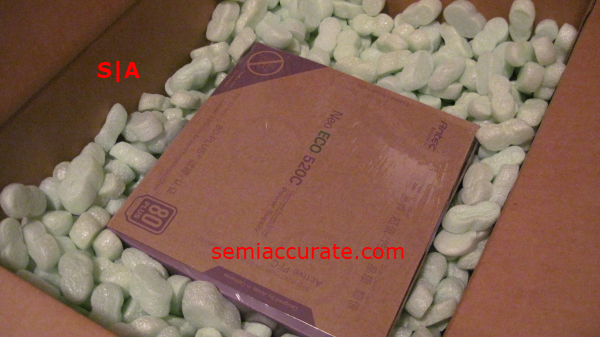 After the envelope was removed I could see the largest item in this box, a new power supply. The plastic wrap on the power supply box didn't have any signs of damage and at the thinnest there was a one inch gap between the side of the shipping box and the power supply.
All in all I'd say Newegg's done well with their shipping boxes. The slogans can make you crack a smile, and the valuable components are pretty well protected from the dangers of shipping. The packing peanuts seem effective enough, as does the envelope within a box method of component segregation. But I just can help feeling slightly bad that when I tore the last flap to awesome from it's resting place I wasn't greeted with some kind of prompt, like, "Welcome to Awesome!1!!1", but I suppose there's always next time.
Newegg's shipping box, you'll find none the boxy-er… or something along those lines…S|A
The following two tabs change content below.
Thomas Ryan is a freelance technology writer and photographer from Seattle, living in Austin. You can also find his work on SemiAccurate and PCWorld. He has a BA in Geography from the University of Washington with a minor in Urban Design and Planning and specializes in geospatial data science. If you have a hardware performance question or an interesting data set Thomas has you covered.
Latest posts by Thomas Ryan (see all)