Word has just come in from everyone's favorite market research group, Jon Peddie Research, that Q4 2011 was not a particularly inspiring quarter for graphics shipments. Q4 was seasonally down compared to Q3, in step with the prior years, and up slightly compared to 2010. The seasonal drop this year was particularly heavy coming in at 10.4 percent, the largest Q3 to Q4 drop since 2008.
The ripples of the flooding in Thailand continue to impact shipments and JPR also cites "general economic malaise" for the abnormally big hit graphics shipments took. An interesting data point in JPR's report is Intel's "double-digit" gain in desktop EGP (Read: Sandybridge) shipments. This is counteracted by a "double-digit" decline in Intel's notebook EGP shipments. Intel ended the quarter with a 12.3 percent drop in shipments, above the 10.4 percent average decline. Now it's hard to pin point exactly what is going on here, but it seems that Intel's market share losses in the notebook segment are being covered up by its gains in the desktop segment, to some extent.
AMD did well with a 44.8 percent gain in HPU (Read: APU) shipments on the desktop, and even some desktop IGP growth. It looks like AMD is finally supplying OEMs with decent quantities of desktop Llano chips. In light of this gain AMD's graphics shipments only declined 3.4 percent quarter over quarter. This is significantly under the 10.4 percent average shipment decline and is likely due to a 7.8 percent market share gain from AMD's position in Q3. AMD gained 1.8 percent in overall market share in the last quarter, apparently due to its record HPU shipments.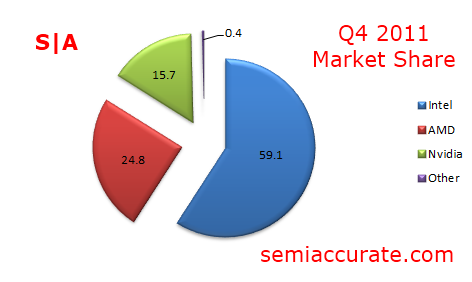 One dark spot in the quarter was a 12 percent decline in discrete GPU sales quarter to quarter. This is down 3.5 percent compared to the Q4 2010. The decline could be linked to the delay of AMD's discrete GPU refresh which usually happens near the beginning of the quarter, but only began to emerge at the very end of Q4 this year. This delay in refresh could also be responsible, at least in part, for Nvidia's 3.7 percent market share gain in desktop discrete segment.
The funniest part of JPR's report has to be its notes on Nvidia's IGP sales, on chipsets. As many of you are probably well aware Nvidia has pulled out of the IGP market; this has caused a major loss of overall market share for the company, from 22.5 percent market share in 2010, to 15.7 percent market share last quarter. JPR points out that, "Ironically, Nvidia enjoyed some serendipitous sales of IGPs in Q4 due to some older AMD CPU sales in Asia."
So what we have here is a market in flux. IGPs are dying, low end discrete is dying, and EGP/HPU/APU/chips with graphics units on them are quickly taking over the market. Times are a-changing, and even a heavy seasonal shipments hit can't impact that. What was that line that AMD was plastering on its marketing materials a couple of years ago? Oh yeah, The Future is Fusion. Well, it looks like they were right, even if they didn't get the wider market share gains they were hoping for.S|A
The following two tabs change content below.
Thomas Ryan is a freelance technology writer and photographer from Seattle, living in Austin. You can also find his work on SemiAccurate and PCWorld. He has a BA in Geography from the University of Washington with a minor in Urban Design and Planning and specializes in geospatial data science. If you have a hardware performance question or an interesting data set Thomas has you covered.
Latest posts by Thomas Ryan (see all)