About two weeks ago Intel sent us a review sample of Acer's Iconia W510.  Unlike traditional laptops and Ultrabooks, this device consists of two, separable parts; the first part is the 10.1" tablet body which contains all of the functional software and hardware that the device needs to operate. And the second part is the docking station which offers a keyboard, a touch pad, a single USB port, and an integrated battery.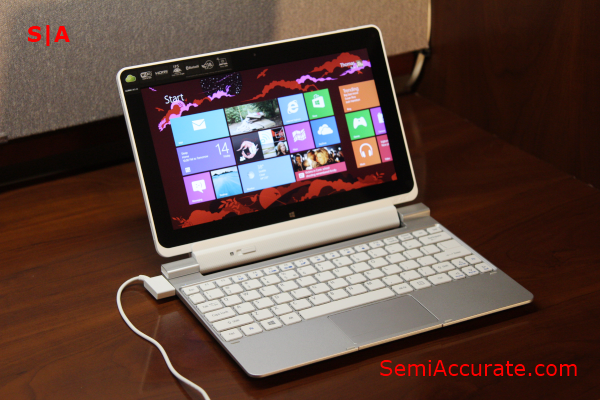 Like the netbooks of old this convertible tablet has a number of drawbacks that are in large part due to its 10.1" form factor. First off the keyboard dock is pretty under whelming. The keys on the keyboard are very small, so small in fact that it's pretty easy to make the argument that W510 is a device that is better suited for children, rather than adults. Another issue is the lack of ports that this system has to offer. A single full size USB port is all that the docking station manages to add to the mix. This is in addition to the microSD, microUSB, microHDMI, and analog audio ports that are located on the tablet itself.
Compare this selection of ports to the Lenovo laptop sitting next to me which has four full-size USB ports, a full-size HDMI port, a VGA port, an Ethernet port, an SD card reader, and an audio port. The advantages of a traditional laptop over these new convertible tablets in-terms of port selection are clear.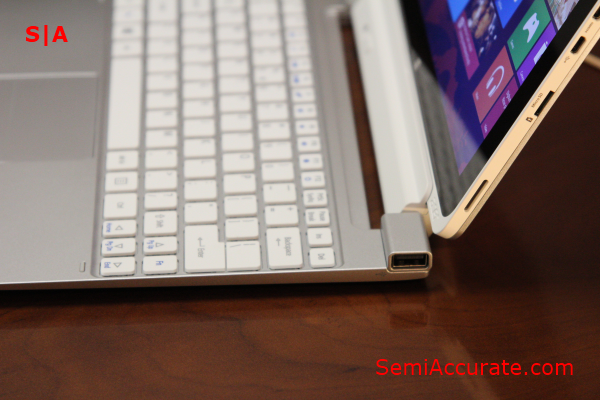 Moving to speaker quality I'd like to compliment Acer for managing to pack such loud and good quality speakers into such as small form factor. Admittedly, the speakers integrated into each side of the W510 are certainly nothing spectacular, but they are at least on par with what you will find on a laptop or phone in the same price category.
One of the nicest pieces of hardware on the W510 is the IPS screen. Although it has a native resolution of just 1366 by 768, which is small by tablet standards, the level of brightness it produces at its highest setting is very reasonable. Plus the clarity of photos and movies is markedly better than what you would find on a standard laptop display.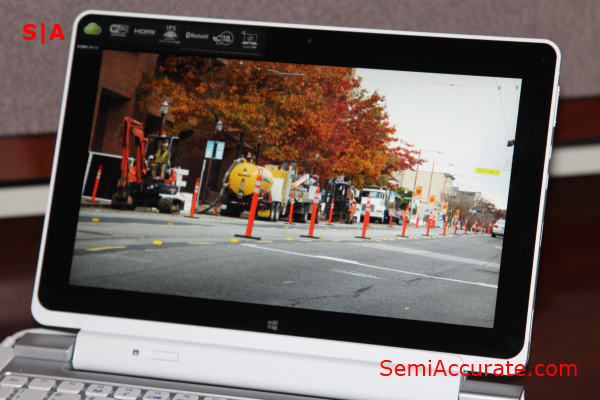 Compared to ARM-based tablets the Iconia W510 has one very apparent advantage, raw performance. The Atom Z2760 "Clovertrail" system-on-a-chip powers this device. It brings two 1.8 Ghz cores and four threads, thanks to hyper-threading, to bear on whatever app you're running at the moment. This gives the W510 a pretty significant performance advantage over its ARM based competition, like Nvidia's quickly ageing Tegra 3 chip. Additionally, Intel has dedicated some transistors on this chip for the express purpose of working with Windows 8 to reduce power consumption. We did some power testing in an earlier article and you can find our results here.
In the meantime it's worth noting that Acer quotes an 18 hour battery life figure for the tablet and dock combo. As it turns out, the docking station for the W510 has a battery that is equal in size to the battery found within the tablet, and it acts as a quick way to double the battery life of the device. Now 18 hours is an almost unbelievably long battery life figure to quote, especially coming from a traditional computer OEM. Having used the tablet for the better part of two weeks now, I feel pretty comfortable saying that while the W510 doesn't live up to Acer's claims of 18 hours battery life, it's certainly capable of going a solid eight to ten hours without plugging in.
One of my least favorite things about this tablet is the amount of time required to charge the device. It took the device up to five hours to charge from near empty battery levels, which is far too long in my book. A good device should be able to go from near zero to a full charge within one to three hours. Unfortunately, that is not a standard that the W510 can meet.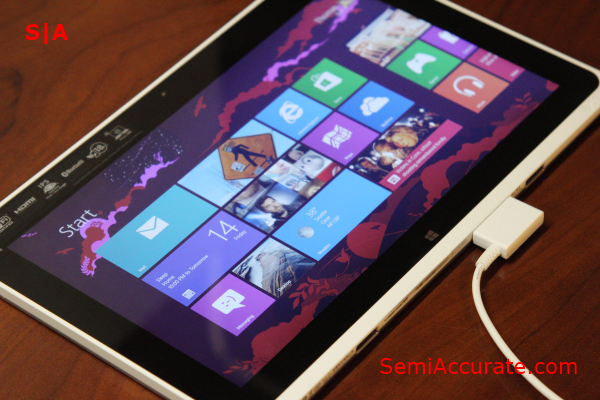 The built in cameras are also not particularly good on the W510. The eight megapixel rear facing camera produced images that looked grainy even on the device's less than one megapixel screen. The front facing camera managed to lower the bar even more by producing images that looked like they were from a late nineties web cam. While this kind of a camera experience isn't unusual on competitive tablets, the W510's cameras certainly doesn't allow it to stand out from the rest of the pack.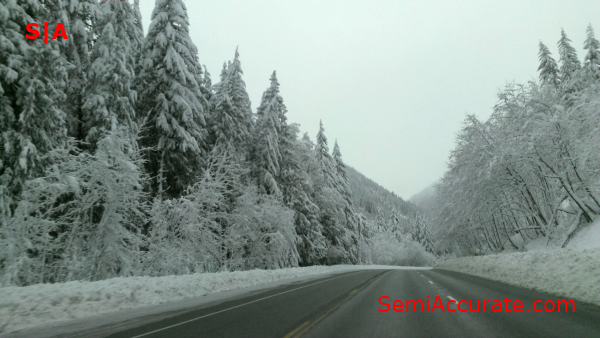 Without delving too deeply into the software side of the equation, it's worth noting that this Iconia tablet provides a very smooth and fluid Windows 8 experience. The touch screen really makes Windows 8 come alive, and after a few days of use I found myself absentmindedly trying to poke icons on non-touch screen monitors. The only place that I encountered any system lag was when I was using the Fresh Paint application to quickly draw a large brush width across a wide portion of the screen. But other than that one little slow down I found W510 to be well suited the Windows 8 operating system.
Acer has seen fit to integrate its own control panel like application into this device. This app allows you to quickly adjust a few key settings like WiFi and screen brightness levels, in addition to an optional cloud-based document back-up service. While these features are useful in their own right; it's hard to see much of a place for them living alongside Windows 8's cloud centric apps and simple charms based functionality. Acer's app just feels redundant inside of the larger Windows 8 experience.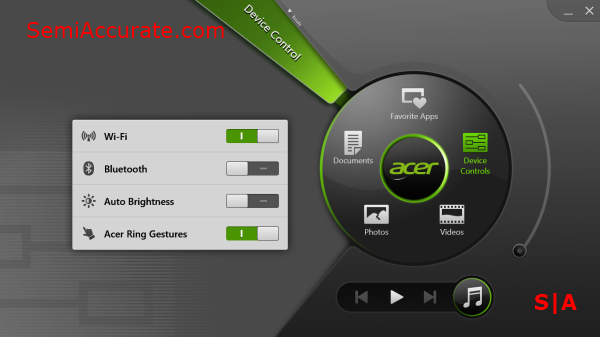 For a long time Intel's drivers have been the Achilles heel of their new platforms; and the drivers for this system are no exception to that trend. After leaving the tablet alone in my kitchen for a few hours I came back only to find that it had blue screened trying to enter a low power state. I also noticed graphical corruption inside of the Fresh Paint app, when I brought the system out of hibernation. Admittedly, these aren't show stopping bugs, but they certainly aren't a welcome addition to the Windows 8 experience either.
Overall the Iconia W510 is a prime example of the Windows 8 convertible experience. It's difficult for me to move past the fact that it's essentially an overbuilt netbook. I really wish that Acer had taken the time to come up with a more attractive looking design for this tablet. The whole sliver, white, and black color scheme has been a bit over done lately. But the biggest issue that I have with this system is how little Acer managed to leverage the options that a discrete docking station gave them. A single USB port is pretty pitiful considering how much space they had to work with. But more to the point, I honestly prefer to use the on-screen keyboard over the keyboard on the docking station purely because it's easier for me to type with the larger keys. How cursed I am to have big fingers.
This tablet fills the role that it was designed for, but it leaves a lot to be desired considering its premium price tag, slow battery charging rate, and poorly executed docking station. The saving graces of this tablet are its long battery life, good quality display, and relatively speedy Atom processor. It's a Surface RT killer, and nothing more.S|A
The following two tabs change content below.
Thomas Ryan is a freelance technology writer and photographer from Seattle, living in Austin. You can also find his work on SemiAccurate and PCWorld. He has a BA in Geography from the University of Washington with a minor in Urban Design and Planning and specializes in geospatial data science. If you have a hardware performance question or an interesting data set Thomas has you covered.
Latest posts by Thomas Ryan (see all)