SKHynix had lots and lots of memory goodies at IDF including some vertical/3D NAND flash, LPDDR3, and HBM modules. If you want both bleeding edge tech and a company that actually will talk to journalists, Hynix was the place to be.
The best of the bunch was of course the 3D NAND flash, SemiAccurate covered the tech behind it here. Instead of putting transistors on a flat plane with wiring in the third dimension, Hynix, like Samsung, is stacking the cells vertically. Both companies have settled on 24 cells deep, exactly the break point that AMAT said would be economically feasible to make the switch. If you haven't read up on how fundamentally different this tech is from standard 2D cells, it is worth it to do so for such a sea change. It is pretty mind bending stuff.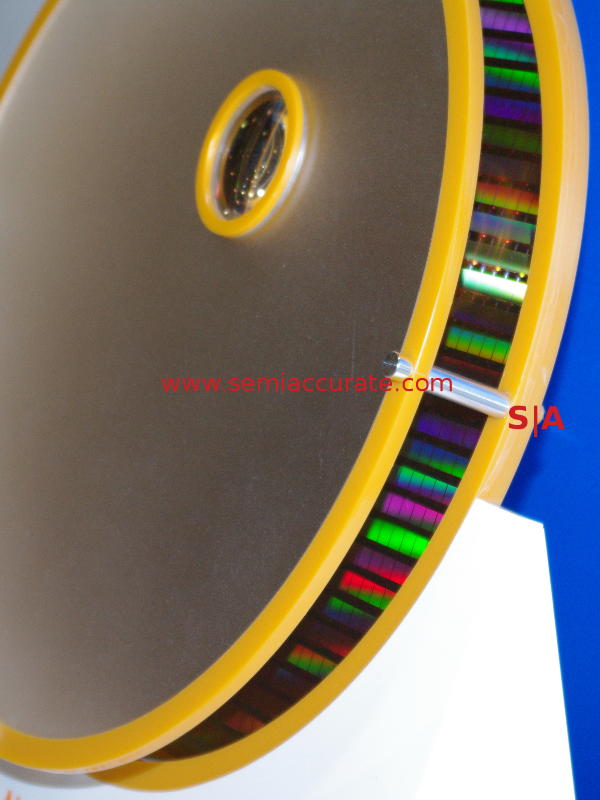 3D means it is time to go all artsy on you
Right next to the 3D NAND was a wafer of 8Gb LPDDR3 chips, another big step forward in mobile memory. By itself LPDDR3 isn't all that exciting but the things you can make out of it are, and combined with bleeding edge flash you have some interesting possibilities. Like what you may wonder? Take a look.

Mobile formats by the 1.1667 dozen
LPDDR3 PoP modules from 16-32Gb aren't exactly something to shout about but with the Apple A7 going 64-bit there are some very interesting possibilities, especially with ARM A57s following in short order. Once Android makes the 64-bit leap this will matter a lot. That said no 64-bit WinCE/WART as a savior jokes from the peanut gallery, those are too easy. UFS drives up to 128GB are also interesting as is 8-64GB eMMC 5.0 devices but slightly faster and slightly bigger isn't going to change the world.
The top right box is the interesting one, labeled Ci-MCP. If you are wondering Ci-MCP is MCL/TLC NAND, a NAND controller, mobile DDRx, and possibly some SLC NAND too for storage and speed. Think along the lines of memory and SSD in one PoP package with the JEDEC seal of freshness and love stamped on each one. Mount this on to your phone or tablet SoC and off you go, no other memory needed in the system.
As you can see the options range from 8Gb of LPDDR2 plus 8GB of eMMC to 16Gb of LPDDR2 with 32GB of eMMC. New to the market is an 8Gb LPDDR3 with 8GB of eMMC package but you can pretty well assume this is just the tip of the LPDDR3 iceberg. Given the density differences between LPDDR3 and LPDDR2 it shouldn't be long before the DRAM side takes off in capacity, Google willing. The flash side is just waiting the 3D NAND to hit volume production for much bigger numbers.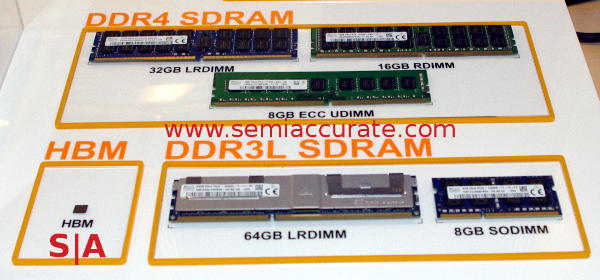 HBM with DDR4 DIMMs included for size
If you thought that was interesting you haven't seen the good stuff. OK, 3D NAND is good stuff but if that wasn't there the HBM memory module pictured here would be headline worthy good stuff. Yes there was working HBM memory on the floor of IDF, yes it is real, yes it looks like a little grey blob. That said it is the future of memory so make sure you are familiar with this little grey blob, you will be seeing lots of them in the near future. The 8-32GB R/LR/ECC DDR4 DIMMs were kind of a let down after HBM but the "we can't say it is Haswell-EP/Grantely" box running right beside it was sure happy to have some.
Could it get better? Sure it could with TSV based DDR3 LRDIMMs shown off right above it. Since you can't actually see anything but a DDR3 DIMM with a standard heat spreader we won't post any pictures but Hynix was showing off functional TSV based 4-high stacked DDR3 in a functioning 64GB DDR3 LRDIMM. Don't expect any volume production until DDR4 comes around, that would be when the "mystery box that we can't talk about" shows up about this time next year. It will bring lots of goodies with it and we, for one, can't wait.S|A
Have you signed up for our newsletter yet?
Did you know that you can access all our past subscription-only articles with a simple Student Membership for 100 USD per year? If you want in-depth analysis and exclusive exclusives, we don't make the news, we just report it so there is no guarantee when exclusives are added to the Professional level but that's where you'll find the deep dive analysis.
The following two tabs change content below.
Charlie Demerjian is the founder of Stone Arch Networking Services and SemiAccurate.com. SemiAccurate.com is a technology news site; addressing hardware design, software selection, customization, securing and maintenance, with over one million views per month. He is a technologist and analyst specializing in semiconductors, system and network architecture. As head writer of SemiAccurate.com, he regularly advises writers, analysts, and industry executives on technical matters and long lead industry trends. Charlie is also available through
Guidepoint
and
Mosaic.
FullyAccurate
Latest posts by Charlie Demerjian (see all)