A computer screen is usually not something you'd consider as something you'd want to show off to your mates, well at least that was the case until today when Samsung (005930:Korea SE) unveiled its SyncMaster C27A750 screen with UWB connectivity. Now we're not quite sure why you'd want or need a wireless 27-inch desktop display, but we don't really care, as this is one gorgeous piece of engineering.
Ok, admittedly the SyncMaster C27A750 isn't the perfect screen as despite being a 27-incher, it's crippled by its "Full HD" resolution at 1920×1080 pixels and this is ultimately its weakest point, although it's at least LED backlit even if it's still a TN panel. To connect the display to your computer you need to use a supplied USB dongle, which is another weakness, as you'll be relying on whatever graphics solution Samsung has fitted to the UWB (Ultra Wide Band) dongle. But this is where the bad things more or less end and the good things start, with the small exception that we don't understand who decided to include a D-sub connector.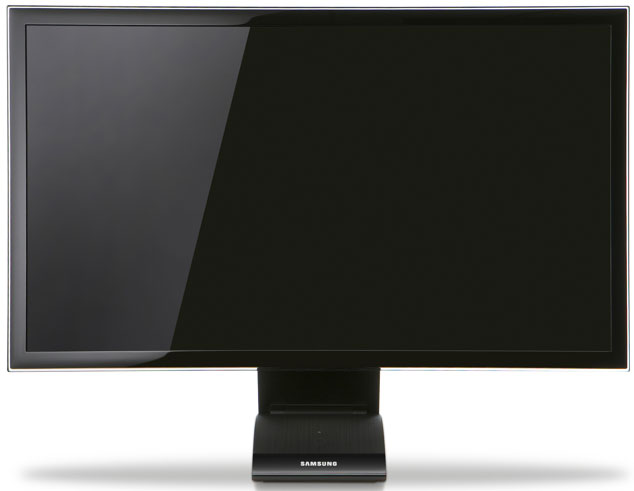 The SyncMaster C27A750 does at least come with an HDMI port, so it's possible to hook up a computer via a wired interface. We're sort of missing DisplayPort connectivity, something that should've been included rather than the VGA port. Samsung has also cleverly added four USB ports to the SyncMaster C27A750, two of which are USB 2.0 and of which are USB 3.0. It's also possible to charge USB devices directly from the screen which could end up being a handy feature.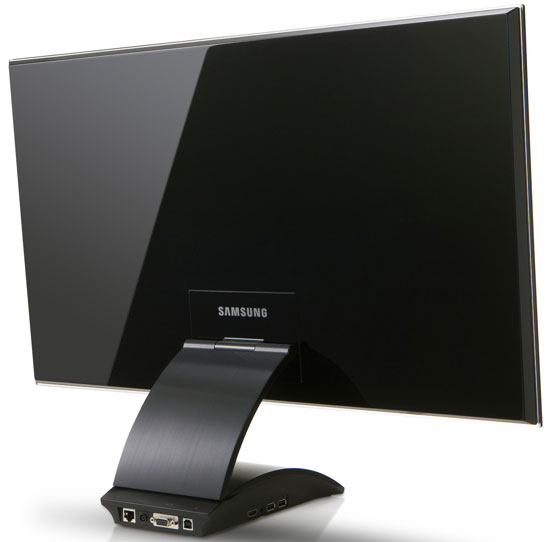 There's also an Ethernet port around the rear which acts as a USB to Ethernet adapter, a feature that we didn't get at first. However, it turns out that the UWB standard Samsung uses is Wireless USB and as such signals from devices connected to the display can be sent wirelessly to the notebook and vice versa. Finally there's a 3.5mm audio jack which suggests that audio can also be sent over the Wireless USB connection.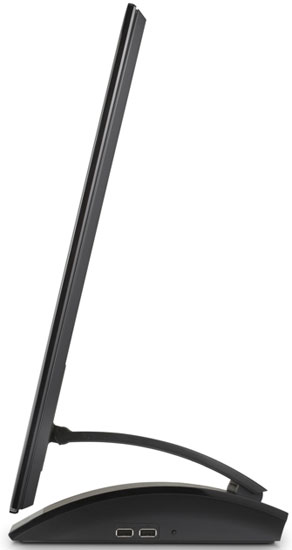 But just look at that design, Samsung has come up with some pretty sexy designs in the past, but the SyncMaster C27A750 really is something out of the ordinary. Considering that we're looking at a 27-inch screen, it appears to be amazingly thin although Samsung doesn't actually specify how thin the panel is. The arm connected to the stand allows for a decent degree of height adjustment and angling of the display. All of the controls are built into the base as well and are touch sensitive buttons just because. There's even a light-up Samsung logo located here which isn't going to be the least bit annoying either. Even the USB dongle is designed to look good, something that's usually an oversight in products like this.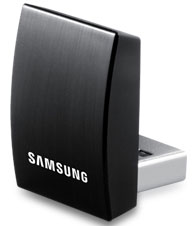 One thing is very clear though, it's not going to come cheap and Samsung Germany is listing the MSRP at a massive €599 ($840), although online retailers are already listing it for €100 less at around €490 ($687), but this is still a ridiculous price to pay for a 1920×1080 TN based screen, despite the cool design and all the nice toys it comes with.S|A
The following two tabs change content below.
Latest posts by Lars-Göran Nilsson (see all)