The launch of Intel's new Sandy Bridge platform lost its momentum thanks to Intel's chipset bug, but with that behind us, it's time to take a look at what Intel's new mobile platform has to offer. Today we'll be looking at Intel's Core i5-2540M, the top i5 processor and the second fastest dual core CPU in Intel's new line-up.
As of today the only notebooks we're aware that are currently on sale with the Core i5-2540M are the ThinkPad T420/s and T520 from Lenovo and HP's dv6t and EliteBook 8560p as the CPU alone has a list price from Intel of $266 which makes it a fairly expensive model. The most popular Sandy Bridge processor options for Intel's notebook partners to date have been the Core i3-2310 and i5-2410M which are more affordable model that are only available to Intel's OEM partners. They're also slightly feature stripped; even the i5-2410M doesn't compare to Intel's so called retail models.
The most noticeable difference between the retail and OEM versions appear to be two steps lower Turbo in dual core mode and one step lower in single core mode, 100MHz lower top graphics frequency and lack of VT-d, AES, TXT and vPro support. Most of these features shouldn't matter too much to your average consumer, although we don't quite understand why Intel would disable AES since you'd think Intel would want everyone to have access to hardware accelerated encryption, right?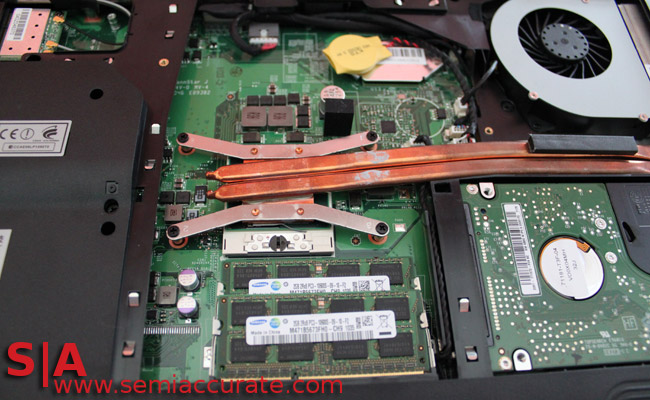 Moving on to the review part, the Intel supplied MSI FR720 17.3-inch notebook didn't exactly wow us in terms of build quality. In all fairness to MSI, it was said to be a pre-production model, but it didn't instil us with a lot of confidence in terms of reliability. We ran most of the tests we performed on the desktop CPUs that we reviewed back in January, although we added a run of Mobile Mark 2007's DVD battery rundown test as well.
It's worth keeping in mind that the Core i5-2540M is a 35W dual core processor with a base clock speed of 2.6GHz with only 3MB L3 cache, as we're getting to the stage where mobile processors really can keep up with their desktop counterparts. Now, we have to apologize here for lack of something similar to compare with, so you'll simply have to compare the test results with that of the desktop models.
Let's start with the most important aspect of a notebook, battery life. There's no way a 17.3-inch notebook is going to be power efficient, although the MSI FR720 only featured Intel graphics so there was no extra power draw from a discrete graphics card. That said, for such a large notebook we were disappointed to see a comparably weak 4400mAh, 49Whr battery pack which further indicates that this is not a machine intended for the road warrior.
Mobile Mark 2007 was also kicking up a fuss about something or the other and didn't want to run the productivity test and as such we're left with the DVD playback test. This loops a movie until the battery runs down and it's a decent indicator as to how good a notebook would be as a portable DVD player. The FR720 managed 191 minutes, or 3h and 11 minutes, hardly an earth shattering performance. In all fairness, this is more down to MSI's configuration and in part to the larger screen which would use more power and other manufacturers have quoted much long battery life for their models with higher capacity batteries.
The following two tabs change content below.
Latest posts by Lars-Göran Nilsson (see all)
Pages:
1
2