It looks like Bulldozer is close, really close, and the 990FX boards for it look are more or less done. That said, here is a look at the Gigabyte GA-990FXA-UD7.
What you are seeing is the first AMD based UD7 board, the high end line from Gigabyte. It has an AMD 990FX chipset, AM3+ socket, and 6 PCIe 16x slots. To top it off, when was the last time you saw a board with both 4-way CrossfireX and 4-way SLI? It looks like the Nvidia exclusive lockout licenses just went poof. Isn't that sad?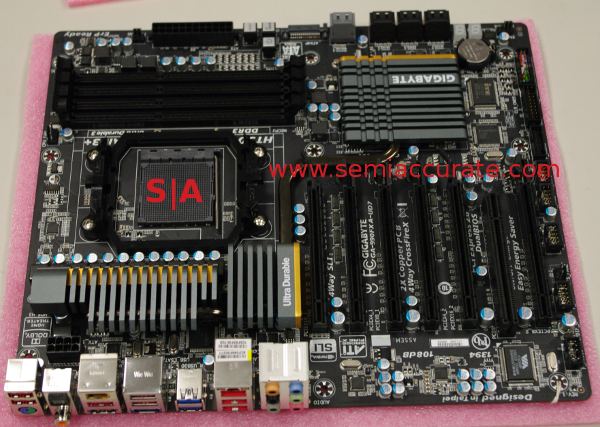 Gigabyte GA-990FXA-UD7
If 4 GPUs isn't enough, the UD7 has six PCIe slots, although all do not have the full bandwidth. One chrome-plated-nothing to the first person that does 3-way crossfire AND 3-way SLI on this board at the same time. Yay stupid hardware tricks. Should that not be enough, there is a PCI slot to add something really old to the mix. Depending on where Bulldozer ends up for performance, this could be the basis of a killer gaming system.
On top of that, there are the usual Gigabyte features, 2x copper PCB, dual BIOS, and lots of USB3 ports. The USB3 ports are all 3x power, and coloured red for USB2, blue for USB3. Should you want more, the board has firewire, eSATA, optical audio, and all the usual features.
The last little bit is quite cool, a little connector between just to the left of the SATA ports. It looks like a SATA power plug because it is a SATA power plug. You put an extra SATA power cable in to it, and it feeds power to the GPUs/slots to keep overclocked or power hungry boards nicely fed. The GA-990FXA-UD7 looks like a very interesting enthusiast board if Bulldozer comes through. We will know soon.S|A
The following two tabs change content below.
Charlie Demerjian is the founder of Stone Arch Networking Services and SemiAccurate.com. SemiAccurate.com is a technology news site; addressing hardware design, software selection, customization, securing and maintenance, with over one million views per month. He is a technologist and analyst specializing in semiconductors, system and network architecture. As head writer of SemiAccurate.com, he regularly advises writers, analysts, and industry executives on technical matters and long lead industry trends. Charlie is also available through
Guidepoint
and
Mosaic.
FullyAccurate
Latest posts by Charlie Demerjian (see all)