Ingenic Semiconductor is the manufacturer of the processor that powers the first sub-100 tablet that runs Android 4.0 according to a press release from MIPS and Ingenic.
We have previously described products and visions from Ingenic Semiconductor and this has now panned out in a product that retails for less than $100, which is a new low price for a tablet that is powered by a 1 GHz processor.
According to Andy Rubin, senior vice president of mobile at Google, "I'm thrilled to see the entrance of MIPS-Based Android 4.0 tablets into the market. Low cost, high performance tablets are a big win for mobile consumers and a strong illustration of how Android's openness drives innovation and competition for the benefit of consumers around the world."
The new Android 4.0 tablet is available in China and online through Ainol Electronics Co., Ltd. It will be available in the United States and other geographies within the next several months under brands from companies including Leader International Inc. and OMG Electronics Ltd.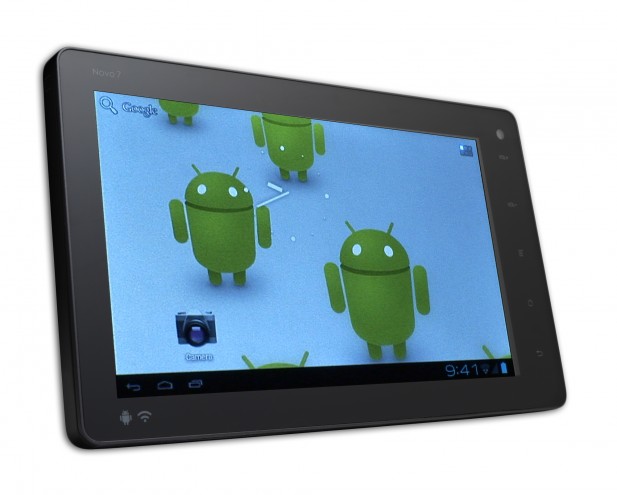 The new tablet is available with a 7" capacitive multi-touch screen. 8" and 9" form factors will be available soon, according to their press release. All versions include support for WiFi 802.11 b/g/n, USB 2.0, HDMI 1.3 and microSD, as well as 3D graphics with the Vivante GC860 GPU, 1080p video decoding and dual front/rear cameras. The XBurst processor's power-efficient architecture provides extended battery life—the 7" tablet draws less than 400mA during active web browsing.
"We are pleased to join with MIPS to announce these breakthrough high-performance, low-power, low-cost Android 4.0 tablets. Combining the elegance of the MIPS architecture and Ingenic's innovation in processor design, we are bringing a new level of processor technology to mobile devices. As we continue to collaborate with MIPS to broaden the mobile ecosystem around the legendary MIPS architecture, we anticipate even broader proliferation of our devices worldwide. We believe the mobile world will be more versatile and colorful with another processor joining in," said Qiang Liu, chairman and CEO, Ingenic Semiconductor.
The Ingenic JZ4770 SoC inside of the new tablet is one of the first MIPS-Based systems-on-chips (SoCs) targeted for mobile devices that delivers 1GHz+ frequency, increasingly a requirement for tablets and other devices that incorporate rich multimedia and high-performance applications/functionality. The JZ4770 SoC is powered by a MIPS32 compatible XBurst CPU designed by Ingenic.
With this new tablet we will probably see a whole new market segment, where volume potentially could be much larger than it currently is for iPads and similar tablets that are far more expensive.S|A
The following two tabs change content below.
Latest posts by Mads Ølholm (see all)