A few days ago a box from Gigabyte arrived at my door, and after the parcel carrier from DHL had finished commenting on how legible my signature was on his touch screen, I got a chance to cut open the box, and revel in the mid-range business oriented glory of  the B75-D3V. As we covered in our overview of B75 Series, the D3V brings Gigabyte's Ultra Durable 4 Classic feature set to bear on the ~$80 price point. It also supports Intel Small Business Advantage software suite that allows administrators to manage groups of up to 99 systems.
In this review we're going to compare the B75-D3V with Intel's High-end Z77 offering which we previewed in early April. We'll be using the exact same hardware configuration as we had during our initial testing, and so we'll be able to directly compare the level of performance the D3v offers, to the level of performance that Intel's desktop based Ivy Bridge based platform tops out at. But before we get to the benchmarks let's first let's delve into the basics of Gigabyte's B75-D3v.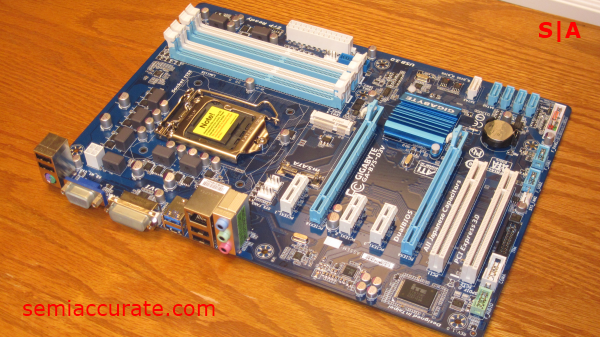 As you can see the B75-D3V is a pretty standard looking mid-range full ATX motherboard. Gigabyte has opted to configure the slot layout on this board to leave at least one slot of space between each of your dual-slot graphics cards should you choose to install two of them. This also means that if you decide one day that you want to drop a pair of triple slot graphics cards, like one of ASUS's HD 7970 models, into this motherboard you'll have all the room you need and an open PCI-E x1 slot to boot.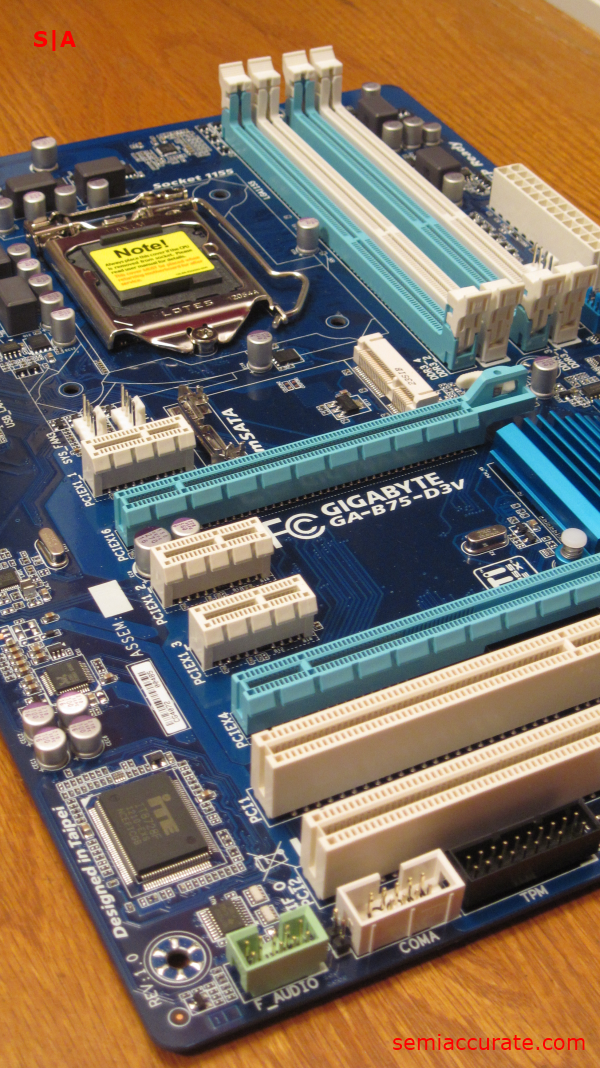 As with all Intel 7-series motherboards the B75-D3v supports PCI-E 3.0 when you have an Ivy Bridge based chip installed, but only PCI-E 2.0 if you choose to use a Sandy Bridge based chip. This brings me to another important point about this board's multi-GPU capabilities, the second PCI-E x16 slot is only a x4 electrical slot. So a standard graphics will fit into it just fine, but it will only have a quarter of the bandwidth that the first slot offers. But as extensive mutli-GPU testing has shown in the past you don't lose very much in terms of performance from using a PCI-E x8 rather than a PCI-E x16 slot, and with the doubling in bandwidth that PCI-E 3.0 has brought us, I doubt that their would be any tangible performance loss for multi-GPU configurations when using an Ivy Bridge based CPU in this motherboard.
Another key feature of the B75-D3V is its mSATA slot. The whole idea behind placing mSATA slots on the motherboard is to get users to take advantage of Intel's Smart Response SSD caching technology. Basically you place a small SSD (think less than 40GBs) in the mSATA slot and then use that as a read/write cache for your much larger conventional hard driver. Thus you get most of the benefits of having an SSD with out giving up the large volumes of relatively low cost space that hard drives can offer. All-in-all it's not a bad idea really, and Gigabyte has been actively pushing this kind of solution by including mSATA slots on some of their motherboards.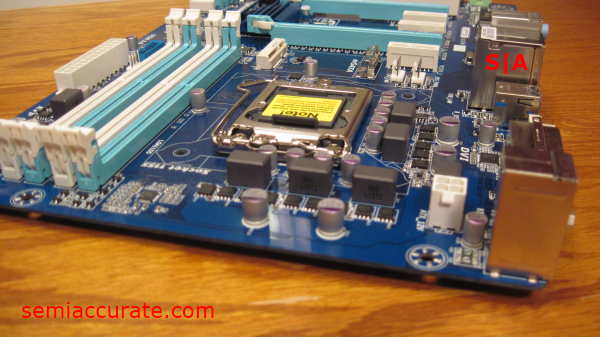 Looking at the socket and its surrounding environment we can see that the B75-D3V has some pretty robust power circuitry considering the rather low wattage's that Intel's recent chips have topped out at. We also have a pretty standard set of four DDR3 slots. As well as all the normal power connectors we've come to expect. A more interesting choice on the part of Gigabyte's motherboard designers is the placement of the fan headers. Two are located near the center of the motherboard next to the mSATA slot. One is on the far side of the RAM slots from the CPU socket, and the final header is at the base of the motherboard along with the USB and audio headers.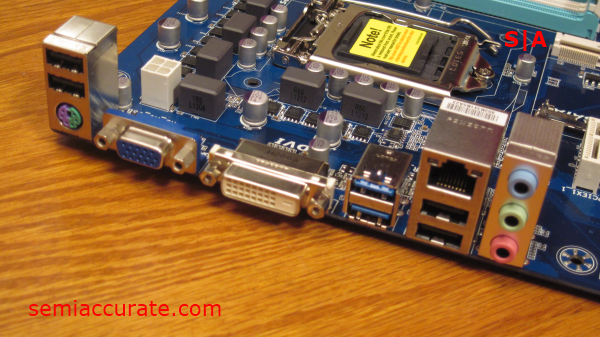 The selection of ports on the back panel of the B75-D3v is where becomes most obvious that this is not a high-end motherboard. We're limited to six USB ports, two video outs, one Ethernet jack, and a standard set of audio jacks. Although, it is worth noting that two of the six USB ports are of the 3.0 variety, which is one of the new features that Intel's 7-series based chipsets natively support.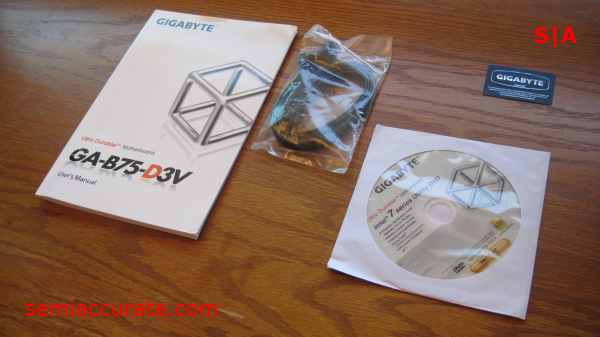 Gigabyte has only included a few extras with the motherboard, due probably to how cost conscious they have to be at this price point. But they did manage to send along a pair of SATA cables and a sticker in the box.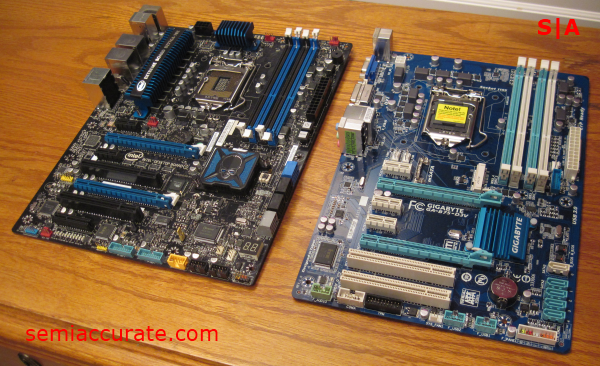 For a point of comparison we placed Intel's high-end DZ77GA-70K motherboard next to Gigabyte's B75-D3V. Needless to say the D3V can't hope to offer the same variety of ports, header, and buttons. But it can offer you the at least most of the functionality, and all of the build quality, you need for about $80. Now let's move onto some benchmarks.
A Numbers Game
We decide to run the B75-D3V through the same suite of benchmarks we used for our initial Ivy Bridge review. All of the benchmarks are their with the exception of Paint.NET results which we've chosen to omit due to technical difficulties on our part.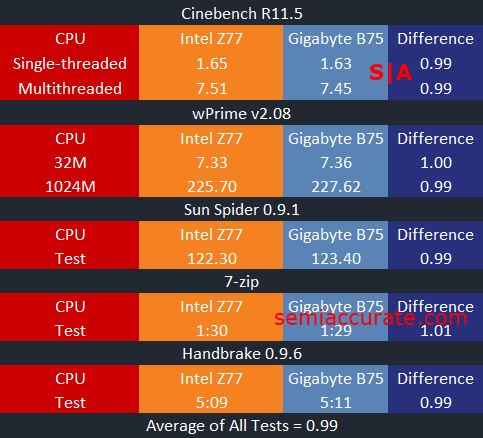 The performance loss incurred from using a B75 rather than a B77 based motherboards is, on average, less than one percent, which is within the margin of error for our testing. Basically, there is no difference in CPU performance between Intel's $230 motherboard, and Gigabyte's $80 motherboard. Make of that what you will, but we're happy to see that Gigabyte's motherboard can bring the full might of the Core i7-3770K to bear.
Moving onto graphics side of our testing, we decide to re-run our benchmarks in a few games to see if the HD 4000 loses any of its edge running on the B75 platform. Unfortunately after benchmarking five or so games, and making up a few frame rate graphs, we realized that there was almost no difference in performance; and what differences we found were well within the margin of error. We also realized that using graphs to compare the performance levels was futile due to the frame rate lines ending up basically right on top of each other. Instead I can tell you that in our testing we found the HD 4000 to be just as capable on Gigabyte's B75-D3V as it was on Intel's DZ77GA-70K.
Final Words
If anything our testing has shown that you have little to lose in terms of performance by choosing a B75 based motherboard over a higher-end choice. With so much competition in the motherboard market the days of low cost options offering significantly less performance than their more costly peers are gone. Instead your choice of motherboard comes down to what you're willing to pay for build quality, features, and neat looking heatsinks.
Pros:
Offers the same level of performance as much more expensive offerings
Respectable blue and white color scheme
Good layout for multi-GPU configurations
Ultra Durable 4 Classic feature set
Quality power circuity
Compelling price point
Cons:
Short on ports
Small bag of non-motherboard goodies
No error code display
Without a doubt Gigabyte's B75-D3V is a very competent offering. It's right up there with the best on the performance front and we didn't run into any issues with it during our testing. It offers a good layout, and although it foregoes high-end trimmings like on-board power, reset, and CMOS clear buttons, it makes up for skipping those somewhat unnecessary features with it's $78 MSRP. The two things we would have like to have seen on the B75-D3V are the inclusion of an HDMI or better yet a Display Port, and an error code display for trouble shooting. But overall I can say that I'm quite pleased with Gigabyte's B75-D3V, it's a solid board, at a good price, with a quality feature set.S|A
Updated: May 22, 2012 11am.  Changed board name typo in headline.
The following two tabs change content below.
Thomas Ryan is a freelance technology writer and photographer from Seattle, living in Austin. You can also find his work on SemiAccurate and PCWorld. He has a BA in Geography from the University of Washington with a minor in Urban Design and Planning and specializes in geospatial data science. If you have a hardware performance question or an interesting data set Thomas has you covered.
Latest posts by Thomas Ryan (see all)