Need more than 239TB in a single convenient storage box? Need a cloud on wheels to utilize that storage? If so, AIC has the toys for you.
It has been a while since we last wrote about AIC, but they were the first company we saw to show off the concept of vertical HDs in a rack mounted storage solution. Back then, boxes with massive drive counts needed to have a server built in, SCSI was too limiting to allow for a NAS-like device. Luckily, SAS changed all of that, and AIC now has what amounts to a 240TB capable external drive bay. Unfortunately, it is not USB3 capable, but we can hope.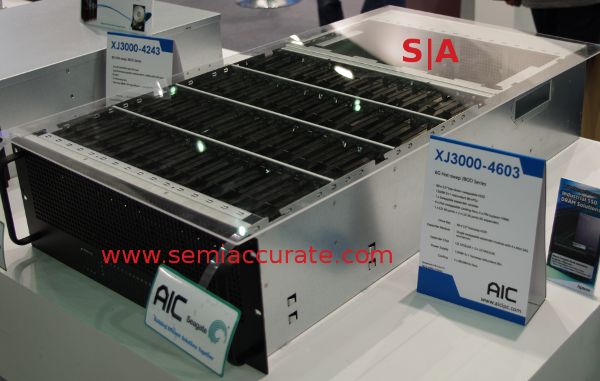 More trays than a fast food chain
The box you see here is the AIC XJ3000-4603, a 60 bay SAS drive cage that has no server built in. On the back side, there are four fans, four 1350W 80+ (3+1 redundant) PSUs, and a mere four SAS ports. Between the back plate and the drives is an octopus of braided drive cables. (Note: We do realize that Thunderbolt/Dark Peak would solve all of this with a single optical cable, but that would cost more than a populated rig. And not work. Intel PR isn't bothered by either of those 'minor issues' however.)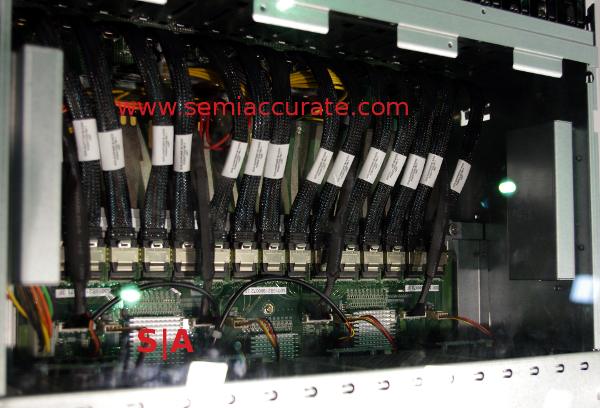 The octopus attacks!
Actually, since this is SAS, not SATA, the cabling is not all that bad, each cable can pass multiple streams of 6Gbps data, so the giant killer squids that roamed storage apparatuses in days of yore are well and truly slain. It was mere coincidence that you could buy some of their cousins two rows back at the Computex Nangang 4F food stand, but we opted for the 'pizza' anyway. In any case, one of these, four SAS cables, and 60 HGST 4TB drives, and you can start consolidating all those CDs you burned over the last few decades in one convenient box.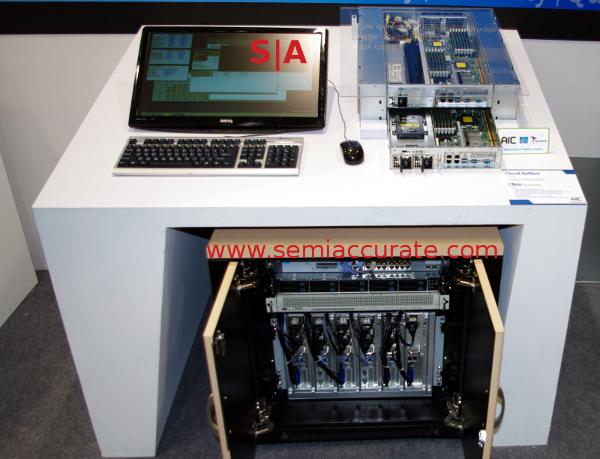 Cloudy weather on wheels
The second part of AIC's Computex offerings was dubbed the 'Cloud Rollbot'. Unfortunately, it didn't turn in to a boom box, giant robot, or even a flying aircraft carrier, it was just six 2S servers and a lot of accessories in a wheeled box. The Rollbot has 12U of rack space, and has a novel 3U high server chassis cage to go with it. It does have a battery, but don't expect it to last very long, think UPS times, not trans-Pacific flights.
Servers in this case are 3U but roughly half width cartridges, and you can slot six of them in to the cage and still have roughly 3U left over for switches, storage, and blinky-light-thingys that you see in the movies. It isn't much more than a demo vehicle, get it, that was a pun, but it is a new for factor. If you could fit four of these systems in a Rollbot with an XJ3000, you might have an interesting combo for a portable Youtube instance or something similar. Until then, it is just, technically speaking, 'neato'.S|A
The following two tabs change content below.
Charlie Demerjian is the founder of Stone Arch Networking Services and SemiAccurate.com. SemiAccurate.com is a technology news site; addressing hardware design, software selection, customization, securing and maintenance, with over one million views per month. He is a technologist and analyst specializing in semiconductors, system and network architecture. As head writer of SemiAccurate.com, he regularly advises writers, analysts, and industry executives on technical matters and long lead industry trends. Charlie is also available through
Guidepoint
and
Mosaic.
FullyAccurate
Latest posts by Charlie Demerjian (see all)