We've spent a good bit of time sleuthing around motherboard boxes as of late here in the S|A orbital labs. One of the more interesting thing we saw, was a new little logo from our friends in Redmond.
Some of you may remember all of the controversy and lawsuits surrounding a simple little sticker from Microsoft that read, "Windows Vista Capable". Well, those awful days are long and gone, but Microsoft is still trying to get consumers to purchase Windows 7 hardware even as Windows 8 waits just behind the curtains.
Even with that in mind, we were still a bit surprised to see this little beauty out in the wild.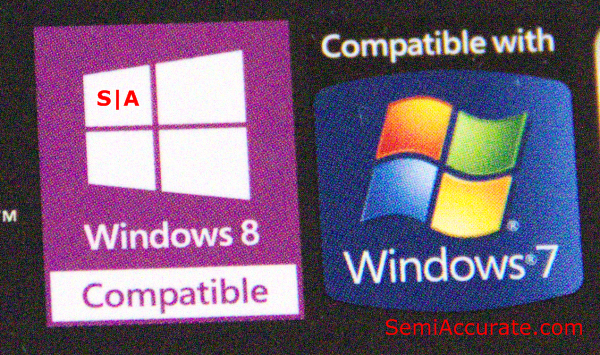 It's easy to make a quick comparison the the Windows 7 logo nestled right beside it. Alas that comparison isn't so favorable depending upon who you talk to. But still it's interesting to see that Microsoft is playing the same old song all these years later.S|A
The following two tabs change content below.
Thomas Ryan is a freelance technology writer and photographer from Seattle, living in Austin. You can also find his work on SemiAccurate and PCWorld. He has a BA in Geography from the University of Washington with a minor in Urban Design and Planning and specializes in geospatial data science. If you have a hardware performance question or an interesting data set Thomas has you covered.
Latest posts by Thomas Ryan (see all)