Gigabyte had a bunch of server goodies at Computex including some network heavy boards for the burgeoning SDN space. If that wasn't enough there were Haswell boards and NICs to go along with them.
First up is the GA-6LXSV server board, basically a Haswell 1150 solution with a Xeon tagged CPU on it. This allows you to get a chipset with the name C224 instead of something like Z8x and pay three times as much for the CPU to get 32GB DDR3-1866 UDIMM support. Be still my beating heart. From there Gigabyte does quite well by adding an i210 quad GbE adapter for bridged networking support plus all the latest features. If you are looking to build a moderately CPU intensive network appliance, it isn't a bad starting point and costs far less than a dedicated appliance solution.
Much more interesting is the GA-6UPCP2 Sandy/Ivy Xeon board. It is a single socket server part with a C202 chipset, basically the older generation of the 6LXSV above but designed for serious networking instead of a tacked on NIC. It does full network bypass and has relay capabilities so you can avoid those pesky saturation problems that an added NIC will choke on. Basically Gigabyte designed this device to deal with heavy network loads and not fall over like a normal PC roped in to that duty.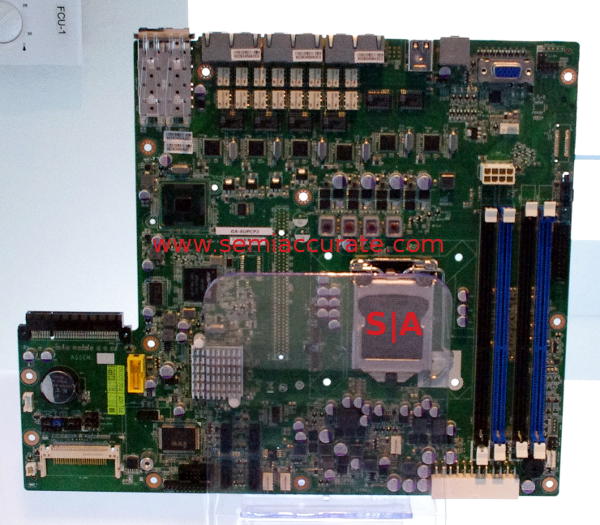 Note that the form factor is for networking not file servers
Added to the normal NIC fare are six Intel 82574L GbE controllers and a 825746EB controller not to mention an Aspeed 2150 remote management chip. Yes those are seven GbE sockets plus two fiber ports if that number is not adequate. This board is clearly aimed those building fairly hardcore telecom appliances, not server builders.
If that isn't enough for you, you can step up to the GS-A22C0 barebones chassis. This 2U box is the bigger brother of the 82574L that starts out with two Sandy-EP/Romley CPUs and has eight front mounted LAN card trays that you can mix and match ethernet connectivity with. The cards come in 4x SFP ports backed by an Intel i350 controller, 4x copper ports in 2x bypass pairs, and one with 2x 10GbE SFP+ ports backed by an Intel 82599ES controller.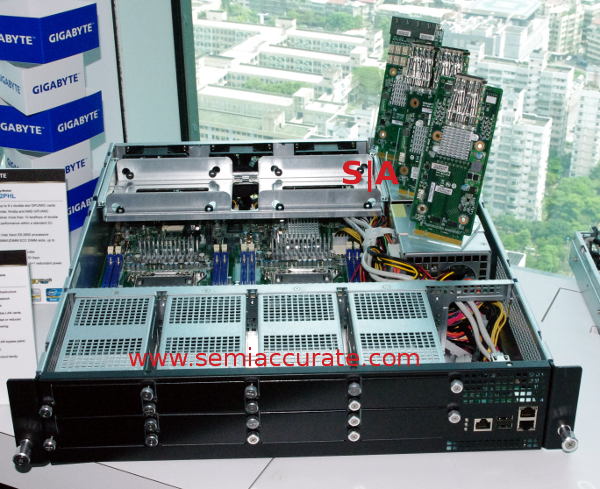 Serious networking in a barebones appliance
The main difference between the A22C0 and it's lesser brethren is the dual Xeon-EPs and ECC memory. This may not sound like a huge thing but it is more than enough to make a difference between serious mission critical applications and those that are just really important. The A22C0 is the basic building block for those who are in the former category and it isn't a bad place to start. The flexibility of the cards and raw horsepower are just bonuses.
Last up is a follow up to our gushing report on the Gigabyte GS-R22PHL chassis. Not much to say on this one other than we finally got our hands on one and it is as nice as we thought it would be. The packaging is amazing and the whole thing just looks like a 2U server with 8x 2.5″ drive bays in front. When you open it up however there is room for an astonishing 8x 2-slot GPUs in there and enough power to push them. Amazing job on this one, really.S|A
The following two tabs change content below.
Charlie Demerjian is the founder of Stone Arch Networking Services and SemiAccurate.com. SemiAccurate.com is a technology news site; addressing hardware design, software selection, customization, securing and maintenance, with over one million views per month. He is a technologist and analyst specializing in semiconductors, system and network architecture. As head writer of SemiAccurate.com, he regularly advises writers, analysts, and industry executives on technical matters and long lead industry trends. Charlie is also available through
Guidepoint
and
Mosaic.
FullyAccurate
Latest posts by Charlie Demerjian (see all)