During Computex 2013, we came across a Taiwanese company, showing their latest Thunderbolt devices, next to them were some Intel Thunderbolt leaflets, one particular tri-fold "Thunderbolt Technology Product Showcase" leaflet caught our eyes. Out of curiosity, we counted some of the devices listed on the leaflet.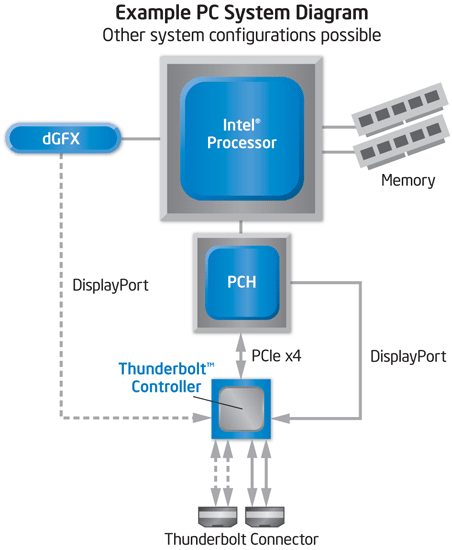 Thunderbolt is a consumer-oriented I/O connection specification developed by Intel and Apple, with PCI-E x4 (from chipset) and DisplayPort signals (from Intel processor graphics or discrete graphics processors) muxed together.  It transmits 10 Gbit/s bandwidth bidirectionally (2 channels per port) through an active cable on both ends, and supports daisy-chaining of up to 6 devices per Thunderbolt port.  It supplies 10W of power through each port. Intel touts Thunderbolt as a technology where Performance, Simplicity and Flexibility connect. Intel and Apple aims to hit several birds with one stone, so Thunderbolt is set to replace eSATA (for external hard drives and RAID enclosures), FireWire for professional audio/video equipment, DVI-I for displays and with a bit of ambition, the USB 3.0 for peripheral devices.
Those were some pretty ideal marketing talks right there. During Computex 2013, we just came across a tri-fold "Thunderbolt Technology Product Showcase" leaflet, the leaflet is dated 2013-05-27 (May 27, 2013) which is just a week before Computex 2013 kicks off. Out of curiosity and as a reality check, we counted some of the devices listed on it. Sure there are several new devices launching at Computex 2013 from a few Taiwan companies, but the number is still nowhere near the definition of "pervasive".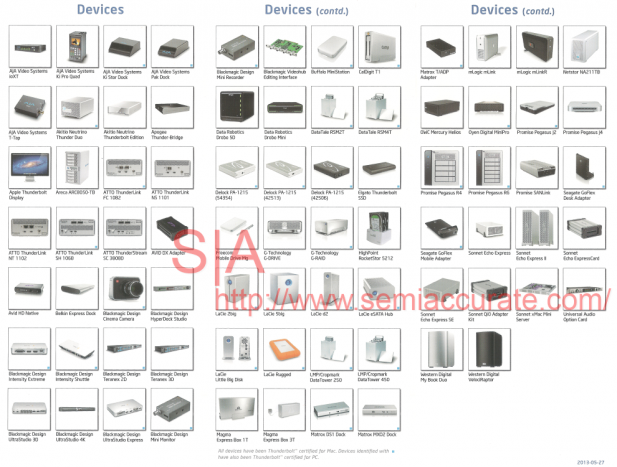 A total of 78 devices are listed, and here is the breakdown:
51 external storage devices (mostly RAID enclosures)
22 audio/visual production related
1 monitor from Apple
1 Mac Mini server rack
3 notebook docks
Of the total 78 Thunderbolt-enabled devices listed, only 37 devices, that's around 47%, are also certified for use on PC. Taking a look at the supported platforms at the other side of the leaflet, a total of 34 supported systems (as in desktop motherboards/systems, All-in-One computers and notebook computers), five of them being Apple Mac variants, then there are nine notebook/Ultrabook PCs, three All-in-One PCs, one of them being an Intel NUC and a total of 16 motherboards. The brutal truth about this figure is of the 5 platforms, only 34 systems support Thunderbolt technology, if we discount the Mac and Intel NUC platforms because of the push from the creators, come to think about the rest of the notebook/All-in-One/desktop motherboard markets, even those with Intel-inside. And the list last year would be around half of the above, can that be described as a fast-growing, and pervasive market? You, the readers, will be the judge.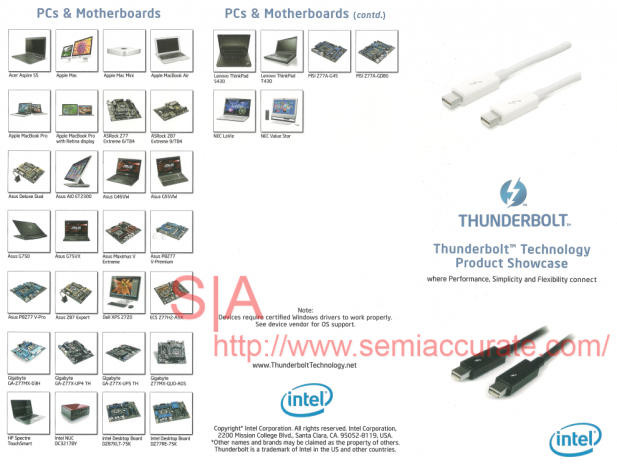 Thunderbolt 2.0: Channel bonding = DisplayPort 1.2
With Thunderbolt still being adopted at the rate slower than a rainy day snail, Intel and Apple thought it would be a good time to introduce the next major release of the Thunderbolt technology, the Thunderbolt 2.0 technology. To put it in very simple words, DisplayPort 1.2 functionality, through a bug fix, as Charlie details this back in April this year.
So the PCI-E part remains unchanged,as does the rest of the Thunderbolt 2.0 technologies, including power delivery, its price tag and the cost of the cables being inherited by the 2.0 release. That brings us to the question of the killer app of Thunderbolt 2.0, which is…?
The killer app for Thunderbolt 2.0: 4K screens on Mac Pro?
The new Mac Pro was revealed during the keynote of Apple's World Wide Developer Conference (WWDC) 2013, with a black aluminum cylinder look and a large opening on the top for the fan exhaust of the unified thermal core, and being ridiculed as a black "trash can" and a "heater" during the cold days. [Editor's note:  Once again this is a fail with user testing.  They need to include real world testing on their thermal designs.  The real world included cats.]
When multi-GPU, multi-monitor multimedia/CAD workflows and 4K multi-thousand dollar displays are all the hype this year for workstations, Apple decides they should jump onto the bandwagon too.  They used two AMD "Tahiti"-based FirePro graphics processors with 6 GB GDDR5 memory, routed all the DisplayPort signals from the GPUs and PCI-E x4 from the chipset to the Thunderbolt 2.0 controllers, and  then provided 6 Thunderbolt 2.0 outputs at the back.
These Thunderbolt 2.0 ports, along with the dual GPUs, will allow the new Mac Pro to support up to three 4K monitors [Author's note: We suspect 12 1080p monitors are also supported through six Thunderbolt 2.0 ports with daisy-chaining.  However, this is purely speculative.] compatible with DisplayPort 1.2 HBR2 specifications. So in theory, any Mac Pro user can link up a 4K monitor (which Apple should have one in very short order to coincide with the new Mac Pro launch) in one of the Thunderbolt 2.0 ports, and still have enough bandwidth for plugging in the external RAID storage or even their audio/video capture device if the monitor support daisy-chained Thunderbolt 2.0 connection.
As a side note, remember how AMD does 4K monitors on their GCN-based products? Daisy-chaining, so each 4K monitor attached is viewed as two side-by-side 2048×2160 monitors, and each 4K monitor connects to each of the DisplayPort outputs, meaning there is support for up to six 4K displays for any FirePro cards having six mini DisplayPort outputs at 60 Hz refresh rate.
Also, as of the time of publishing, there is a twist to multi-monitor support to "Maverick" Mac OS X 10.9, some people hook 6 monitors to a Mac Pro with the developer preview version of Mac OS X 10.9 announced at WWDC 2013, users may launch different apps to any of the displays, but stretching an app across multiple displays is not available at this time.
Thunderbolt 2.0: Less broken, but still a joke
So with the killer app of Thunderbolt 2.0 still being in its infancy stage, the 2.0 means extra bandwidth for Apple to get onto the 4K displays bandwagon. Thunderbolt does, sort of, replace FireWire or eSATA connections on some of the audio/video and storage devices.  Thunderbolt 2.0 certainly does not replace USB 3.0 devices in the mid-term outlook, while DVI-I was already replaced with DisplayPort and HDMI without the help of Thunderbolt technology.
With the first products having USB Power Delivery specifications coming to the market in the short term, the position, persuasiveness and popularity of Thunderbolt is nowhere near what Intel promised it to be, and the uptake is very slow. Let's wait till next year for about around 150 Thunderbolt-enabled devices and 70 supported systems appear on an A4 booklet rather than a tri-fold leaflet, shall we? S|A
Have you signed up for our newsletter yet?
Did you know that you can access all our past subscription-only articles with a simple Student Membership for 100 USD per year?   If you want in-depth analysis and exclusive exclusives, we don't make the news, we just report it so there is no guarantee when exclusives are added to the Professional level but that's where you'll find the deep dive analysis.
The following two tabs change content below.
Leo Yim is our correspondent from the far flung reaches of East Asia. Fluent in Mandarin, Cantonese and English he'd rather be talking about computers no matter what language. A true detail man he dreams of building gaming rigs from workstation class parts.