Today we finally have a chance to fully review the Gigabyte Brix. This is a small-form-factor computer that Charlie's been eyeing since Computex back in June. The Brix has one big advantage over traditional desktop systems, size. It may seem blindingly obvious but the Brix is really small. To give you a point of reference the whole system is about the same size as a stack of toast three pieces high.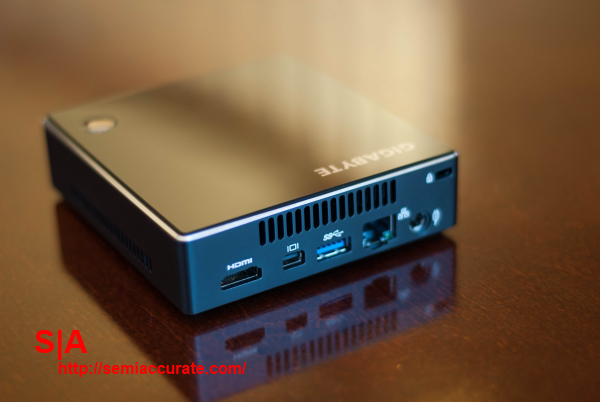 The relative size of the Brix is an important factor because the decision on whether or not the Brix is right for you or your company will likely be influenced heavily by how much you value the space that using a Brix over a mid-tower can save you.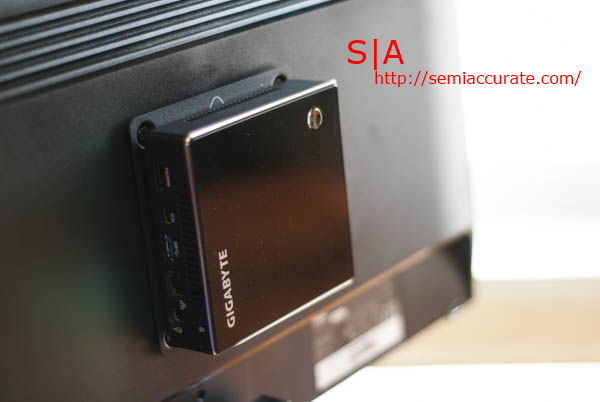 At its core our Brix sample is powered by an ultra low voltage Core-i3 chip from Intel that uses last year's Ivy Bridge architecture rather than current generation Haswell-based chips. This means that compared to a standard desktop system the Brix will consume less power, and cost more upfront than what you might be expecting. The performance of the Brix will also underwhelm relative to what you can get for similar money from a traditional desktop. But the Brix will still maintain it massive size advantage no matter how the value proposition plays out.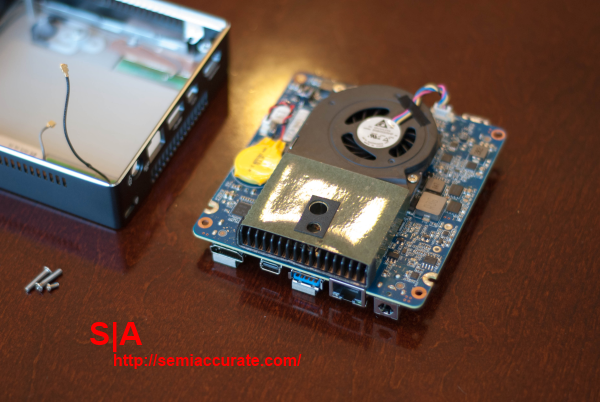 The hardware inside of the Brix is decidedly mobile in origin, as is evident from the heat-sink and blower combo used to cool the ULV Core-i3 at the system's heart. Unfortunately this has the adverse effect of limiting the I/O options on the Brix to an almost unbearable level. Say you need to plug-in a USB flash drive to transfer some files to your Brix. Then it's time to disconnect your keyboard to free up one of the two USBs on the entire system. Say you want to plug-in a USB headset or microphone, well this means that you're going to have to switch to a hub-based or, worse yet, wireless keyboard and mouse set up to make sure that you have enough USB ports for all your peripherals.
What doesn't makes sense is that Gigabyte included an Ethernet port on a device that has built-in WiFi standard. Let be serious now, the Brix is a light usage system not a workstation. So why would Gigabyte opt for an Ethernet port over a third USB port? Of course it's convenient to have an Ethernet port because wired connections are often faster and more stable than wireless options, but having a third USB port on the Brix would be a godsend. Two USB ports is not enough, three is the minimum, and having four is awesome. Prior to testing the Brix I couldn't even conceive that I could care this much about how many USB ports are on a given system, but now that I've seen first hand how having less than three USB ports can stifle productivity for even the smallest tasks it's clear that USB ports counts are paramount on SFF systems like the Brix.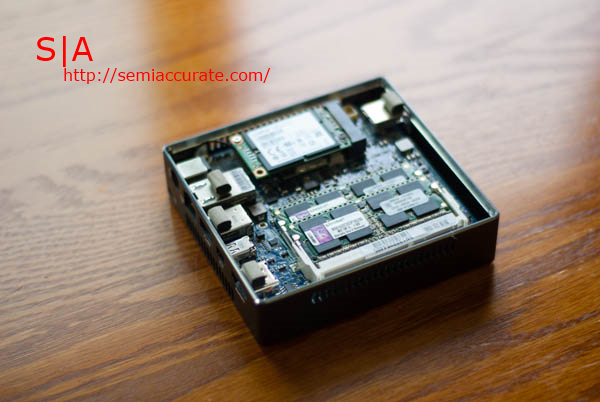 The Brix uses an MSATA SSD as its only storage device. This has a number of practical implications; your operating system will run like greased lighting and you will be limited by the small storage sizes of reasonably priced MSATA SSDs. The model that we chose was a 128GB unit from Crucial that we nabbed for just over $100. Additionally we kitted our system out with to 4 GB sticks of DDR3 1600 and a copy of Windows 7 x64.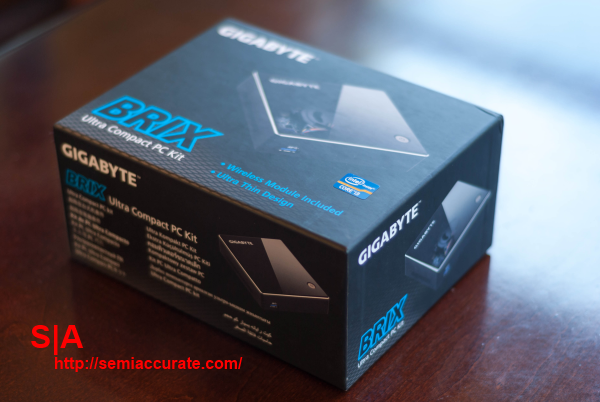 For what is more or less a high-end bare-bones system the Brix came in a rather nice box. A plastic sheet covered the top of the device protecting its mirror finish and the included mounting bracket and power cables were stored nicely in small cardboard containers. Full marks for a good packaging job on the Brix.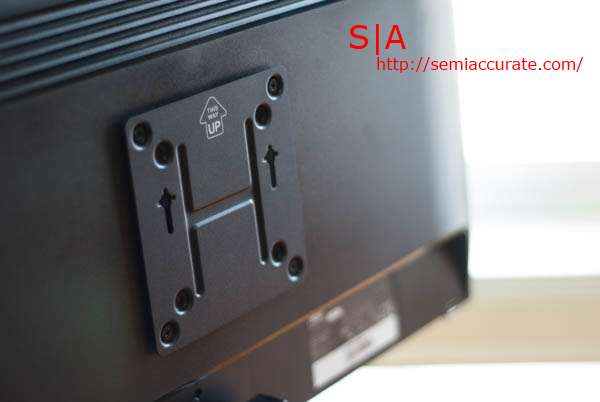 Here we have the mounting bracket attached to the back of our monitor with the four screws that Gigabyte included with the Brix. In order for the cooling system on the Brix to work properly it needs to be positioned on the bracket correctly to that the fan can blow air out of the top of the system. Luckily there are only two ways to attach the Brix to the bracket and one of those ways lines up with the 'This way up' icons that Gigabyte placed on both the bracket and on the underside of the Brix itself. Needless to say, the Brix tucked away nicely on the back of our 24″ monitor.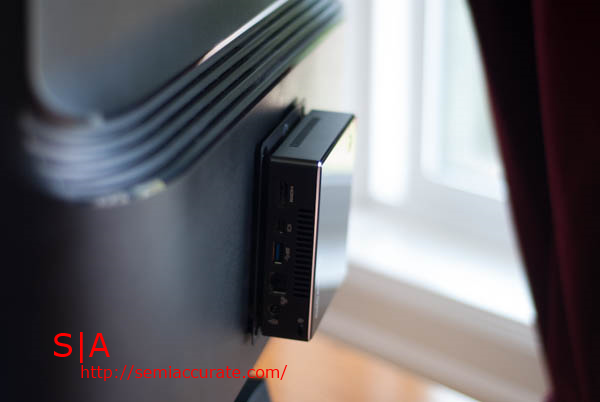 Performance in standard desktop usage scenarios like writing this review or surfing the internet was snappy and the experience was on par with any other SSD-driven system I've ever used. It wasn't until I started actually benchmarking the Brix that I realized how meager the efforts of Intel's ULV Core-i3 chip really were.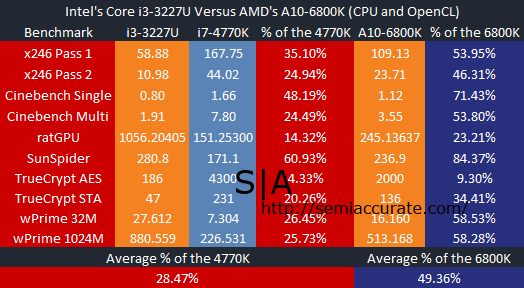 The list price of the i3-3227U is $225. For that much money you can buy AMD's top end FX chip and still have money to spare. What I'm getting at here is that the same performance per dollar issues that make Ultrabooks an untenable value proposition in the the mobile space are handicapping the Brix. The cost of Intel's ULV silicon makes up 75% of the final price of the $300 Brix. That doesn't leave much room for the case, power supply, and motherboard. Of course Gigabyte probably isn't paying Intel the $225 list price, but all the same the cost of Intel's ULV silicon is far to high too make the Brix a compelling option from a performance per dollar perspective.

When it comes to power consumption the Brix is certainly a winner, easily besting traditional desktop chips. But while this victory is certainly a note worthy one, power consumption is still pretty far down the list of concerns of most desktop users have. The higher initial cost of the Brix may not be offset by the savings in electricity costs depending on how long you keep the Brix around in addition to other factors like the local cost of electricity.
There had been talk of an AMD based version that used the Kabini chip, but as of the time of writing that version of the Brix is not available. It would likely offer similar performance and power consumption numbers to our i3 sample, while being drastically cheaper and supporting AES acceleration. Think $100 to $150 dollars less; And maybe that's why it has yet to show up, because recommending a $150 Brix is a lot easier than trying to spin a more or less identical version for $300 dollars as a good option. I really do like the road the Brix is leading us down, but at this point the price is too high for it to be successful in the market it's targeting. Let's hope that we see some movement on that front in the near future.S|A
The following two tabs change content below.
Thomas Ryan is a freelance technology writer and photographer from Seattle, living in Austin. You can also find his work on SemiAccurate and PCWorld. He has a BA in Geography from the University of Washington with a minor in Urban Design and Planning and specializes in geospatial data science. If you have a hardware performance question or an interesting data set Thomas has you covered.
Latest posts by Thomas Ryan (see all)