Adata didn't have anything groundbreaking at CES but two of their product had unique features worth talking about. There were also several others with evolutionary bits and all were obviously memory based.
On the new item front the first one is called the Smart Box, an evolution of the battery bank plus media function theme. Starting out with a 5200mAh battery, add Wi-Fi, a wired LAN port, SD card slot, and a USB jack. If this sounds familiar, so far it is. Now add in webcam streaming functionality and you have something a bit more unique. It all looks like this.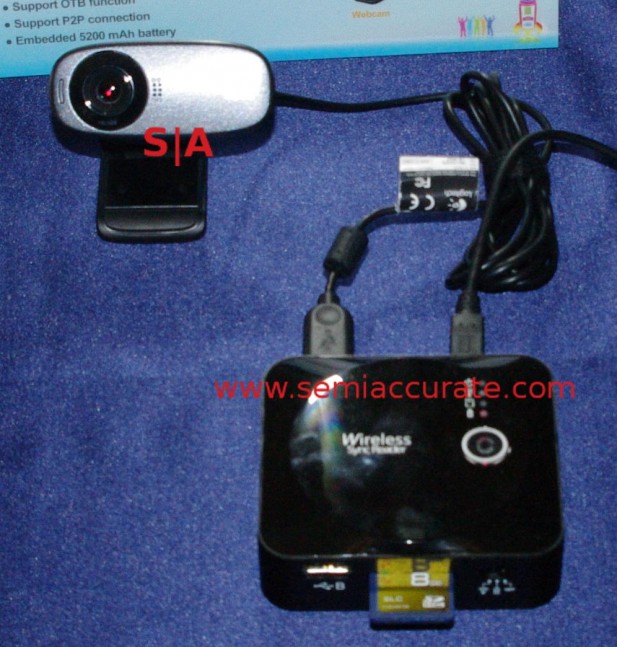 Adata Smart Box with accessories and a twist
Related to that is a device called the Personal Cloud, a $49.99 box that saves your phone and tablet media to the cloud. The personal side of it is that the apps for it supposedly let you access your data 'from anywhere'. Think of it as a mobile device link to cloud storage with a price that is low because there is no included storage. It also streams stuff to and from media players, TVs, and all the usual suspects.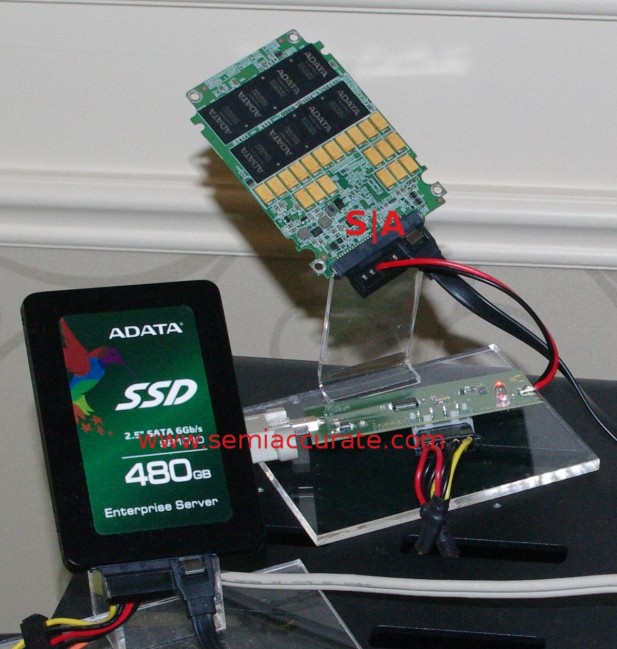 Broken in two but still working
A bit more evolutionary is the Adata SSDs that now come with power failure proof supercap backups. This is nothing new but since you can't really pitch an enterprise line without them anymore, Adata has them. The part that caught my eye was the pulled apart and jumpered device as a demo, it was working even after being molested pretty badly. I guess that is the point of the demo though.
Less photogenic was a new USB stick with something SemiAccurate has not seen before, Bluetooth based security. The BLE security module means that you have to authorize the device on your phone or whatnot before it will spit out data in decrypted form. It comes in 16-64GB sizes and all are USB3 based. It may not be any more practical than a fingerprint reader on a stick but it is likely far more centrally manageable and that really is valuable to some buyers.
On the DRAM side we have two new things, both based on the XPG Z1 DDR4 DIMMs we told you about at Computex. If you are concerned with aesthetics you will be pleased to know these DDR4 modules now come in a gold finish as well as the older red and black, be still my beating heart. Production modules now run from 2133-3333MHz and come in 4 or 8GB module sizes. They are said to overclock to 3465MHz if you can find a board stable at that speed.
Last up are the UHS-II SD cards from Adata with a claimed 150MBps read speed. These new parts are said to be waterproof and shockproof, something we can say is likely true because we washed and dried the previous UHS-I devices and they are still going strong. If those parts are any indication, these will live up to their speed claims too, the ones SemiAccurate uses every day really do meet spec and more. If you are interested these UHS-II SD cards come in sizes up to 256GB, not bad if you can find a decent reader for somewhere.S|A
The following two tabs change content below.
Charlie Demerjian is the founder of Stone Arch Networking Services and SemiAccurate.com. SemiAccurate.com is a technology news site; addressing hardware design, software selection, customization, securing and maintenance, with over one million views per month. He is a technologist and analyst specializing in semiconductors, system and network architecture. As head writer of SemiAccurate.com, he regularly advises writers, analysts, and industry executives on technical matters and long lead industry trends. Charlie is also available through
Guidepoint
and
Mosaic.
FullyAccurate
Latest posts by Charlie Demerjian (see all)