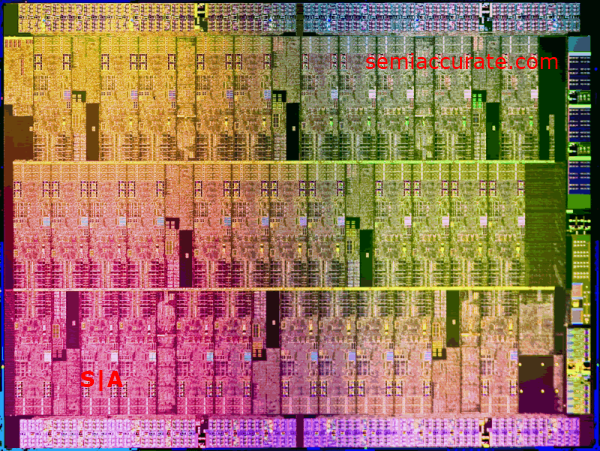 In a short statement this morning an Intel spokesperson announced that the company was ending all efforts to continue the development of it's Core processor line. "The time has come to acknowledge the fact that Intel makes the best processors in the world. We are light years ahead of the competition and with the strength of our monopol—-partners and market development funds we can't foresee a time when anyone will be able to match our clout."
Henceforth Intel will no longer develop new processors for the laptop, desktop, and server markets. "We believe, and the reviews have shown, that Broadwell is the greatest piece of engineering ever created by human hands. We see no reason to make any additional updates to the perfect product."
Intel expects to continue supplying the PC market with its Broadwell chips indefinitely and will complete the roll-out Broadwell's derivative products like Broadwell-E, EP, and EX within the next two years. "This is not the end of microprocessors, but it is the beginning of soaring profitability and corporate margins."
Intel expects to cut its research and development costs from a massive $20 billion dollars a year to just over a billion dollars to bring its spending inline with its closest competitor, AMD. "Our design philosophy is the best in the world. For years we've only approved architectural changes that have improved performance without wildly increasing power consumption. We've helped save the planet by dropping desktop processor power envelopes from 130 Watts to a mere 35 Watts since the introduction of our Core series of processors."
"This has saved over 1.21 Jigawatts of power in the Hillsboro area alone which should be just enough to power our DeLore—blimp to advertise our new hiring campaign designed to target the most under represented group in our work force: retirees."
To finance this new hiring campaign and to meet the promises that Intel made during its last quarterly call to boost gross margins by a full ten basis points the company has announced pricing increases across its product portfolio. As of May 1st the price of Intel's top-tier Core i7-5960X chip will be increasing from an austere $1,049 to a luxurious $9,999 and 3.14159 Bitcoins.
"We want our marketing to match our products and our pricing. The days of selling processors as cheap as chips are over. If our customers want Extreme Edition CPUs then they're going to want to pay an extreme price for that honor."
"Our market research has shown that by initiating these pricing adjustments we can generate new interest in our higher tier products. Why would customers pay $999 for a Celeron when, for just nine grand more, you can have an i7?"
The force that has driven the development of the modern microprocessor industry thus far has been a doubling of the number of transistors that Intel can put into its products for roughly the same cost every eighteen months. "Moore's law is dead, we killed it." There was a short pause while Intel's spokesperson picked the mic up off the ground.
"Creating new process nodes takes large and consistent investments into leading edge technologies and facilities. With our new business plan and corporate cost structure we have a chance to dispense with those investments. We currently have the brightest and most technically capable employees money can buy. Fortunately for our investors the board of directors with the help of their friends at large financial institutions had the courage to challenge our need for those expenditures. With the ground breaking technical and cultural success that Broadwell has proven itself to be, we no longer see a reason to keep chasing the Dragon."
As part of the end of the development of the Intel Core product line, multiple company insiders tell us that they are now mulling how to execute the major layoffs necessary to prepare the company for a future of unencumbered margin expansion. Under the condition of anonymity Intel's Daryl Rhea told us that, "Intel sees its core strengths as its marketing, management, and human resources staff."
Less vital to the company are its technical support unit, business to business sales team, and cadre of technical fellows. Under the new business model its bloated engineering, competitive analysis, and research groups will all be deprecated.
"We've developed a business model for the future. A time where increasing shareholder value, recognizing our strengths as a company, and promoting synergies within the company will lead us growing profits, larger dividends, and stock buy back programs."
Checks with sources at large institutional investment groups have revealed a cautious optimism about Intel's announcement. "We never really understood what they were doing with all that R and D spending anyway. We're glad to see that Intel has recognized that the competitive landscape has changed and is refocusing its efforts from products and people to profits and shareholder value." Said Mona Lott with the Richard, Miles, and Long investment group.
It's hard to imagine what a world without yearly processor updates from Intel will look like. We asked industry analyst and occasional bunny rabbit impostor Charlie Demerjian for his take on these changes at Intel. "I hope for Intel's sake that they start filling product briefings with less technical cruft and more buzz words and brand building. I think Intel is being really crafty by taking a page out of Nvidia's book and moving in this new direction. It's hard to see a downside to this announcement for anyone, even my spotted moles."
Today for the first time in history Intel has finally managed to break free of the technical treadmill. No longer will the company be enslaved to a business model that demands constant innovation and extreme technical capital. Rather they have broken through the ice and surfaced into a new era on the back of the world's first perfect microprocessor, Broadwell.
It's hard for us not to feel a little saddened by these developments. As our readers know, we've been breathlessly covering Intel's every move since the company's inception. Five years ago we could have never imagined that Intel would have created the perfect processor with Broadwell. But times change, jet fuel can't melt steel beams–*ahem*, and the Intel is embarking on a new course.
All we can really say is that it's been a good ride. All things in life, even Intel's microprocessor development efforts, have to come to an end.S|A
Editor's note:  We recommend you check the publication date before copying, investing, or selling based upon the above.  And then we recommend you pass the joke along.
The following two tabs change content below.
Thomas Ryan is a freelance technology writer and photographer from Seattle, living in Austin. You can also find his work on SemiAccurate and PCWorld. He has a BA in Geography from the University of Washington with a minor in Urban Design and Planning and specializes in geospatial data science. If you have a hardware performance question or an interesting data set Thomas has you covered.
Latest posts by Thomas Ryan (see all)