Powercolor was showing off two goodies at Computex, a 'not-Fiji' card and a new sound card. Both of the devices SemiAccurate saw were Devil 13 branded, and both look good.
The new line is of course the sound cards, something we can't recall Powercolor doing before this point. This new board is powered by a Cmedia-CM8888 processor and a Wolfson WM8741 on the DAC side. If you don't like the op-amps, you can swap them out as is the norm since Gigabyte started the trend. If you are serious about audio, you probably use 6.3mm headphone jack, and this new Devil 13 has them too. In short it is a high-end branded sound device, an increasingly rare commodity at the enthusiast part of the spectrum.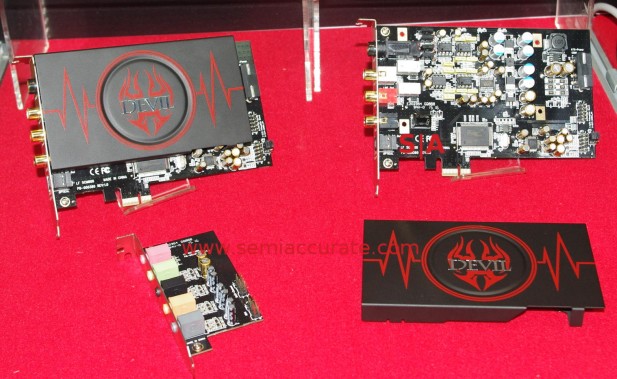 Devil 13 gets noisy
More important is of course the new Devil 13 GPU from Powercolor, and it is called the Hybrid. As you can see from the picture it has a fan over the VRMs and a water block over the GPU and memory. That brings up the GPU, specifically what GPU it is. The answer to that according to Powercolor is, "a future GPU" for "a future Devil 13 card called Hybrid", but we can say it looks like this.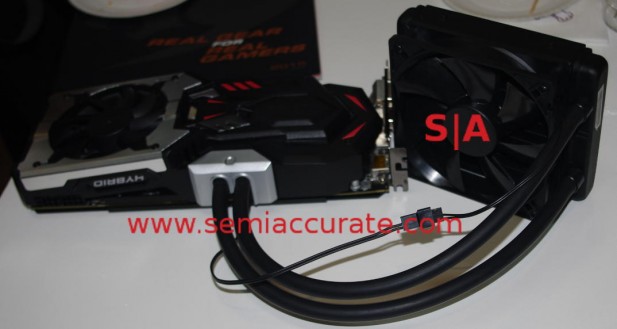 Hybrid devils are a good idea
It is pretty obvious that this Hybrid is a Fiji/Fury although some have suggested that it is a 390X. Given some technical details that we can't discuss, we would put our money on Fiji. One thing we can say is that the heat plate for the Asetek sourced water cooler had curious dimensions that strongly suggest Fiji style HBM memory.
Whatever the GPU ends up being, the whole Hybrid idea is a good one. VRMs need cooling it is not nearly as critical as the GPU itself. Why put all that energy into the water loop and raise its temperature to keep two things with disparate needs at the same temp? A dual cooling loop could do the same thing, but why pay the extra money? It looks like Powercolor did the right things for the right reasons on this card but the proof will be in the numbers. It won't be long now.S|A
The following two tabs change content below.
Charlie Demerjian is the founder of Stone Arch Networking Services and SemiAccurate.com. SemiAccurate.com is a technology news site; addressing hardware design, software selection, customization, securing and maintenance, with over one million views per month. He is a technologist and analyst specializing in semiconductors, system and network architecture. As head writer of SemiAccurate.com, he regularly advises writers, analysts, and industry executives on technical matters and long lead industry trends. Charlie is also available through
Guidepoint
and
Mosaic.
FullyAccurate
Latest posts by Charlie Demerjian (see all)