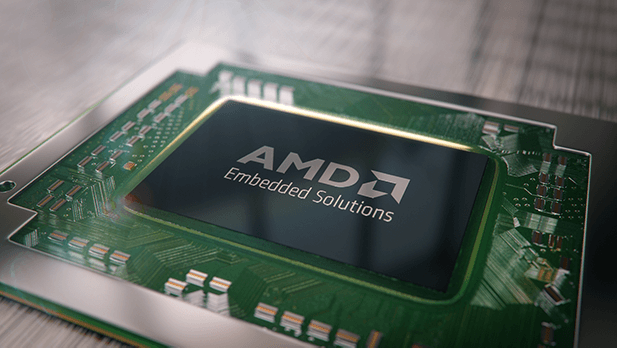 Today AMD is unleashing an embedded version of their 'Carrizo' laptop APU codenamed 'Merlin Falcon' as an update to the AMD R-Series of embedded processors. The previous generation of R-Series embedded APUs used the 'Bald Eagle' APU which was a variant of AMD's mainstream mobile APU 'Kaveri'. In terms of raw GFLOP/s AMD's R-Series have always been the fastest embedded parts the company offered. Thanks to the APU format they offer an even-handed combination of multicore and GPU-based performance.
AMD's 'Merlin Falcon' improves over last year's 'Bald Eagle' in almost every way. Starting with the physical packaging of the chip which has moved from an awkward APU and external Southbridge pair to a single-chip SoC format. This change has reduced the physical space required by AMD's chips on the motherboard by a full thirty percent thanks to the smaller total area consumed by AMD's chips and a reduced number of traces and supporting hardware on the motherboard.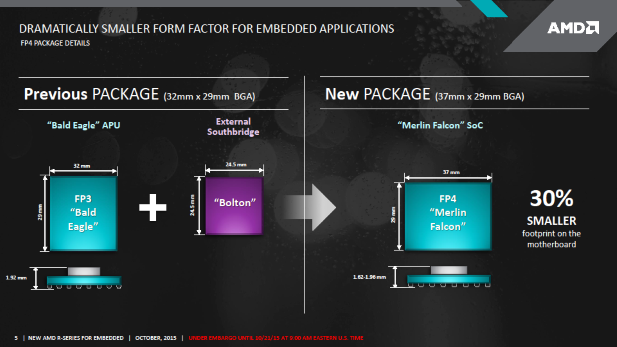 Embedded Carrizo Goodness
As an embedded variant of 'Carrizo', AMD's 'Merlin Falcon' offers up to four x86 Excavator CPU cores which are the most recent iteration of AMD's 'Bulldozer' CPU architecture. 'Merlin Falcon' also has AMD's 3rd Generation GCN GPU cores and is compatible with the HSA 1.0 specification unlike last generation's 'Bald Eagle' APUs which only support some parts of the HSA specification. The enablement of Error Correcting Code (ECC) memory further differentiates 'Merlin Falcon' from 'Carrizo'.
For many embedded applications like digital signage and gaming that require the compute power of a chip like 'Merlin Falcon' video encoding and decoding is an important consideration which is why in addition to its Unified Video Decoder (UVD) and Video Coding Engine (VCE) AMD is now offering hardware support for High Efficiency Video Coding (HEVC) and the H.265 standard. 'Merlin Falcon' doubles down on its video chops with three DisplayPort 1.2 video outs each capable of powering a 4K display.
Like all of AMD's recent chips 'Merlin Falcon' uses ARM's TrustZone IP block to offer what AMD calls Secure Processor. One of the new features that this block enables is AMD Hardware Validated Boot which creates a trusted execution environment before initializing the x86 cores. For clients that don't use ARM's TrustZone, AMD's Secure Processor offers programmability for rolling your own security firmware or modifying AMD's.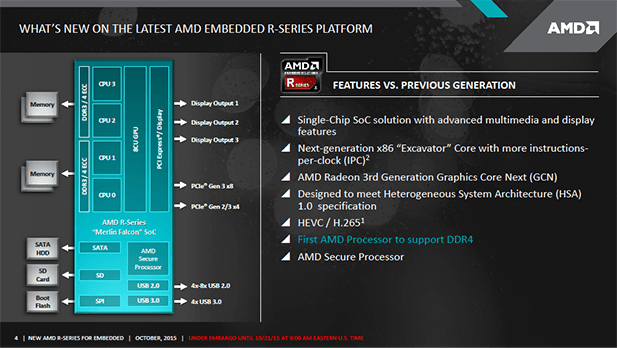 AMD's First Chip to Support DDR4
The most interesting trait of 'Merlin Falcon' is that it is AMD's first chip to offer support for the DDR4 memory standard. DDR4 RAM offers higher bandwidth and lower power consumption compared to conventional DDR3 RAM. This should enable AMD's 'Merlin Falcon' chips to outperform and consume less power than similarly configured 'Carrizo' APUs in OpenCL and Graphics tasks. DDR4 support should also give AMD a leg up compared to the rest of the embedded processor market which has yet to migrate to this recently introduced memory standard.
'Merlin Falcon' expands the TDP range that AMD's R-Series can address with cTDPs as low as 12 Watts compared to the 17 Watt minimum of the last generation. This change coupled with the SoC form factor should enable AMD's partners to reasonably build fanless systems using 'Merlin Falcon'.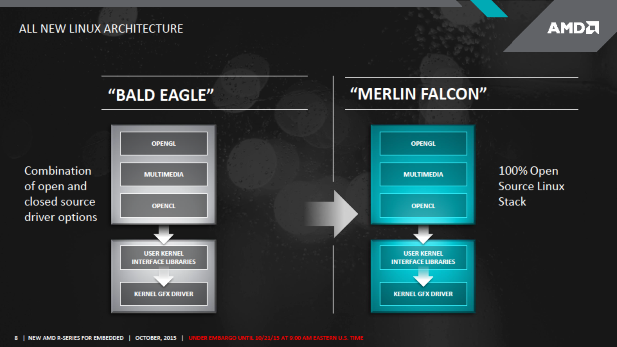 Open Source Linux Software Stack
One of the big selling points for AMD's latest R-Series embedded APUs over the last generation of products is that the stack of Linux software required to run these chips is now completely open source. This is an unusual but positive step from AMD which historically has done only the bare minimum to support its open source drivers while continuing to update its closed source blob. AMD's endorsement of a fully open source Linux stack demonstrates that the company understands what embedded processor buyers and software developers expect in 2015.
In our conversations with AMD's staff they reiterated their commitment to supporting a commercial quality open source Linux driver. AMD's embedded group believes that a good open source driver is a must have to compete in the embedded market.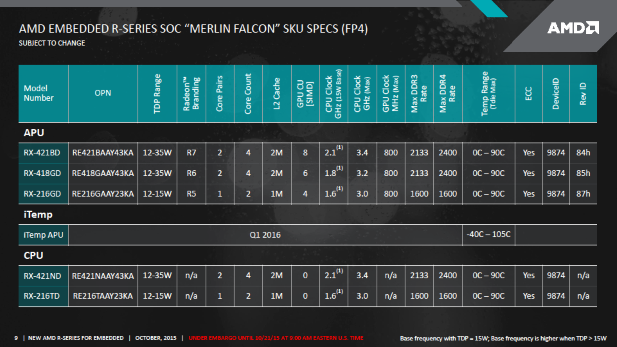 SKUs and the Mythical iTemp APU
As far as SKUs go AMD is breaking the R-Series down into six offerings across three categories. The first three are a standard APU configuration with the major differences boiling down to 2 or 4 cores, core clock speed, and GPU CU enabled. The bottom SKU offers only a 12 to 15 Watt cTDP power envelope, 1.6 Ghz memory clock speeds, and two CPU cores coupled with four GPU CUs. Moving to the CPU only parts we have a four core option and a dual core option both of which offer clock speeds that fail to exceed what the APU versions of 'Merlin Falcon' can bring to the table. Although the based clocks on these CPU only part remain unchanged from the APU versions AMD is confident that these chips will spend more time near their turbo clocks resulting in more performance compared to the APU SKUs.
The most interesting 'Merlin Falcon' part is not one of the five that are launching today. But rather the single remaining SKU that AMD has promised for availability in the first quarter of 2016. Dubbed the iTemp APU the main selling point of this chip is that it offers a maximum temperature operating range of -40 to 105 degrees Celsius this compares favorably to the SKUs launching today which are only designed to operate between 0 and 90 degrees Celsius. AMD created this iTemp SKU for aerospace, military, and scientific applications where ambient temperatures can vary greatly. The iTemp APU includes circuitry to provide reliable cold boots and binning for high temperature operation to differentiate itself from the rest of the lineup.
AMD has chosen not to release any other details about this SKU other than its name and it thermal operating range. The rest will have to wait until Q1 for now.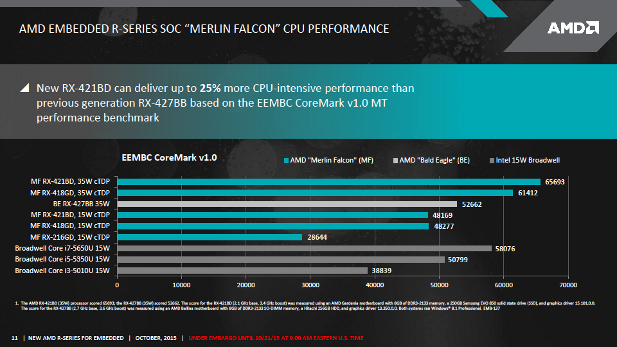 Taking on Broadwell
AMD is pitching its R-Series chips against Intel's Broadwell-based Core ix-5xx0U series of chips. According to AMD's internal testing at the same 15 Watt TDP 'Merlin Falcon' chips can outperform Intel's i7 offering by up to 58 percent in graphics applications and stay less than 20 percent behind in CoreMark. Compared to Intel's Core i5 branded SKU 'Merlin Falcon' retains its graphics lead and closes the CPU performance gap to within about 5 percent and then clearly outperforms the Core i3 option in CoreMark.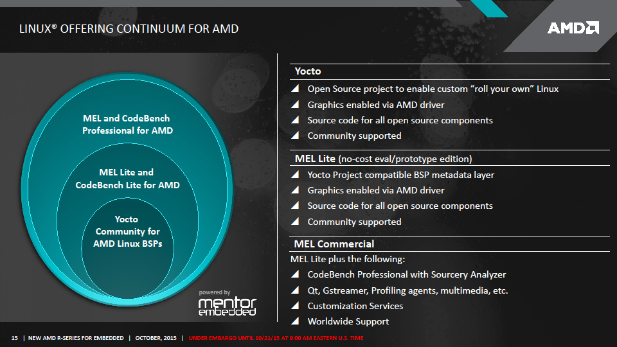 AMD will begin offering a development and evaluation platform through Sapphire that illustrates all of the connectivity options and potential of its new R-Series chips. It's partnered with Mentor Graphics Embedded to offer a Linux-based application development environment for its R-Series chips. There's also a slate of design wins in products from Sapphire, PSM/Seco, Heber, Axiomtek, and congatec that will offer everything from bare motherboards to complete gaming systems based on AMD's 'Merlin Falcon' chips.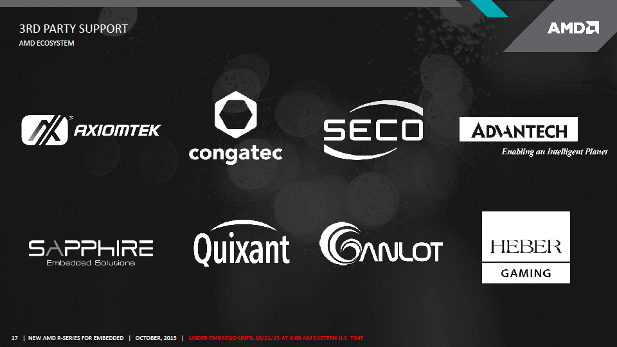 AMD's ecosystem partners give us a clear insight into the big market for these R-Series chips which is Casino gaming machines. According AMD the response to these chips from its embedded customers has been very positive. At its financial analyst day earlier this AMD highlighted the embedded market as one of its double-digit growth markets and with 'Merlin Falcon' AMD's R-Series looks set to deliver those gains.
With this latest update to AMD's R-Series of embedded APUs and CPUs AMD is continuing its history of excellent embedded graphic performance and bringing the CPU performance of its offerings closer to par with Intel than ever before. The upcoming iTemp APU will present some interesting options for extreme applications. From a market perspective AMD looks set to gain additional market share in the embedded segment as its new R-Series chips are much more competitive in terms of CPU performance than last year's offerings. Better graphics performance, a greater range of configurable TDPs, and a single chip SoC solution are all icing on the cake that is AMD's new R-Series of embedded processors.S|A
The following two tabs change content below.
Thomas Ryan is a freelance technology writer and photographer from Seattle, living in Austin. You can also find his work on SemiAccurate and PCWorld. He has a BA in Geography from the University of Washington with a minor in Urban Design and Planning and specializes in geospatial data science. If you have a hardware performance question or an interesting data set Thomas has you covered.
Latest posts by Thomas Ryan (see all)