Intel can't seem to supply 14nm Xeons so HPE is recommending AMD Epycs instead. Most SemiAccurate readers will understand why there is a 14nm shortage at Intel but even with that background, this page is pretty brutal.
The page in question is titled, "Reseller update:Overcoming supply constraints on Intel Xeon-SP processors" and it is dated August 7, 2018 so this is not a new issue. You might have heard rumblings of it on the consumer side, SsmiAccurate went into the reasons for it happening almost exactly a year before the HPE page in question was written, just from a different angle. That said there is a serious shortage of Intel Xeons, and consumer iSomethingmeaningless, CPUs.
The page is marked, "Confidential | HPE Internal & Authorized Partner Use Only" but it is quite open and does not require a login. (Note: We are not linking it because of all the sites that steal our stories, rip us off, and don't credit) All sub-pages linked do however require a login as of this writing. The page says in no uncertain terms that Intel can not supply Xeon-SP CPUs and it is definitely impacting sales for HPE and presumably every other large industry player as well.
"Supply continues to be dynamic and constrained on specific SKUs, but HPE teams are working with Intel to drive additional supply with significant recovery being forecasted in September and October." It is going to get a bit better soon, maybe, but how many months has this been going on for? How much will this cost Intel? Will the slush fund tap have to open even harder soon?
One thing we can say for sure is that HPE has a way out, "Recommending alternative platforms such as the ProLiant DL325 Gen10 and ProLiant DL385 Gen10 servers based on AMD EPYC processors." Seems clear enough to us, the other two bullet points in the mitigation strategies box are basically corporate BS-speak and not anything a sales person can do. I guess AMD is going to be having a good quarter and Intel… less so. Enjoy the screen captures of the page in full in case it goes poof before you read this.S|A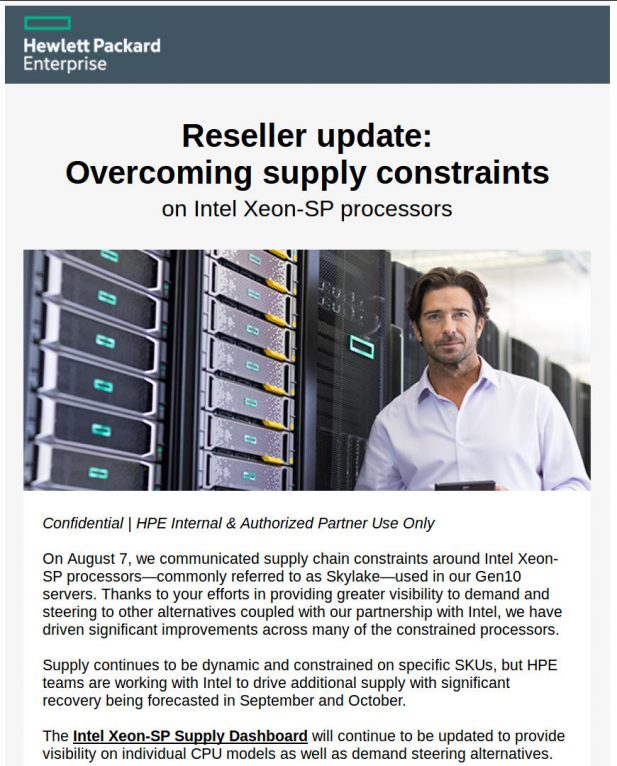 Update Sept 9, 2018 @ 5:20pm: Removed one picture of fine print.
The following two tabs change content below.
Charlie Demerjian is the founder of Stone Arch Networking Services and SemiAccurate.com. SemiAccurate.com is a technology news site; addressing hardware design, software selection, customization, securing and maintenance, with over one million views per month. He is a technologist and analyst specializing in semiconductors, system and network architecture. As head writer of SemiAccurate.com, he regularly advises writers, analysts, and industry executives on technical matters and long lead industry trends. Charlie is also available through
Guidepoint
and
Mosaic.
FullyAccurate
Latest posts by Charlie Demerjian (see all)