THERMALTAKE HAD NO less than 6 new cases, two of which are quite significant designs. The best of them is a new variant of their amazing Level 10 chassis, something that many enthusiasts have been hoping for.
The first new one is not a variant of their older lines, but it points out the new direction for ThermalTake design. The new theme? Gaming, and it doesn't take a genius to figure out which game the new Chaser MK-1 is based on.
Chaser MK-I new inside and out
Looks are easy to do with a case, but this one has some nice features too. First is a flip-out headphone stand on the side of the case. When retracted, it folds almost flat, so it doesn't get in the way if you don't use it. On top, there are two USB3 ports, both of which pull from internal pin headers, not external like some of the first generation cases. Beside that is a HD dock that takes both 2.5″ and 3.5″ HDs.
The case itself is roomy and bigger than normal dimensions, sitting between a mid-tower and full tower in height. Chaser is also a bit wider than normal so the huge fans that are so common have plenty of clearance above. Both of these are nice to have, especially when first building a box. Inside, the case has six tool-free HD cages with rubber vibration mounts, and four front facing 5.25″ bays.
Three sides have dust filters, so wherever you suck air in and out, it will hopefully be clean. The top also has more room than 'normal' to allow for liquid cooling and radiators. If that isn't enough, there is the normal under the motherboard cable management zone, something most cases in this class have. The last new bit is a LED 'breathe' feature. Like some mice and gaming gear, if you hit the button, the LEDs slowly pulse on and off. Yay?
Chaser may be the gamer case, but the Level 10 GT is far more significant. If you recall, the Level 10 is a high end case, a solid hunk of aluminum that is like no other case out there, period. It was solid but expensive, shipping costs alone are more than many cheap cases. The uniqueness lasted for two years or so, maybe more, but at CeBIT, that ended.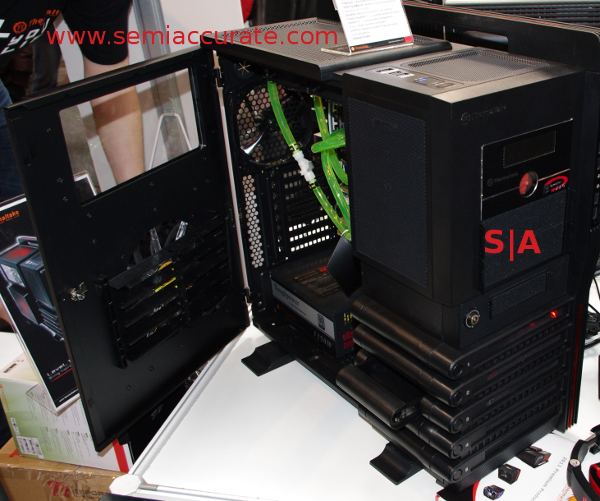 A Level 10 for the masses

The new GT version is priced at a level that consumers will find much more appealing, $269, about 1/3rd of the original Level 10. The styling is very similar, but instead of being massive and hewn from a solid chunk of aluminum, this one is much more conventional. Instead of having many separate compartments, this GT is one big space. The list of differences is long, but that isn't to say the new one is not a good case, I really think it is.
The first thing you notice is the hinged door, something that all cases should have. The drive pods of the older model have now merged into more conventional removable drive trays, but they are still visually appealing. There are touches all around that make this much more than an average case.
If you look at the side panel fan, you will see some louvers in front of it. These are not just a styling exercise, they aim the airflow at components that you think need more cooling. If you OC your CPU, aim cold air that way. Two GPUs close together? Vent it down. They stay in the position that they are set at, so you don't have to keep fiddling with the fans every time you bump the case.
Like the Chaser, the Level 10 GT is a little roomier than average, with more width for higher CPU cooling, more height for water cooler radiators, and more of everything. There is the normal cable routing setup behind the mobo, and three large fans. The built-in fan controller also has LED color changing abilities. Luckily, one of the available colors is off. Unlike the Chaser, the headphone stand on this one is non-retractable, but it does clip off easily, and comes with a rubber stopper to cover the holes if you don't use it.
About the only negative in my view is the lack of a top mounted drive bay. This is quickly becoming the must have feature for a case, and it's omission is notable here, but certainly not a deal breaker. If you are addicted to their functionality like I am, you probably have a BlacX or two already. It may not be the Level 10, but the GT is still pretty nice, especially considering the price difference.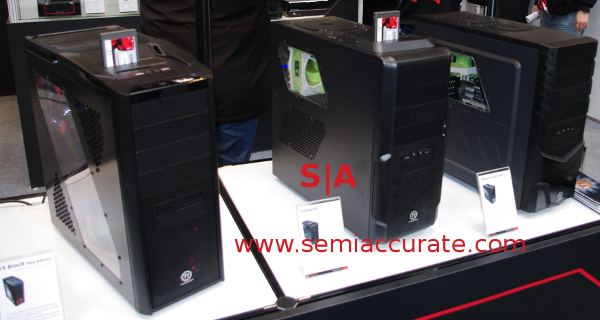 Three of the four remaining cases
The last four are all variations on a theme, the Spacecraft VF-1, Dokker, V9 BlacX Flex Edition, and the Commander MS1. The V9, on the left above is notable for its three HD docks. On top you have two of the BlacX style docks, and a Seagate GoFlex bay on the front panel. I can't think of a need to dock three HDs simultaneously, but if you need to, and one of them is a Seagate GoFlex, this is your case. Even if you just have a GoFlex or three, this is still your case.
Dokker is a standard low end case with a dock on top, nothing amazing, just bringing the technology to a lower price point. It is in the middle above, and the Commander MS-1 is on the far right. Both it and the Spacecraft VF-1 are stylish but inexpensive cases, trying to bring a bit of flash to those on a budget.
Overall, the new ThermalTake line looks really good. The somewhat jarring and angular look of the last refresh is gone, and the new models have several useful features on top of the updated style. Level 10 GT is the biggest news, but the rest all move things forward in a useful way.S|A
The following two tabs change content below.
Charlie Demerjian is the founder of Stone Arch Networking Services and SemiAccurate.com. SemiAccurate.com is a technology news site; addressing hardware design, software selection, customization, securing and maintenance, with over one million views per month. He is a technologist and analyst specializing in semiconductors, system and network architecture. As head writer of SemiAccurate.com, he regularly advises writers, analysts, and industry executives on technical matters and long lead industry trends. Charlie is also available through
Guidepoint
and
Mosaic.
FullyAccurate
Latest posts by Charlie Demerjian (see all)