WE'VE SEEN ALL sorts of DisplayLink implementations over the past few years ranging from simple USB to display interface adapters to monitors and docking stations. A company called Plugable has come up with its own rather interesting solution using DisplayLink technology, namely a docket client which allows multiple users to use a single computer.
The concept in itself isn't really new, as there have been numerous similar products over the years using just about every single internal PC interface possible. The trick with Pugable's DC-125 USB 2.0 docking client is the fact that it's simple to install and use, as it plugs in via USB to the host computer and that's pretty much it. You do of course need a monitor, keyboard and mouse for the DC-125 to function as a computer, but that has always been the case for these kinds of products anyhow.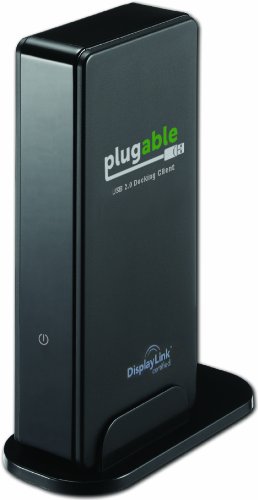 However, Plugable allows you to use multiple DC-125s on a single computer, at least as long as it runs either Useful Multiseat Linux 2011 or Windows Multipoint server 2010 or 2011, both requiring a license. The DC-125 can also work as an extender if you want access to the one and the same PC in multiple locations, although Plugable offer more advanced versions as well like the UD-160-A which offers support for higher resolutions.
The DC-125 is limited to screen resolutions of 1280×1024 or 1440×900 and it only has a D-sub connector for display connectivity. Plugable claims that this is a feature if you want to connect multiple units to one PC, as it's less taxing on the main system. There are also two USB 2.0 ports and a pair of audio jacks, so the DC-125 could be used as a laptop dock, albeit a very basic one. However the main idea here is that the DC-125 should be used for sharing one system between multiple users and at $64.95 the DC-125 looks like a bit of a bargain if you're looking for a cheap multi-user setup.S|A
The following two tabs change content below.
Latest posts by Lars-Göran Nilsson (see all)