BACK IN OCTOBER we reported that Renesas was readying a pair of new USB 3.0 host controllers and the company announced both of the new models today. Interestingly neither model appears to have passed the USB-IF certification as yet, although Renesas is currently only shipping samples at the moment with general availability not scheduled to commence until September.
The new host controllers are known as the µPD720201 and the µPD720202 where the µPD720201 is a four port controller and the µPD720202 is a two port controller. As we mentioned back in October, the µPD720202 measures 7x7mm compared to 10x10mm for the current µPD720200A and µPD720200 models. The µPD720201 is slightly larger at 8x8mm, but both of the new models use QFN packaging instead of FBGA for the older models. As far as we're aware, we're looking at the smallest USB 3.0 host controllers in the market and is likely to remain so until its competitors launches their second generation products.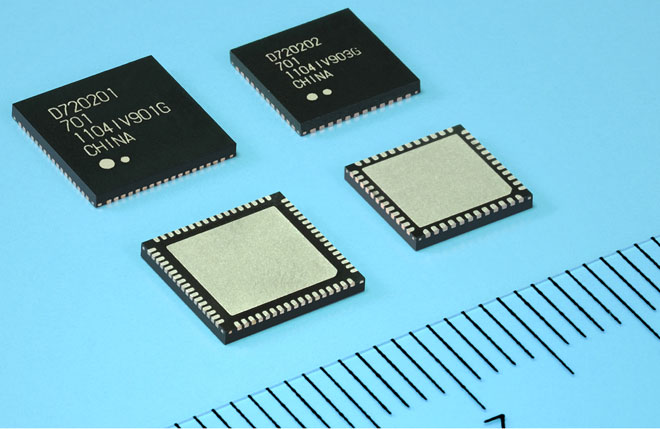 Renesas claims that both of the new host controllers have a 90 percent reduction in power consumption in low-power mode (i.e. standby) where they use a mere 4.5mW, but it's not clear which of its current controllers this is compared to. Renesas has also simplified its design and now allows for the firmware for its two new host controllers to be stored in the motherboard BIOS rather than in a separate flash ROM.
Renesas also claims a performance improvement of the "effective data write speed of more than 40 percent from existing products" which sounds very impressive if Renesas can deliver. Considering that both solutions still rely on a single PCI Express gen 2 interface, we're curious as to how the company has managed to improve the performance by such a large number. Renesas has also moved to revision 1.0 of the xHCI specification, up from 0.96 in its previous two solutions, although this isn't likely to be related to the performance improvement.
We're somewhat curious as to why Renesas is calling the µPD720201 and the µPD720202 its third generation USB 3.0 host controllers, as the µPD720200A was just a more power efficient version of the µPD720200 and didn't really change anything in terms of functionality beyond that. Still, it's a move forward to what should end up being more affordable products once Renesas kicks off mass production of the two parts. As for samples, Renesas wants $10 a pop for the µPD720202 and a whopping $20 for the µPD720201, but we'd expect this to drop to below half of that once production ramps up and Renesas claims to hit a combined production volume of 2 million units per month by then.S|A
The following two tabs change content below.
Latest posts by Lars-Göran Nilsson (see all)