Editor's note:  An update was requested with the following details.
The Toshiba website states explicitly that the need for the additional power adapter is to enable the screen to reach 220 nits.  Therefore, without the power supply, the screen brightness is lower.  Additionally, the power supply will add weight to the overall solution, which is not stated in the weight specifications (.38lbs) and also adds $39.99, making the overall cost of the monitor start at $239.
For whatever reason there seems to be something of a drive in making portable displays this year and we've already seen a 15.4-inch model from Mobile Monitor Technologies that launched during CES. Now Toshiba (TOSBF) has entered the market with a solution of its own that has one unique selling point it's powered over the same USB port that it uses to connect to the notebook.
Although the Mobile Monitor as Toshiba simply calls it only measures 14-inches diagonally, it still offers a higher resolution that the Monitor2Go from MMT, as Toshiba has gone for a 16:9 1366×768 panel over the 16:10 1280×800 screen in the Monitor2Go. This does have another advantage; it's the same resolution as most 11.6-15.4-inch notebook screens and as such it should pair up well with any notebook.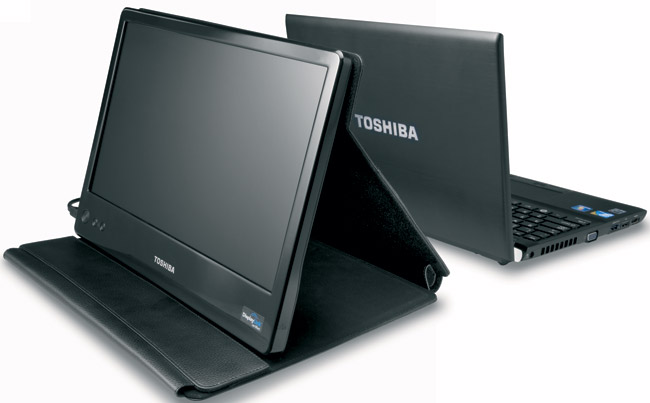 The panel might not be the best LCD panel around as it only supports 256,000 colors, has a contrast ratio of 400:1, a brightness of 220nits and what today would be considered a very slow response time of 16ms, all of which aren't exactly impressive specs. This seems to be the kind of trade-off you have be willing to make to get a USB powered display, but it should still be good enough for things like presentations and other simpler types of graphics as well as normal office work.
Toshiba's Mobile Monitor is also far more portable than the Monitor2Go thanks to its relatively low weight at 1.27kg (2.8lbs) compared to 1.81kg (4lb) for the Monitor2Go. For whatever reason Toshiba is offering an optional power adapter, even though it's apparently not needed which seems a bit odd, although presumably this is for notebooks that aren't able to deliver enough power to the display over USB. It's worth noting that the display requires two USB ports as it connects via a Y splitter, so in other words it appears to draw 1A rather than the 500mA each port supplies.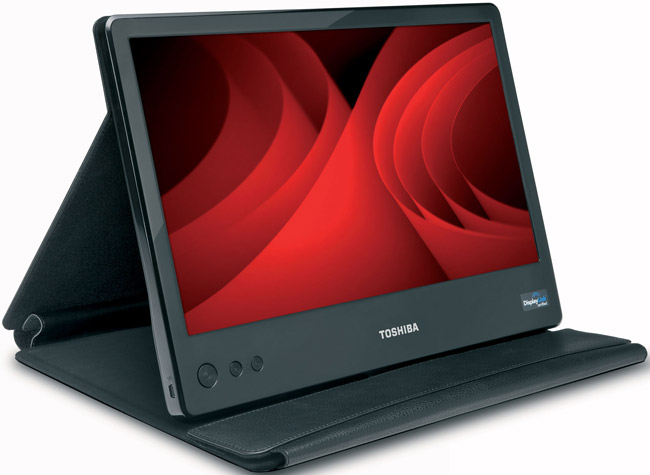 As the Mobile Monitor uses DisplayLink technology it's limited to Windows 7, Vista and XP. It's supplied with a vinyl faux leather case that not only protecting it during transport, but it also houses the USB cable and works as a stand for the display. We quite like what Toshiba has come up with, but ultimately the quality of the panel judging by the specifications is disappointing and at $199.99 it's also quite an expensive notebook accessory, although the portability aspect is an undeniable selling point here compared to a standard desktop monitor.S|A
The following two tabs change content below.
Latest posts by Lars-Göran Nilsson (see all)