Fujitsu (FJTSY) might not be the most prolific motherboard manufacturer, but they've taken over the business from Siemens (SI) and are producing a range of industrial level motherboards. We got our hands on a couple of roadmap updates from the company and spotted something rather interesting, the company has several 12V only motherboards coming out based on Intel's Cougar Point chipsets, something that could signal a slow shift away from the current triple Voltage system used today.
You might wonder what the significance of this is? Well, the implications are huge, as we haven't seen a change in standards since Intel's more or less failed BTX standard that died by in large before take off. Although it seems like we're not going to lose the badly aging ATX form factor, using a 12V only design would lead to simpler motherboard designs and simpler PSU designs.
Certain additional components will be needed for motherboards with legacy ports like PCI, although this is easily done and should be more power efficient to do on the motherboard rather than in the PSU. There's really nothing much special otherwise about this B65 chipset motherboard and you might think this is a one off product for a special usage scenario or customers, but we've found details of another three models that should be using the 12V-only PSU using the Q65, Q67 and C206 chipsets.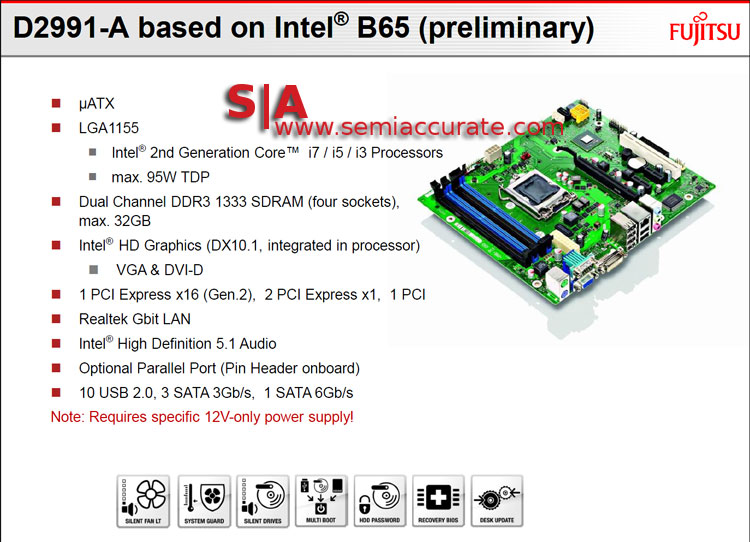 We were very curious about what the 12V-only PSU would look like, as the traditional ATX power connector has been replaced by a 16-pin connector of which actually only 15-pins are used. This should be compared to a standard ATX connector with 20-pins or the typical 24-pin connector used by most motherboards today. As such we should be looking at a very simplified PSU design and although we didn't actually managed to find any pictures of the PSU itself, we did manage to find a spec sheet.
The PSU which is made by FSP and features two 12V rails, although each rail is only good for 15A and the entire PSU is rated at 250W. That said many ATX PSUs today in the 400W range deliver about the same amount of power on the 12V rails with the rest being made up the the 3.3 and 5V rails. The PSU itself appears to have been on the drawing board since July last year, so obviously moving to a 12V-only design has been a long term project for Fujitsu. The 8-pin connector on motherboards is normally used for delivering extra 12V power, but in this case it's used for system monitoring. Although this is a 12V-only PSU, it has an 11V AUX input as well which is presumably similar to the 5V AUX found on traditional ATX PSUs.
So far this seems to be a unique range of products spearheaded by Fujitsu, but we're hoping that other companies will follow suit. This should lead to simpler, more affordable and more power efficient desktop systems as we move away from legacy interfaces. There really is very little need for 3.3 and 5V with the only exception being storage devices, especially SSDs that rely on 5V over 12V, but even this should be a fairly small problem to overcome. Time will tell if this is the way forward or not, but at least for now, Fujitsu is a pioneer in the 12V-only motherboard and desktop PSU market space.S|A
The following two tabs change content below.
Latest posts by Lars-Göran Nilsson (see all)