OCZ (NASDAQ:OCZ) will this week be showing off its latest enterprise SSD at CES. It is the Z-Drive R5 with capacities of up to 12TB and extremely impressive speeds.
These very fast speeds have been achieved in cooperation with Marvell using the Kilimanjaro platform based on the Marvell (NASDAQ:MRVL) 88NV9145 controller. This controller accepts up to 16 NAND flash modules that give an impressive read performance of 1.4 million random reads and just over 1 million random writes – using 4K blocks.
This speed is achieved by using a native PCIe interface instead of using the SATA interface that most drives employ.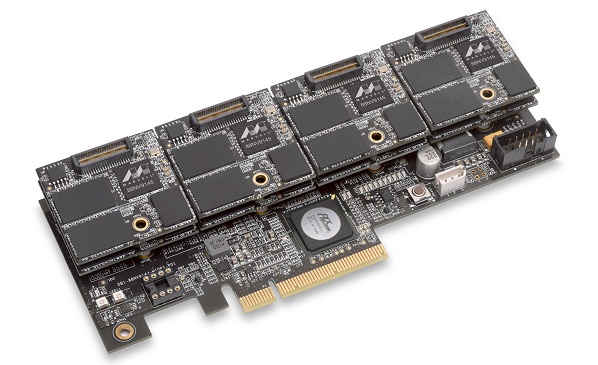 OCZ Z-Drive R5. Photo copyright OCZ.
To start with, the drive is only meant for datacenters, where it will support various environments including VMware ESXi and ESX, Linux, Windows Server 2008, and OS X. the drives can be delivered with either SLC or MLC flash allowing optimisation for either speed or density.
Interestingly enough the SATA-IO group has got the same idea as OCZ (or maybe the other way around), but the next generation SATA specification will actually be using PCIe as the underlying transport mechanism.S|A
The following two tabs change content below.
Latest posts by Mads Ølholm (see all)