A Second Monitor for your Laptop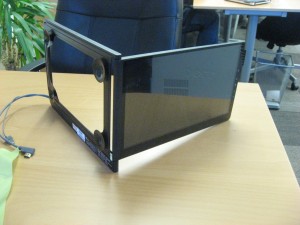 The GeChic On-Lap 1301 is a curious product.  When I received it in the mail, I didn't know what to make of it.  It is a USB-powered second monitor for your laptop, which in itself is novel.  But as the manufacturer proudly boasts, the On-Lap Monitor doesn't occupy desk space, or lap space for that matter.  It is a 13" 1366×768 TN panel inside a small casing with suction cups to attach to the back of any 13.3" or larger laptop.  The On-Lap 1301 is USB powered but not USB operated, which means you need either a VGA or DVI connection to make it work.
This in itself is something completely new, or it would be, if Toshiba hadn't beaten them to the punch.  In July 2011, Toshiba released the much-better-named "Toshiba USB Mobile LCD Monitor", a 14" 1366×768 mobile monitor with no laptop attachment capabilities, but nice build quality.  The Toshiba monitor retails for about $20 less than the GeChic product, but unfortunately has poor brightness when powered by USB, relies on Windows-only software (sorry Mac, Linux, or BeagleBoard users), and weighs 2.8 pounds.  The GeChic's svelte 1.9 pounds is hard to beat.
The panel on the On-Lap 1301 is also quite potent, sucking down less than 5W, but managing to deliver a useably bright screen.  While 1366×768 is a low resolution, on a 13″ monitor the pixel density is acceptable.  A portable 13" screen at this resolution in a package under 2 pounds is just unheard of, and the GeChic team should be proud that they did it first.
Execution
It sounds like the GeChic would be the superior product, but mediocre execution mars an otherwise great idea.  The On-Lap is somewhat bulky, if you factor in the girth added by the suction cups and the extra height added by its frame.  Since the frame is not removable and contains the VGA and HDMI connectors, you are stuck with it.
So let's say you choose to attach this to your laptop.  First you'll need a 13.3"+ sized laptop.  Then you need to figure out which port you have, HDMI or VGA.  If you have HDMI, you had better hope it's on the left side – if it's VGA, hope it's on the right.  This is because the On-Lap contains a very awkward "cable channel" inside its frame, where the USB and display connectors are run.  But you have to run them through yourself, and the VGA and HDMI cables terminate on different sides.  When you're done jamming them in there, you have to replace a flimsy plastic cover, which I could never quite make fit right – it is made of flimsy plastic with easily bendable tabs.
This issue with the cables is a big deal, because they are woefully short.  You must be lucky enough to have the above configuration on your laptop.  If you don't, like my home laptop doesn't, you need an extension for whichever cable you're using.  The cables are simply too short, and I found myself making an awkward compromise where I ran the cable underneath the laptop just to get it to fit.
And the On-Lap doesn't just pop on.  You have to screw four suction cups into the frame, a simple affair, but it is not quick to do.  Then, you have to attach four mandatory plastic stickers onto your laptop (hope you can eyeball where they go!), which are thankfully not so sticky that they leave any residue.  Without the stickers, the On-Lap's suction cups simply do not attach securely.
Life With Dual Monitors
Once it's finally on, it is very stable, although the magnet that holds the monitor closed in its casing could be a little stronger.  When you fold it out, the action is nice, and it stays in place for the most part. You may need to bring the monitor in at a small angle towards you to balance the weight.  This ranges from a minor annoyance to a deal breaker on laptops with weak hinges, as the extra weight of the On-Lap can cause your screen to simply drop backwards, especially if you usually use it at an oblique angle.
I cannot simply for the life of me figure out how I am supposed to carry this thing around!  With the On-Lap screen attached, it is far too large for any reasonable laptop bag.  Plus, the screen is facing outwards, so if you don't want to scratch it, you must bag it.  It attached very securely to my laptop, so securely that it is a serious pain to get off: you need to fold it open and stick your fingernails underneath each suction cup.  The On-Lap comes with a small sleeve, but it is too thin to accommodate the screen with the suction cups!  You must unscrew the cups, which takes nearly a minute, and store them somewhere else.  This is bad design.
The software side is where the On-Lap truly excels – there isn't any.  The On-Lap is recognised as a regular monitor, and you can rely on your OS to take care of it.  This is a huge plus for non-Windows users, *cough* Linux.
The actual panel itself is nice.  The colors aren't great, but they are really what you would expect.  It is unfortunately a glossy screen, which means outdoor use is likely out of the question.  It contains an OSD, but I couldn't for the life of me figure out how to turn it on at first!
Much like Samsung's Galaxy phones and various other monitors, the On-Lap has what looks like touch-sensitive, light-up buttons.  But I soon realised that they are not touch sensitive, they do not light up, and they are not buttons at all – they are simply labels!  The real buttons are located on the back, in a very awkward position that you need to curl your hand to get to.  There is no mention of this anywhere in the documentation.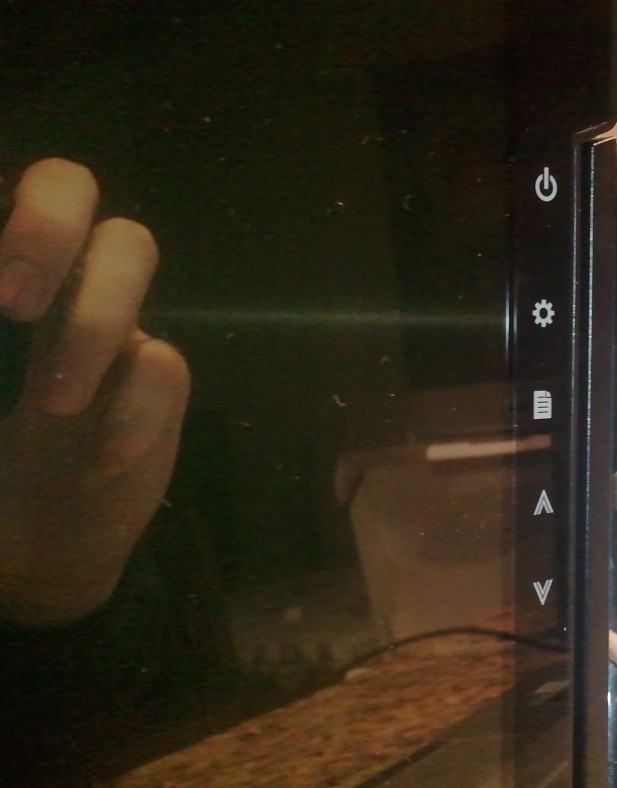 Touch-sensitive buttons? Nope, just labels.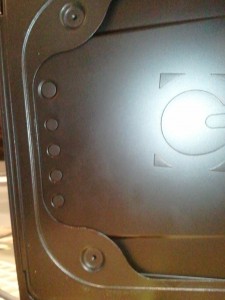 The buttons are here – awkward to reach and with no explanation at all.
The documentation was relatively thorough otherwise. It contained no mention whatsoever of the green "stand bricks", a mystery addition with a very strong and suspicious rubber cement scent.  I spent a fair amount of time with a friend trying to figure out how to use them, before giving up and washing my hands of whatever it is that's on those things.  Seriously, are these toxic?  They honestly smell like poison.
A fair number of amateur errors mar attempts at a professional product here.  Honestly, these could have been easily fixed by finding someone, anyone who is fluent in English before releasing this product!  It contains true gems such as this tagline, "Suffering the small sereen of laptop?", located right on the front of the inner packaging.  I did the needful and read the whole thing, which was generally comprehensible, with the exception of this gem:
"Do not assemble On-Lap monitor on any transportations, such as car windshield, during the commute the falling of screen might cause the damage of human baby."  Ah, yeah.  Thanks for the warning?
Function over Form
This product simply fails to be simple or straightforward.  It takes a long time to get used to using the On-Lap in its attached mode, and I simply cannot recommend it unless you have an absolute need for it and are willing to deal with some annoyances.  Perhaps if the panel were attached to the top and sides of the screen, without the girth added by suction cups, this would be workable. If it didn't weigh enough to cause many laptop screens to fall down, I could recommend it.  And if there weren't a hinge, but rather a slide mechanism that allowed the screen to stay face-down in transport, we'd really have a stellar product here.
That leaves the stand-alone mode as the only really compelling aspect of this product.  The documentation suggests using a small fold-out stand, which resembles a music stand or easel.  Unfortunately it is not included, so there is no way to use the On-Lap in landscape orientation, unless you rest it against a wall or some books.  I tried putting the "stand bricks" under the screen to hold it up, but the tiniest push would topple the screen over.
Your only real out-of-the-box option in standalone mode is the portrait orientation, which is shown in the pictures.  Unfortunately wiring is still an issue in this orientation, and the 16:9 aspect ratio leaves you with very little horizontal space.
Verdict
As a presentation tool, or for travellers, writers, coders, people with small desks, or anyone else who needs some extra real estate, the On-Lap is still a compelling product.  The benefits of using a second monitor are well documented, and I highly recommend it.  A friend I let try the monitor loved using it on a couch, and didn't want to give it back after coding on it for a few hours.
The On-Lap is also the lightest 13" USB-powered monitor that has actually made it on the market (I'm looking at you, AOC and Lenovo), and the only one with raw VGA and HDMI inputs.  If that is what you need, this is what is available.  But the attachment mechanism is clearly not ready for prime-time, and adjustments need to be made to make the screen more portable.  The Toshiba, while slightly heaver, does a much better job as a standalone monitor, without the flimsy plastic and hinges.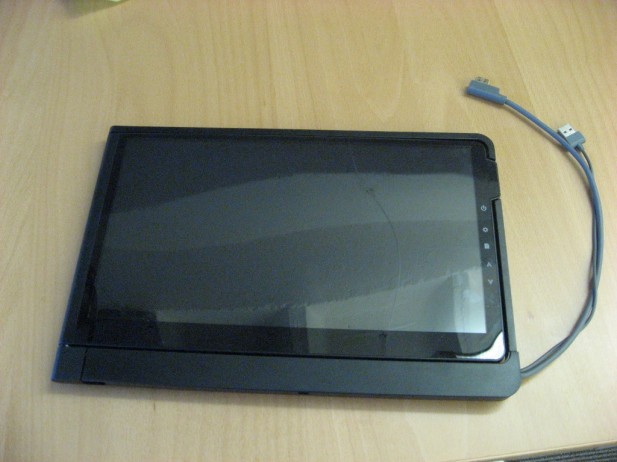 GeChic has a great idea here.  Hopefully the refresh will be better executed.
Summary:
Pros:
Very lightweight (1.9lb)
Decent screen quality
Once attached to a laptop with a strong hinge, it works quite well
Relatively low cost
Uses only one USB port for power
Contains both VGA and HDMI cables
Sips little power
Adds a lot of utility to your laptop
Engrish documentation
Usable with all OSes
Cons:
Engrish documentation
Glossy screen
Very clumsy attachment
Face-out screen means it must be detached to transport safely
Detachment is difficult
Awkward buttons
Plastic covering cable channel is flimsy
Can overload the hinges of smaller laptops
Requires non-reusable sticky cupule mylars to attach to laptop, and only enough are provided for two laptops
No USB, VGA, or HDMI extensions included, which can cause problems on laptops with sparse I/O
No included stand for stand-alone portrait mode
Stench of the stand bricks may explain why I can't remember this New Years' Eve
S|A
The following two tabs change content below.
Latest posts by Samuel Reed (see all)