The news from Supertalent at Computex was incremental but when you are talking speeds, that is not a bad thing. In pushing things a bit harder, did they end up with fastest PCIe SSD?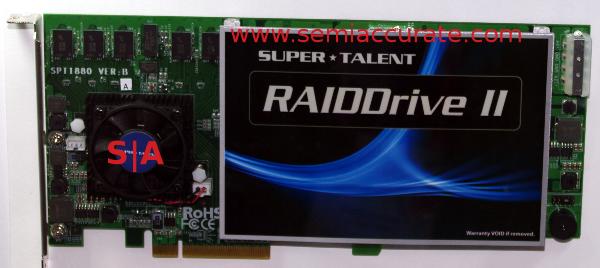 Big and faster, now with more
The first thing is an update to the old RAIDDrive II from a year ago. The short story here is not a new part, but massaging the older one. The official spec sheet says 2.4GBps read, 2.8GBps write (Note the upper case B), well within the limits of the PCIe2 8x bus it sits on. Supertalent claims that the 2.4/2.8 numbers are quite conservative though to make up for a wide variation in PCIe2 controller performance in existing devices. If you have a decent controller and CPU, it should easily hit 3.2GBps. Not bad. The RAIDDrive II uses an LSI 2108 RAID controller and lots of Sandforce 1222 SATA chips, so it won't ever be a budget device, but you can get up to 2TB versions should your budget allow.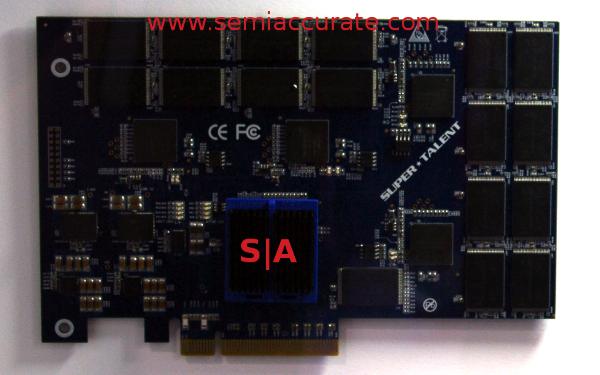 upStream SSD for those on a budget
If your budget doesn't allow it, you might want to look more at the RAIDDrive upStream, complete with stUpId capiTaliZation at no extra cost. This is a budget PCIe SSD, note the lack of a 2 after PCIe. That said, it uses an LSI 1064 controller and comes in 240, 480, and 960GB variants. How fast? 960MBps read, 900MBps write, not bad for a cheapo bootable PCIe SSD, especially since it will obliterate a SATA device in any relevant test.
Last up is something that doesn't look interesting at all, the SuperNova SSD. In fact, it just looks like a plain old SSD in a square metal box with all the spiffy industrial design of a 1970s Eastern Bloc luxury car. That said, it is from a line aimed at enterprise computing, so pretty is secondary to its main purpose, reliability. The specs seem pretty ordinary by today's standards, SandForce 2200, SATA6, 550/520MBps R/W, and then you get to "protects data from power loss" on the spec sheet.
When asked, SuperTalent basically said that they go out of their way to spec things that are only there for reliability, even if they are more expensive. New underfill for the controllers and a silicon thermal pad to spread heat are two build quality examples, high spec ONFI flash is another. It all adds up to a claimed high reliability, but the spec sheet is curiously buzzword filled with no hard numbers claimed. That said, we don't doubt it does better than their mainstream products.
Overall, nothing amazingly exciting at SuperTalent this summer, incremental advances instead of giant leaps. Then again, it is hard to argue with 3.2GBps from a single slot SSD, if that is an incremental bump, imagine what a revolutionary step would bring?S|A
The following two tabs change content below.
Charlie Demerjian is the founder of Stone Arch Networking Services and SemiAccurate.com. SemiAccurate.com is a technology news site; addressing hardware design, software selection, customization, securing and maintenance, with over one million views per month. He is a technologist and analyst specializing in semiconductors, system and network architecture. As head writer of SemiAccurate.com, he regularly advises writers, analysts, and industry executives on technical matters and long lead industry trends. Charlie is also available through
Guidepoint
and
Mosaic.
FullyAccurate
Latest posts by Charlie Demerjian (see all)