Thermaltake was heavy on the gaming lifestyle accessories this year at Computex, but a bit lighter on the hardcore stuff. That said, there were some new ideas in the mix, not just rehashes of older stuff like some.
The first thing you saw at the TT booth was the Dracco headphones, basically the big over the ear padded kind that are so popular of late. You know, those cheesy 'beats' or whatnot, all trying to be the new anti-Apple. Dracco is fashionable, for some definitions of fashion, and they are undoubtedly noticeable. Actually they border on unmissable, if you are wearing these, you will be seen. From a distance. A long long distance.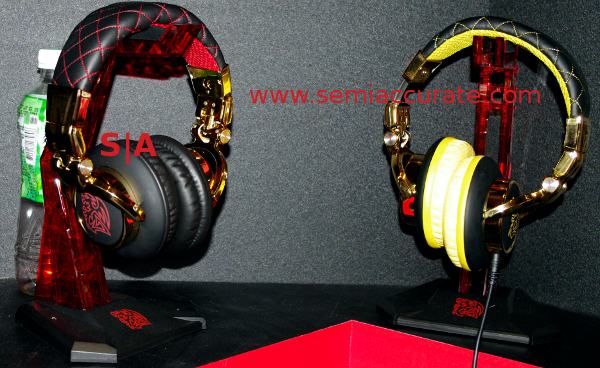 Tasteful by some definitions of taste
When asked about the Dracco's rather unique choice of hues, the Thermaltake PR person said that they were quite popular in Asia. If you haven't been to Taipei lately, you probably wouldn't understand why we replied, "I can see that" rather than, "What are you on crack?" If you are in the Taipei main station, go down to the first basement and walk between the MRT and the HSR areas looking for public art. When you find it, you will understand why the Draco is popular. It also comes in tasteful white/yellow/gold, black/white/silver, baby blue/yellow/pink, and traditional pink/black color combinations.
If you are a high fashion person like most of SemiAccurate's readership, you understand that wearing a headset with the normal silicon valley attire would be gauche. Thermaltake comes to the rescue with the Chao line of clothes to go well with the tasteful Dracco headsets. Take a look at the latest here, you can't miss them. We mean that, pictures don't capture these well either, they are much more retina searing in person.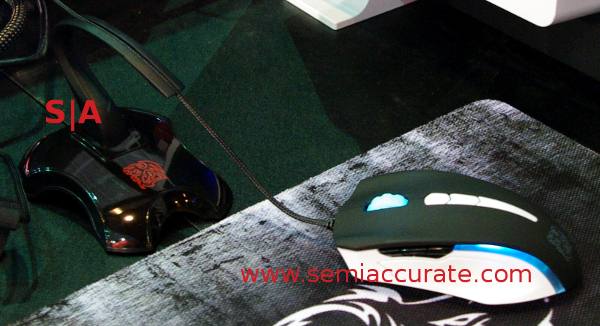 Bungee for fun with Galeru
Stepping outside the box, Thermaltake has a new idea that they call a mouse bungee. This one is called Galeru, and it is a nifty little weighted stand with a flexible rubber arm that keeps your mouse cable off the mat to prevent tangling, binding, and drag. The best part is that the rubber arm is magnetically attached to the base so that it will break free if you yank hard preventing damage or other related problems that are funny when they happen to someone else. Galeru is a pretty nice idea for gamers, you might want to try one out if you get a chance.
Thermaltake would not be Thermaltake without cases, and this time around, there are two of them to talk about. The first is the new Soprano, that wavy fronted tower has been updated to silence the noise, the side panel is now coated with high density foam to quell high pitched sound. This and a few other tweaks make it the New Soprano, but it is still quite visually identifiable as a Soprano family member.
You probably know the Armor line of cases too, with two curved aluminium half doors on the front. They are fairly ubiquitous in the gaming world, and the latest update is called the Armor Revo Gene. Take those front doors, put them on Revo 'not Starcraft II' style side panels, and add a HDD dock on top. Then bring the entire chassis in to the USB3 world, and you have the Armor Revo Gene, now in white too.
The last device is probably the most interesting, a new member of the Level 10 line is a mouse called the Level 10M. This isn't an ordinary mouse, it is a high end premium mouse that adds some cool and useful features, not just LEDs and pointless buttons. It is going to cost about $89, and it is worth every cent.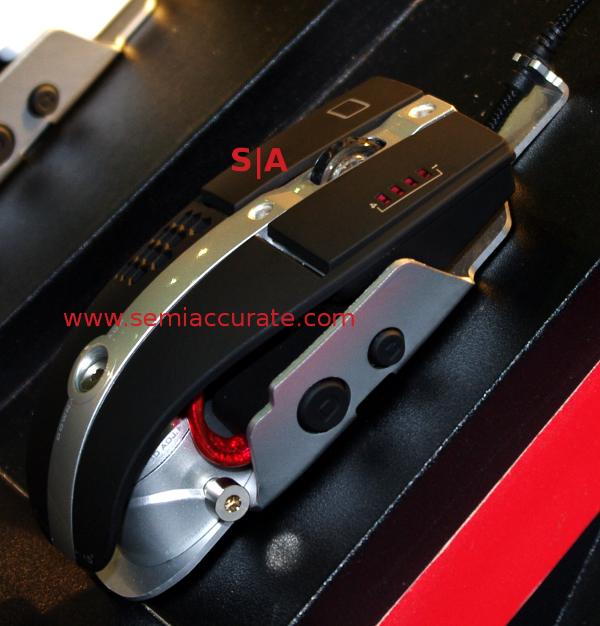 A new level for mice, the Level 10M
It starts with an aluminium bottom plate that is bent up for the button surrounds. The sides are mostly open, and the top of the mouse has holes for airflow. The idea is to allow movement from your hand to push cooling air across your palm. It may look odd, but the open sides are there for a reason.
You may also notice the hex bolts on the side and top, they are not there for decoration. These two adjust the shape of the top of the mouse and its position. The palm rest moves up and down, plus a little towards the top or bottom too. The side bolt moves the position of the palm rest left and right. In the end, it is a high end mouse that adjusts like nothing else out there. Some may not like the look, but I do, and you can always adjust it if you are undecided.S|A
The following two tabs change content below.
Charlie Demerjian is the founder of Stone Arch Networking Services and SemiAccurate.com. SemiAccurate.com is a technology news site; addressing hardware design, software selection, customization, securing and maintenance, with over one million views per month. He is a technologist and analyst specializing in semiconductors, system and network architecture. As head writer of SemiAccurate.com, he regularly advises writers, analysts, and industry executives on technical matters and long lead industry trends. Charlie is also available through
Guidepoint
and
Mosaic.
FullyAccurate
Latest posts by Charlie Demerjian (see all)