At CES, Kingston was showing off two new memory sticks and an update to their Wi-Drive device. The best part was the new form factor for the Kingston drives, they are pretty slick.
Geeks may think otherwise, mainly because the top end drive called the HyperX Predator is a massive 1TB in size. Yes, Kingston made a 1TB flash stick, I can recall when 32MB was considered a generous capacity, and we are at many thousands of times that number now. Not that the Predator will be the final word in flash sticks, but we are getting perilously close to 'enough' capacity in this form factor. Speeds are a claimed 240MBps read, 160MBps write, with availability late in Q1. Pricing is a unknown likely because of the way flash moves in price on a whim.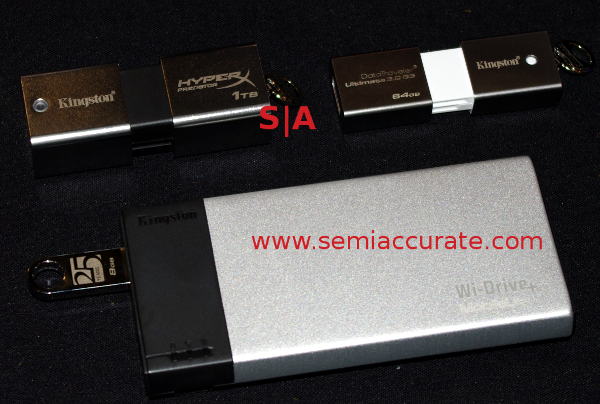 Big stick, small stick and not a stick
The next device is a little more down to earth, the similar looking Datatraveler Ultimate G3. This drive comes in 'only' 32 and 64GB capacities with a 150MBps read and 70MBps write speed. It uses the same solid metal case and really nice sliding mechanism as the Predator too. Not much more to say other than it feels really nice in your hand.
Last up is the big box on the bottom called the Wi-Drive+. As you might have guessed, this is an update to the Kingston Wi-Drive, basically a wi-fi box with built in flash storage aimed at the Mac and iThingy market. This + version takes out the internal flash storage but adds card slots and a USB port. The idea is you bring your own storage and can expand, swap, and twiddle it until you get bored for less money than built-in storage.
The point of the Wi-Drive+ is to allow phones, tablets, and other thingies that lack slots and USB ports to access storage wirelessly. This update allows it to be used as a wired card reader too, not that that will be big selling point. Best of all, it has a claimed five hour battery life, more than adequate for the task at hand, and can be used to recharge your phone in a pinch. The Wi-Drive+ is still in beta, so some things may change a bit before release, but they won't be major. The device should be out in the not so distant future, minor changes or not.S|A
The following two tabs change content below.
Charlie Demerjian is the founder of Stone Arch Networking Services and SemiAccurate.com. SemiAccurate.com is a technology news site; addressing hardware design, software selection, customization, securing and maintenance, with over one million views per month. He is a technologist and analyst specializing in semiconductors, system and network architecture. As head writer of SemiAccurate.com, he regularly advises writers, analysts, and industry executives on technical matters and long lead industry trends. Charlie is also available through
Guidepoint
and
Mosaic.
FullyAccurate
Latest posts by Charlie Demerjian (see all)