Synology had a few new updates at Computex along side a few new products that we weren't expecting. If you want to put storage on the net, Synology has things to do it with from SD cards to racks of HDDs.
The first one SemiAccurate was shown was the RS3614xs 2U rack mount NAS box with the new Synology design. At first glance it looks like most other black rack mount NAS boxes, but as soon as you open it up the new features stand out. They all have one thing in common, every user serviceable item from drives to fans to anything else can be removed with one finger. It works too, Synology's elegant hand model Vincent demonstrated by raking what seemed to be half the box pictured below apart with one finger.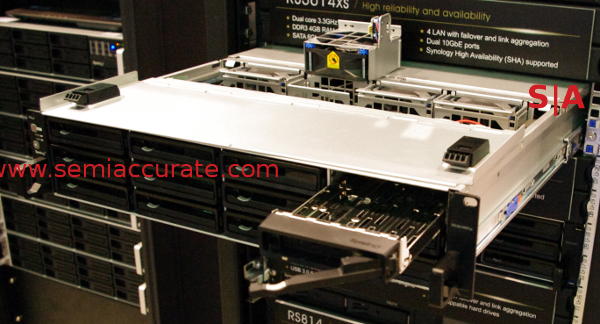 Synology RS3614xs being disassembled
Slightly above that one in the performance stack is the RS10613xs+ but both look pretty much the same from the front. The 10613 has an LED in place of two drives though leaving only 10 vs the 12 on the 3614, but the + on the end more than makes up for that. This box can have up to eight RX1213sas 12-drive expansions slaved off of it for a total of 106 drives per head unit. If 424TB is not enough for you, you have a storage problem on your hands. You can read the full specs here.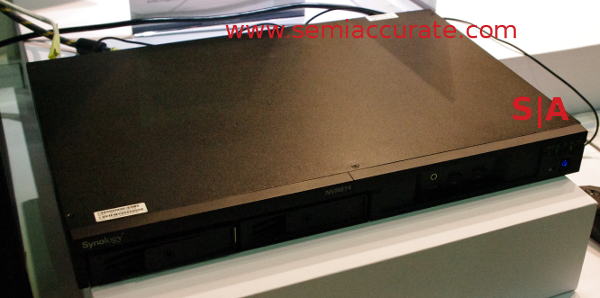 NVRs sans PC equals NVR614
The next thing Synology showed off is a bit of an outlier, the NVR614 networked video recorder/surveillance device. Lots of disks attached to a PC with video capture and search software is nothing new, there are dozens on the market and Synology is one of them. The NVR614 is a low to mid-range device which will take eight 720p video streams, basically up to 10Mp of video at once.
This device is significant because it doesn't require a PC, it is a standalone NVR with everything in it, no PC needed. While a lack of a PC is not unique on the low-end of the market, once you get above a certain performance level most device makers put Windows on the box. Synology has a high performance standalone device without any Microsoft OS, something that attacks the very heart of one of the few remaining Windows Server niches. The NVR614 may not change the world by itself, but it most certainly draws a very interesting line in the sand for Redmond.
Last up we come to the USB Station 3, a replacement for the USB Station 2. This tiny little box has, can you guess? Yes USB3 ports instead of USB2, plus it now has a 1GHz CPU with full hardware encryption and a FPU, basically a storage SoC not a re-purposed tablet chip. The idea is easy enough, put any USB storage device in it from an SD card to a 4TB HDD and it is now networked with the full Synology software suite behind it. The USB Station 2 cost about $60 so the 3 should be in the same ballpark, cheap enough to have one around the office just in case.S|A
Have you signed up for our newsletter yet?
Did you know that you can access all our past subscription-only articles with a simple Student Membership for 100 USD per year?   If you want in-depth analysis and exclusive exclusives, we don't make the news, we just report it so there is no guarantee when exclusives are added to the Professional level but that's where you'll find the deep dive analysis.
The following two tabs change content below.
Charlie Demerjian is the founder of Stone Arch Networking Services and SemiAccurate.com. SemiAccurate.com is a technology news site; addressing hardware design, software selection, customization, securing and maintenance, with over one million views per month. He is a technologist and analyst specializing in semiconductors, system and network architecture. As head writer of SemiAccurate.com, he regularly advises writers, analysts, and industry executives on technical matters and long lead industry trends. Charlie is also available through
Guidepoint
and
Mosaic.
FullyAccurate
Latest posts by Charlie Demerjian (see all)