The PC market is moribund and withering because of Microsoft and Intel's mandates, but that didn't stop Inhon from actually innovating. Better yet they had not just one but two innovative products at Computex.
Ultrabooks are a fundamentally bad idea by design and second year sales that hit 1/8th of Intel's promises show the public agrees. Painfully expensive for fewer features and performance with no real up side is not a compelling sales pitch but that is the gist of Ultrabooks. At CES an Intel representative pointed to a long line of Ultrabooks and said something like, "look at all that innovation". There were to colors, white and black, two hinge types, and some were detachable, but fundamentally there were three designs replicated dozens of times each. Differently rounded corners does not make an innovative product.

Innovation Intel style, emphasis on style over substance
Luckily Inhon shattered that paradigm with two innovative designs, one pushes the boundaries of weight, the other is an interesting form factor. The first thing you notice in the booth of this tiny Taiwanese OEM is the Blade 13 Carbon laptop. We hesitate to call it an Ultrabook because it is actually interesting and useful, but until Haswell hits with the moronic new Ultrabook restrictions, it qualifies. This laptop is tiny, light, and has decent resolution, and the price is amazing for what you get.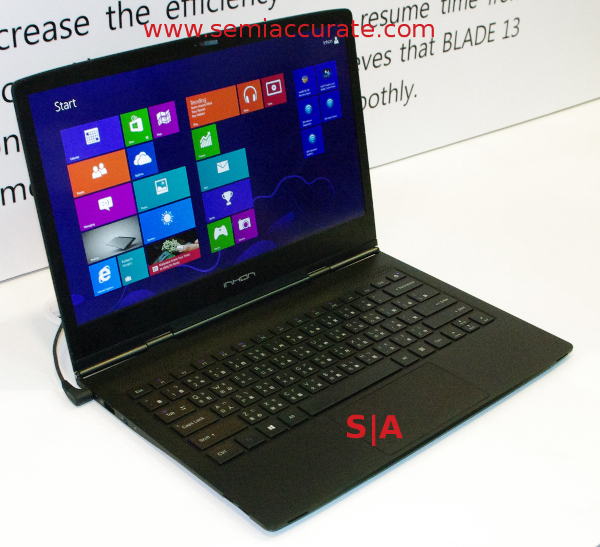 Blade 13 Carbon, what could be the best laptop on the market
If you recall the 975g Gigabyte carbon fiber X11 laptop from last year that sadly never came out, Inhon blows that away. Their Blade 13 Carbon is a mere 870g or less than 2 pounds. It has a 13″ 1920*1080 IPS screen, up to 256GB SSD, 4GB of DDR3/1600, a 720p camera, two USB3 ports, one USB2 port, an SD card reader, and most everything else one would need. On the down side it comes with Windows 8 but that is rectifiable and it doesn't have a touch screen so better battery life and image quality for less money. On the CPU side it has an Ivy Bridge in least-crippled form at up to 3.0GHz too, all backed by a 5000mAh battery.
If this isn't enough for you, there is the Inhon Blade 13 sans Carbon moniker that weighs 1195g, has a 1600*900 screen, and only comes with an i5 fused off Ivy. Both are the same dimensions in length and width, 316*218mm, but the Carbon is thinner at 10.7mm vs the 12.6mm of the non-Carbon version. Most of this weight seems to have gone in to the battery, it is 5700mAh, and of course the case, but otherwise the two are nearly identical. It has less performance and should have notably more battery life.
The best part? The Inhon Blade 13 Carbon will cost about $1300 when it hits the market next month, the plastic version only runs about $1000. The simple addition of a 1080p screen makes the Carbon a no-brainer for the added price, you would be silly to not get that version. Better yet there is a Haswell variant due out later this year, I can't wait for that. This is the first thin laptop out there that isn't laughably crippled like all the Ultrabooks on the market.
On paper the Inhon Blade 13 Carbon looks like the best laptop SemiAccurate has seen period. In use it wasn't the most rigid device we have played with but the keyboard was more than decent and so was everything else. The real test will be how the construction holds up under long-term use, but that is not something we can answer at a trade show. If you can get your hands on one, please let us know what you think.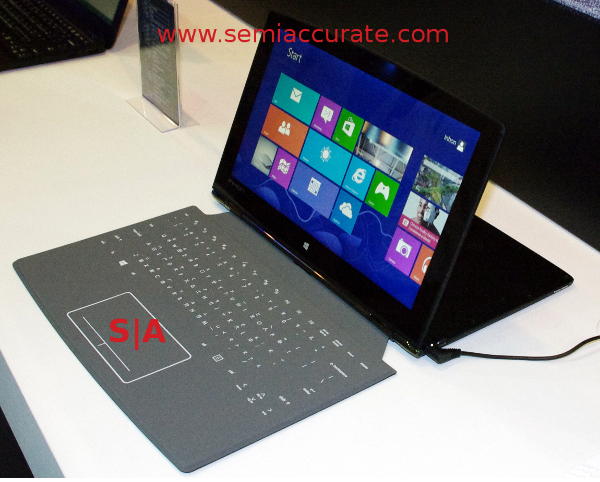 Inhon Carbon Tablet
The next one up is a really innovative form factor, a three leaf tablet/convertible/tent laptop/notebook/thingy. It is really hard to place it in a category because as far as we are aware, there are no other three-fold devices on the market at all. It is a roughly 12″ tablet that detaches from a fold over base like many on the market, but the base doesn't have a keyboard. That is the third leaf, it is one of those flexible cloth keyboards that usually suck to use.
One brilliant bit about he Carbon Tablet is that if you don't have the keyboard attached, you can use the base as a stand. If you do, it becomes a stable flat backplate for your keyboard. The other brilliant bit is that the keyboard attaches with two large screws on the back and they have heads that are designed to use coins as a screwdriver. If you don't have a coin on you, and no one near by does, you can't attach or remove the keyboard but what are the odds of that? It is a really cool design.
It only weighs 870g as well but we are not sure if that includes the keyboard. If it doesn't, the fabric keyboards weigh next to nothing anyway so who really cares? CPUs range from artificially crippled iSomething to a 2.6GHz far less fused Ivy, all behind the 10 point touch 1366*768 screen, with 4GB of DDR3/1600, and up to 256GB of SSD. All this can be yours for $1350 or so at the high-end, lesser specs are of course cheaper.
These two chassis, the Inhon Blade 13 Carbon and the Carbon Tablet are both innovative. They transcend Ultrabooks and have the potential to be useful despite the restriction put on OEMs of late. If they are as solid as they appear, both could be best in breed. It was by far the best computer at Computex, and could be one of the best computers on the market period.S|A
The following two tabs change content below.
Charlie Demerjian is the founder of Stone Arch Networking Services and SemiAccurate.com. SemiAccurate.com is a technology news site; addressing hardware design, software selection, customization, securing and maintenance, with over one million views per month. He is a technologist and analyst specializing in semiconductors, system and network architecture. As head writer of SemiAccurate.com, he regularly advises writers, analysts, and industry executives on technical matters and long lead industry trends. Charlie is also available through
Guidepoint
and
Mosaic.
FullyAccurate
Latest posts by Charlie Demerjian (see all)