Coolermaster had four things of note at Computex, three of which were entirely new to SemiAccurate. They ranged across the Coolermaster product lines and while none will revolutionize computing all are useful.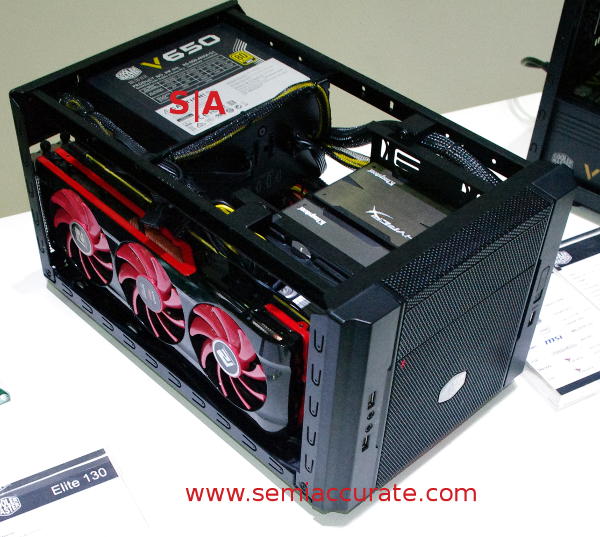 Coolermaster Elite 130 shoebox case
The first one up is of course a case, and is the downsizing norm the new Elite 130 is a Shuttle/shoebox sized case. This form factor for mini-ITX mobos is of course nothing new, but the Elite 130 takes a full-sized PSU and a full-sized GPU in this form factor. I have seen both in other cases, but I can't say I have seen both in the same case design. It is comforting to know some companies still care about the enthusiast.

Look Ma, the letters melted and slid down
Next up is something unique, the Quickfire Stealth keyboard. At first it looks reminiscent of the Das Keyboard, you know the blank one without any markings on the keys. The Quickfire Stealth does actually have markings on the keys but you wouldn't notice that if you approached it at the wrong angle. Instead of being on top of the keys, the lettering is imprinted on the side so you can only see it at a shallow angle, from the top it looks blank. Think high geek cred scores at the next lan party and if it is like the Quickfire I have it is a damn good keyboard too, your choice of four Cherry switches only makes it better.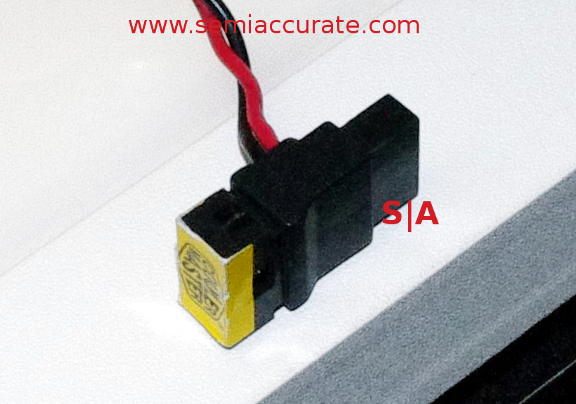 An always-on headerdonglethingy
Moving to power supplies we have the Coolermaster GXII 750W PSU that has one truly useful feature, an always on USB header adapter thingy. As you can see there isn't really a category to describe this thingy, it is a pass-through dongle that goes on a mobo USB header and provides it with always-on power. You can turn any case USB port into an always-on charge port with a simple plug and play thingy. Every PSU should have at least two of these, they are that useful.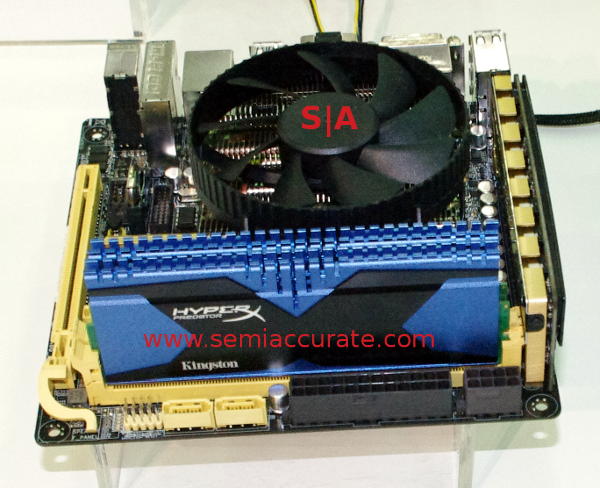 A fan dwarfed by DIMMs

You might recall the Gigabyte half-height mini-ITX board from IDF, how do you cool them? Gelid was showing off low profile fans at Computex, but those aren't really suitable for such half-height boards and cases. What do you do it you want to fully exploit this rather silly form factor Intel forced on the market? The Coolermaster Gemini II Mini is a good place to start, it is a small, low profile heat sink and fan that is made for this form factor. It has four direct contact heat pipes and noise optimized fins, basically it is made for a set-top box or monitor back application. If this form factor ever takes off, and we severely doubt it will, you now have a fan to use with it.S|A
Have you signed up for our newsletter yet?
Did you know that you can access all our past subscription-only articles with a simple Student Membership for 100 USD per year?   If you want in-depth analysis and exclusive exclusives, we don't make the news, we just report it so there is no guarantee when exclusives are added to the Professional level but that's where you'll find the deep dive analysis.
The following two tabs change content below.
Charlie Demerjian is the founder of Stone Arch Networking Services and SemiAccurate.com. SemiAccurate.com is a technology news site; addressing hardware design, software selection, customization, securing and maintenance, with over one million views per month. He is a technologist and analyst specializing in semiconductors, system and network architecture. As head writer of SemiAccurate.com, he regularly advises writers, analysts, and industry executives on technical matters and long lead industry trends. Charlie is also available through
Guidepoint
and
Mosaic.
FullyAccurate
Latest posts by Charlie Demerjian (see all)