Intel is announcing 14 new Xeon–D CPUs today along with networking and software goodies too. If the two Xeon-Ds SemiAccurate told you about in March weren't enough, these should hold you for a few more quarters.
For the CPUs there isn't much new to talk about, the chips are the same as the two launched last March. There are 11 SKUs that are out now, three more will follow in Q1/2016, and probably more after that. Unfortunately the new SoCs actually aren't SoCs as we told you about over a year ago, they are MCMs that Intel insists on using an incorrect term for. When called on this they argue technically ludicrous points to cover for marketing misdeeds. That said the new parts are quite good when you are talking tech, just don't get us started on Intel's marketing of late.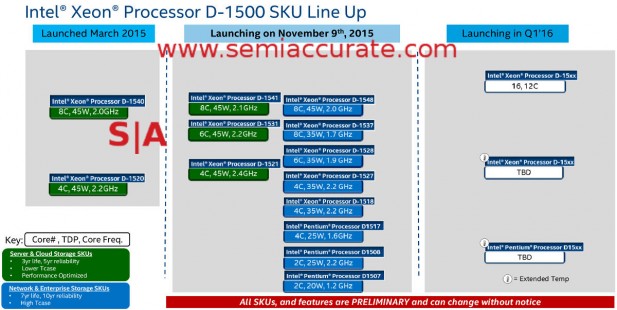 16 total, 14 new, 11 now, 3 later
There are three types of Xeon-D CPUs now, standard, extended life/support, and non-existent until Q1/2016. The standard parts are 4-8 core and run from 2.1-2.4GHz, the extended life parts are 2-8 core and run from 1.2-2.2GHz, and the three next year are 12-16 core with a white background. That is about all we know so far about them, really. All of these are in addition to the two released in March so there will eventually be at least 16 Xeon-D MCMs out there.
Intel is positioning these chips into three main categories with server, storage, and networking use cases. On the server-side it is rather self-explanatory, most SMBs don't need what a 2S Xeon delivers now and even a Xeon-E is overkill in many places. The new Xeon-D line fits very nicely below those offerings and is just about right for many SMBs and branch offices. Intel is claiming they up performance by 3.6x over the fastest Atom on the market, a number we find quite plausible.
On the storage front Intel puts warm cloud storage and mid-range NAS offerings as the sweet spots for the new lineup. The Xeon-D is a claimed 6x faster than the previous Intel flag bearer in this market, the Atom C2750. Given the core differences and vastly increased I/O it should be quite a boost for NASes that are pushing 8+ drives and multiple GbE links as long as the cost is in line with the performance uplift. With 2x 10GbE links on the die, the compute:I/O ratio is much better than the Atom too.
Edge networking is the last group the Xeon-D is aimed at, specifically edge routing, edge security, wireless access, and base station duties. All of these need a bit of horsepower, energy efficiency, decent I/O, and some CPU power for packet twiddling. Once again the new chips should put the previous Atoms to shame in this market, 24x PCIe3 lanes plus 8x PCIe2 lanes adds a lot of I/O capacity for networking or storage controllers for that matter, the 5.4x uplift over the Atom C2750 is fair here too.
All in all the new CPUs are a good thing and fill a need for smaller networks and more bounded compute tasks. While the core count of the 'big' Xeon-E/ES line has skyrocketed recently, so has the price and system cost. Atoms on the low-end were anemic enough in single threaded tasks to be less desirable for many uses too, the hole in the middle was quite large. And potentially lucrative. Intel has finally filled that hole with enough parts to meet the needs of file and print, server, storage, and networking customers who don't need racks and racks of servers. As long as they are priced appropriately these 14 new CPUs should do quite nicely in the market.S|A
The following two tabs change content below.
Charlie Demerjian is the founder of Stone Arch Networking Services and SemiAccurate.com. SemiAccurate.com is a technology news site; addressing hardware design, software selection, customization, securing and maintenance, with over one million views per month. He is a technologist and analyst specializing in semiconductors, system and network architecture. As head writer of SemiAccurate.com, he regularly advises writers, analysts, and industry executives on technical matters and long lead industry trends. Charlie is also available through
Guidepoint
and
Mosaic.
FullyAccurate
Latest posts by Charlie Demerjian (see all)