MSI IS KNOWN for their Lightning branded enthusiast cards, basically hight end parts hand picked for OC-ing, with all the goodies to make that happen. Today at CeBIT, they announced the newest line of Lightnings, the Twin Frozr III.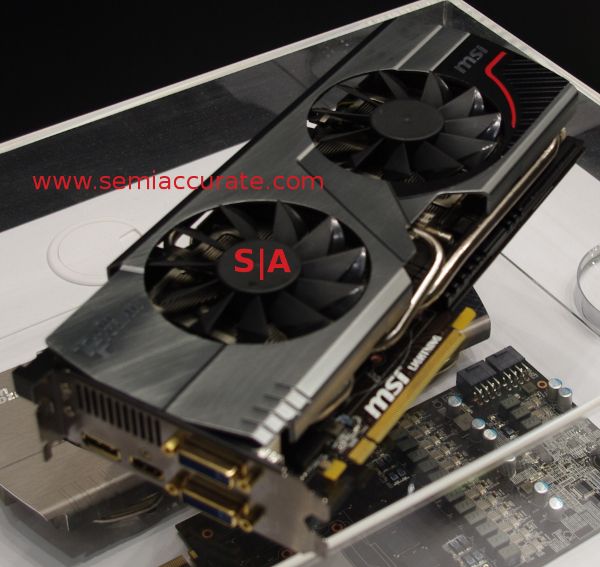 We welcome the new Frozr, looks like the old Frozr
At first glance, the new cards look a lot like the old ones, but the differences are quite real if you know what to look for. The first thing is the big metal plate covering the VRMs and other critical components. You can see it just below the heat pipe and above the MSI supplied watermark. It goes all the way around the card, and stays on even if pull off the fans and heatsink.
The plate is big and black
Since these cards are meant for the lunatic fringe of overclockers, the kind that uses liquid nitrogen for more than just cooling, they have obscene power management features. The new Lightnings have dual 8-pin power connectors on the 6970 and GTX580 versions, and sport 18 and 16 phase power respectively. MSI says the VRMs can probably route a kilowatt if you can feed them that much. Now do you understand the heat plate?
Everything else on these cards falls in to the categories of more and better except one, the MOSes. MSI is using copper MOSes for this card, a feature that seems unique in the GPU industry for now. I would call it a marketing trick but the rest of the card seems to take power management seriously enough so there is probably some very good reasons to use them.
All of the Lightning cards come pre-overclocked, with the ability to go much higher. If you have the coolers and the LN2, both the chips and the PCBs are spec'd to go higher than possible with plain air cooling though. It will be interesting to see how high these new designs will end up clocking in the wild.S|A
The following two tabs change content below.
Charlie Demerjian is the founder of Stone Arch Networking Services and SemiAccurate.com. SemiAccurate.com is a technology news site; addressing hardware design, software selection, customization, securing and maintenance, with over one million views per month. He is a technologist and analyst specializing in semiconductors, system and network architecture. As head writer of SemiAccurate.com, he regularly advises writers, analysts, and industry executives on technical matters and long lead industry trends. Charlie is also available through
Guidepoint
and
Mosaic.
FullyAccurate
Latest posts by Charlie Demerjian (see all)