Need a big case for your PC? No, think bigger than that, CFI has the case for you. They also have some nice small ones too.
You may not know CFI, Chyang Fun Industry Company, but they make cases in Taoyuan, Taiwan, and have probably seen their building on the way to Taipei from the airport. In any case, they make a lot of things, but we will focus on PC cases for now because that is what caught our eye at Computex.
The CFI-A1928, also known as the Diablo is a big case. Really big. How big? Big enough for not just one, but two complete PCs. In fact, it can even house a HPTX motherboard in the bottom section. The top section is only big enough for a mini-ITX board though.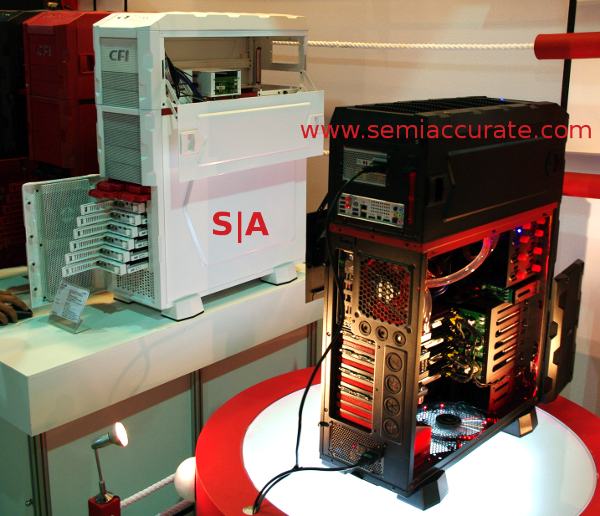 Note the top case on the bottom case
Yes, the Diablo will take two complete systems, one with up to ten, yes ten, slots. If you only need one at a time, you can separate the two completely and have two partial Diablos, mama Diablo and baby Diablo. We won't go through all the details, but there are enough bays, fans, and openings to keep you happy for a long time. Did we mention it is big? And comes in black, white, and red, all big.
To move to nearly the other end of the spectrum, the CFI-A2060 mini-ITX case has a few nice touches. We mean that literally, the best feature about it is the textured aluminum side and top. It feels really high quality, something that is overlooked by most mini-ITX cases.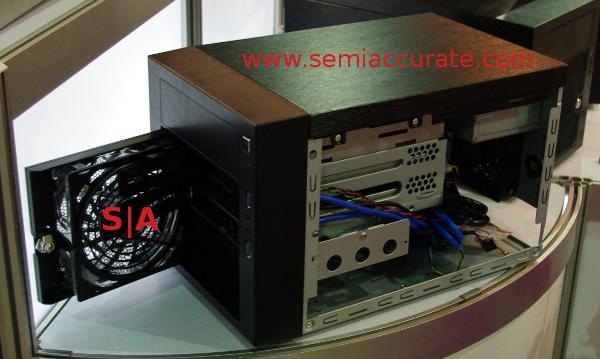 And on a much smaller scale…..
Other than that, the specs are pretty solid, starting with the 400W 80+ PSU and full front fan. There are two hot swap 3.5″ bays in front, another non-hot swap one inside, and a 5.25 bay on top. And yes, it has a blue LED to go with the blue USB3 ports on the front. Other than that, not much, but it really feels a lot nicer than you would expect, and that alone sets it apart from it's brethren. Both are worth a look.S|A
The following two tabs change content below.
Charlie Demerjian is the founder of Stone Arch Networking Services and SemiAccurate.com. SemiAccurate.com is a technology news site; addressing hardware design, software selection, customization, securing and maintenance, with over one million views per month. He is a technologist and analyst specializing in semiconductors, system and network architecture. As head writer of SemiAccurate.com, he regularly advises writers, analysts, and industry executives on technical matters and long lead industry trends. Charlie is also available through
Guidepoint
and
Mosaic.
FullyAccurate
Latest posts by Charlie Demerjian (see all)