The keynotes that we've seen so far at CES have been pretty lame. Our own Leo Yim characterized last nights Nvidia press conference as a, "heynote". Luckily for everyone involved AMD managed to put on a press conference full of interesting and substantial details today.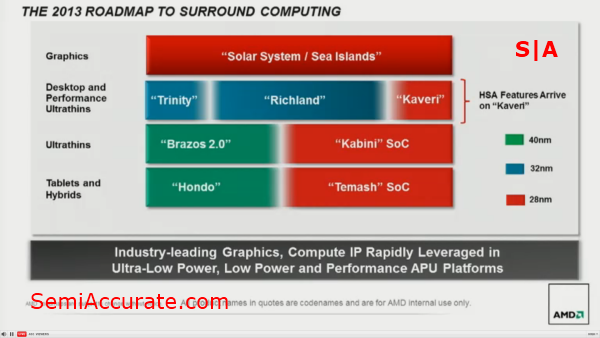 First off we have an update on AMD's 2013 roadmap. On the graphics side AMD is going ahead with it's Sea Islands family, which is something that we've been hearing for sometime now. Where things get more interesting is AMD's mainstream APU lineup. At AMD's Financial Analyst day last February there were two mainstream APU's on the road-map: Trinity and Kaveri. But as we covered in this article AMD has seen fit to introduce a stop-gap product based on the old Trinity APU called Richland. This is an APU that was necessitated by AMD's choice to push Kaveri back, or off the cliff, depending on who you ask. Any hopes that Richland might be a 28nm product can be safely put to rest with this roadmap.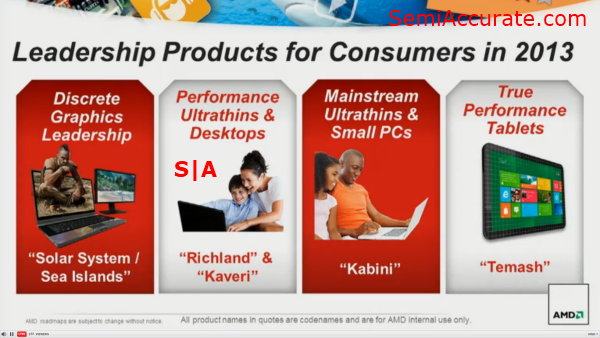 In the ultra-thin segment AMD is preparing to make a big push with the new Jaguar core and the Kabini SoC that was slated for H1 2013 introduction as of the last conference call. In the tablet segment AMD appears to be really trying to up its game in 2013 with the Temash SoC. Despite its promise, the current Hondo tablet APU has received a pretty cold embrace from the market do to a lack of design wins and major partners. Hopefully for AMD this will change with Temash, which is rumored to be the chip behind Microsoft upcoming Surface Pro 2 tablet.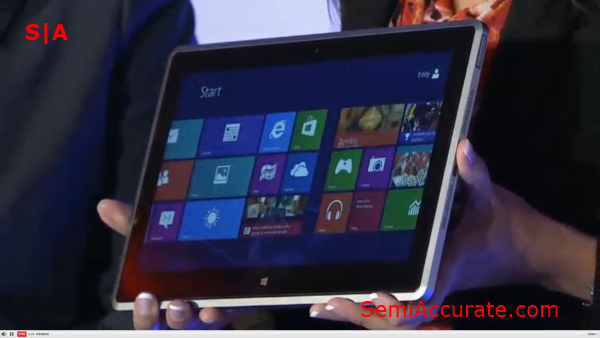 One of the biggest announcements from AMD today was a new partnership with Visio. A traditional television manufacturer, Visio has been trying its hand in a variety of different markets lately. Up until now Visio had been an Intel only operation, noted for it's sleek All-in-One desktop designs and disruptiveness as an upstart PC OEM. Change is in the wind though, as Visio introduced a 11.6″ 1080P tablet based on AMD's Hondo APU at the press conference.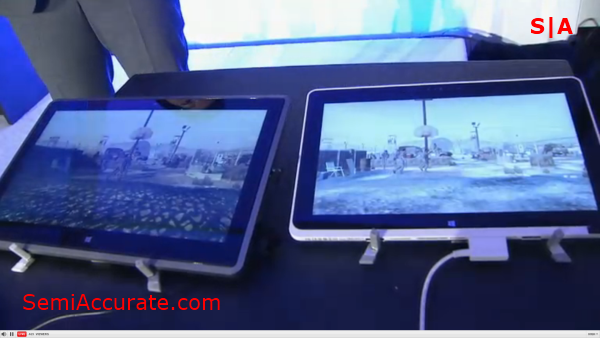 Physically, this tablet looks like an up-sized copy of Acer's Iconia W510, which is a Clover-trail based tablet that we looked at here. But it represents the first really credible AMD based tablet offering that we've seen this round.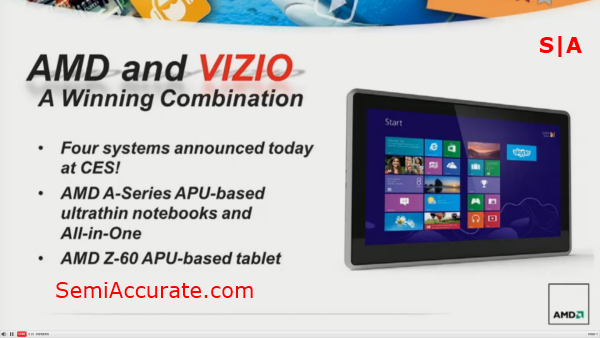 In addition to this tablet, Visio is also introducing two notebooks and one All-in-One system based on AMD's APU's. Visio is just starting to get a foothold in the PC market, and to the company's credit they already look to be shaking things up a bit.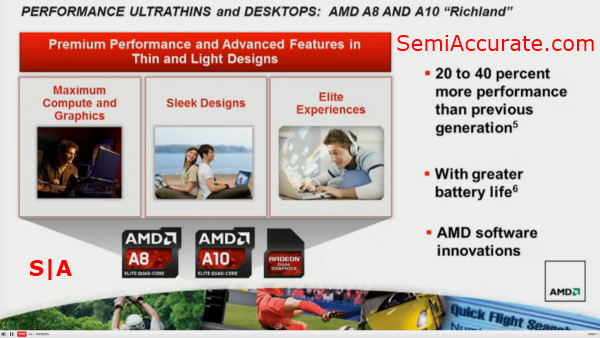 Looking at AMD's new Richland chip we can pick out a few interesting data points. AMD's next mainstream APU is going to occupy a smaller portion of the product stack than its predecessor. Where as Trinity filled the A4 to A10 lines, Richland will only be serving the A8 and A10 lines. Additionally, AMD looks to have a whole new slate of logos to mystify consumers with.
A promised 20 to 40 percent performance increase sounds almost to good to be true for a simple revision of Trinity on the 32nm process, especially in light of AMD's promises of improved battery life to boot. But the one thing that we can count on is the promise of software innovations. Back at AFDS, AMD was working on a number of software projects, like it's own Wireless Display technology, and a Media SDK aimed at enabling the user experiences that AMD keeps describing as Surround Computing. With Richland we're also likely to see the first systems supporting AMD's project Lighting Bolt hit the market.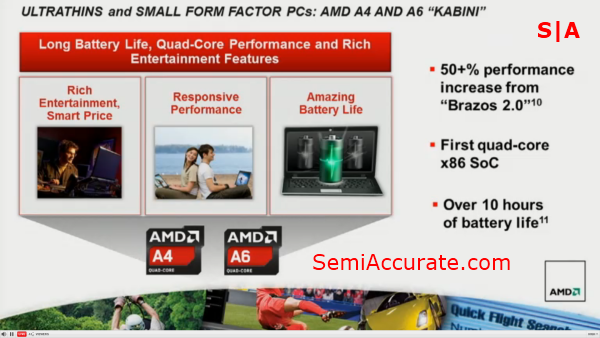 AMD's real poster-chip for 2013 is going to be the Kabini SoC, which is the follow on to AMD's quickly aging Brazos 2.0 chip. After AMD cancelled Wichita and Krishna last year things got pretty quiet on the low cost, low power APU front. But Kabini will go a long way toward reinvigorating this rather stagnant segment.
For those who don't remember the specs of this chip off of the top of their heads, Kabini is a quad-core SoC based on new AMD's Jaguar core that contains a Graphics Core Next (GCN) based GPU and integrates the south-bridge on to one monolithic die. For the longest time integrating the south-bridge was looked at as a low value target for on-die integration as most south-bridges contained older, less performance sensitive hardware, and were built on older process nodes. But now it seems that the benefits of tighter integration has finally out-weighed the increased cost of bringing less performance sensitive hardware on-die.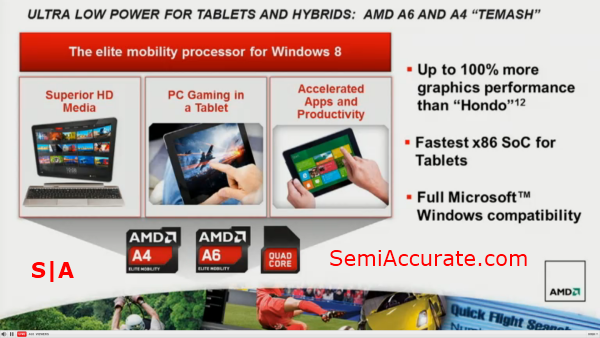 Temash is essentially the same chip as Kabini, except that Temash is aimed at the quickly growing tablet market. Practically this means that Temash will have a lower power envelope and end up in thinner systems, but it will retain all of the goodness that comes along with having a GCN based GPU, Jaguar CPU cores, and an integrated south-bridge.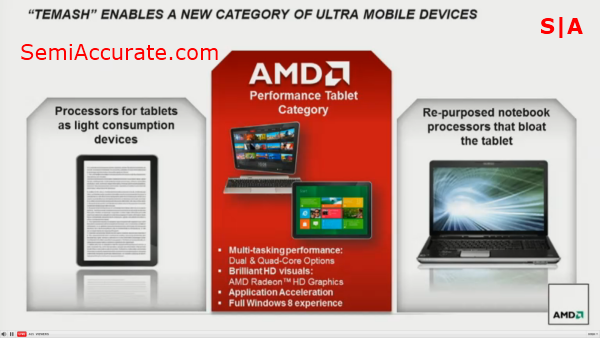 AMD expects Temash to create a performance tablet category that combines the power of a traditional laptop chip with the form-factor of a tablet. And while this is the same kind of marketing bluster that we hear every-time a new low power chips hits the market Temash has a good chance of filling that role better than the low voltage Core i5's and Atom chips that are currently serving that segment.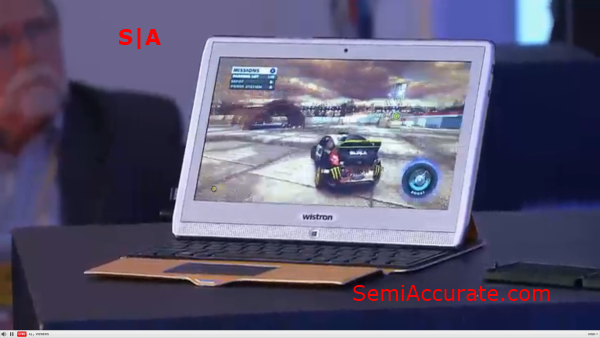 AMD showed off this 10″ tablet as an example of a Temash based system. Of course final products will look nothing like this system, but at the very least we know that AMD is capable of making products that scale down to this form-factor.
Two final gems came out of Lisa Su's presentation today. First off she mentioned that Richland is already shipping to OEMs. This is unsurprising news about product that is so close to launch, but it's nice to know that things are moving along. The other point that she was very clear about is that AMD's 28nm products (read: Kabini and Temash) are yielding well. Outside of possible wafer supply issues, it seems that things are going swimmingly for 28nm bring-up.
Thanks to AMD for breaking up an otherwise boring and forced slate of CES presentations with some substantial announcements and updates today, if only we could say the same for everyone else…S|A
The following two tabs change content below.
Thomas Ryan is a freelance technology writer and photographer from Seattle, living in Austin. You can also find his work on SemiAccurate and PCWorld. He has a BA in Geography from the University of Washington with a minor in Urban Design and Planning and specializes in geospatial data science. If you have a hardware performance question or an interesting data set Thomas has you covered.
Latest posts by Thomas Ryan (see all)