Gigabyte has updated the Brix mini-PC line at IDF with Haswell CPUs and some quite useful form factors. While the whole mini-PC line is still not going to take over the world, there are some niches where things like the Brix will fit well.
The most impressive box from the new lineup was the Brix Projector with an i3-4010U whatever that makes the CPU other than really expensive. It has a WVGA DLP projector on the top that puts out 75 lumen, enough for small meeting and a great replacement for huddling over an angled laptop screen. Haswell allows it to have two displays and since Gigabyte didn't make the case so small it is utterly non-functional like the NUC, you can put up to 2 mini-PCIe 1x cards in. This is a killer PC for a road warrior.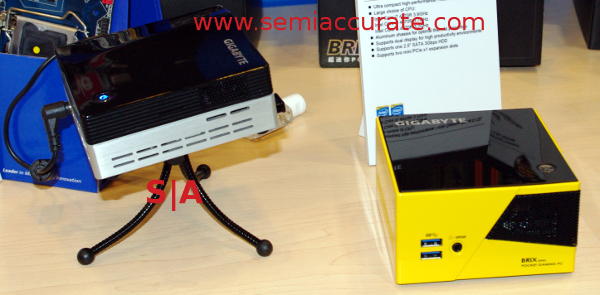 Brix Projector and Brix the non-postfix, both with Haswell CPUs
Second on the list is the yet to be named 'full size' Haswell Brix that has everything including GT3 graphics. It is much larger than even the Brix Projector, between 1.5-2x the internal volume from the look of it. This allows you to put in a 2.5″ HD/SSD and have a full wattage mobile CPU instead of the silly expensive -U variants. You can get an i5-4570R, i5-4670R, or an i7-4770R as a barebones system, then just add DDR3, a HD, and up to 2 mini-PCIe cards.
Not bad other than the eye-searing CPU prices but that isn't Gigabyte's fault. Until Intel decides that they want to price their CPUs at less than a Chromebook, don't expect this type of device to break free of its niche. $300 and way up CPUs don't make a good heart for something that competes with a $50 Android widget.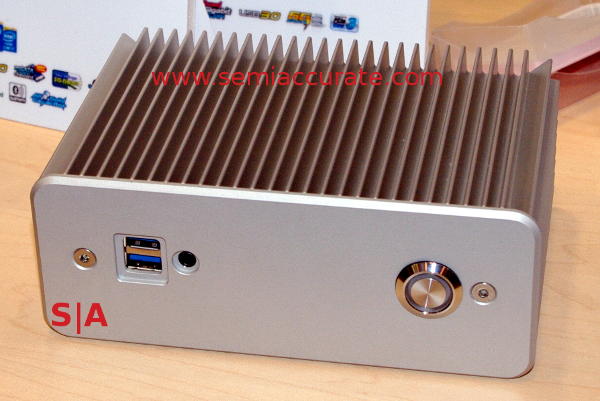 Brix II back of monitor PC barebones
Moving back to the realm of the interesting Gigabyte came up with another neat form factor for the Brix called the Brix II. This one is a finned aluminum case with VESA mounts for back of the screen PC applications. It has lower end Haswell's than the full size Brix and since Intel is purposefully obtuse with their sadistic naming schemes we won't list them off. The Brix 2 does however sport WiFi and Bluetooth v4 so it should be a nice one for signage too.
Gigabyte did right with the new Brix models be they Projector, II, or plain old vanilla Brix. The NUC misses the mark by being both useless and shatteringly expensive but unfortunately Gigabyte could only address one of those problems. Until sanity prevails the Brix line is going to be the best of its breed even if the niche it occupies is kept small.S|A
Have you signed up for our newsletter yet?
Did you know that you can access all our past subscription-only articles with a simple Student Membership for 100 USD per year? If you want in-depth analysis and exclusive exclusives, we don't make the news, we just report it so there is no guarantee when exclusives are added to the Professional level but that's where you'll find the deep dive analysis.
The following two tabs change content below.
Charlie Demerjian is the founder of Stone Arch Networking Services and SemiAccurate.com. SemiAccurate.com is a technology news site; addressing hardware design, software selection, customization, securing and maintenance, with over one million views per month. He is a technologist and analyst specializing in semiconductors, system and network architecture. As head writer of SemiAccurate.com, he regularly advises writers, analysts, and industry executives on technical matters and long lead industry trends. Charlie is also available through
Guidepoint
and
Mosaic.
FullyAccurate
Latest posts by Charlie Demerjian (see all)