[Editor's note:  Charlie is currently off schedule traveling in Asia. Any requests related to this article will have a delay in response. Please contact the usual suspects for scheduling help.   He will be back in the US timezone range next week.].
SemiAccurate has learned that Intel just pulled the plug on their struggling 10nm process. Before you jump to conclusions, we think this is both the right thing to do and a good thing for the company.
Update October 22, 2018@3:30pm: Intel has denied ending 10nm on Twitter. The full tweet is, "Media reports published today that Intel is ending work on the 10nm process are untrue. We are making good progress on 10nm. Yields are improving consistent with the timeline we shared during our last earnings report." SemiAccurate stands by its reporting.
Quotable Quotes:
Before we explain why knifing 10nm is good for Intel, lets start with a few quotes:
"We hear that internally Intel is quite worried about making the launch of Cannon even though it is still about a year away. This is no ordinary early silicon issue, it is a serious and unexpected problem. Coffee lake being added at the last minute between Kaby and Cannon should shed some light on the depths of Intel's 10nm woes, things are a mess. More when we get it, but for now, not a merry Christmas for those singing from hymnals D1C and D1D." -SemiAccurate Dec 22, 2016
"Doing the same job on a 14nm process results in cheaper chips that perform better. Intel has to put out 10nm parts because they are expected to by Wall Street. Don't for a second think the top brass isn't aware of this and actively making product decisions because of that pressure." -SemiAccurate Dec 28, 2016
"All of these things back up the three financial graphs Intel presented multiple times at Manufacturing day. Although costs are going up, with hyperscaling the net result is a great benefit for Intel, not the expected losses from node transition slips. This is all quite true if yields are the same or better for newer nodes. Intel normalized the graphs for some reason so you can't tell what the actual yields are, nor their effect on the financial outlook. If they are far worse on newer nodes as some have intoned, the rosy financial conclusions may not smell quite so sweet. If yields on 10nm are better than 32, all is well. Feel free to draw your own conclusions based on yields for current processes." -SemiAccurate April 4, 2017
"This says that Intel has roughly zero confidence in their current roadmap for 10nm, another insertion of a 14nm product undoubtedly means another delay to the above schedule. What does it mean? It means don't be surprised when the Q1/2019 conference call delays things yet again." -SemiAccurate May 21, 2018
"The 10nm Cannon Lake parts aren't real and never will be viable, financially or technically speaking." -SemiAccurate May 29, 2018
"Told ya" – Authors Note, Today
Don't Mourn:
For several years now SemiAccurate has been saying the the 10nm process as proposed by Intel would never be financially viable. Now we are hearing from trusted moles that the process is indeed dead and that is a good thing for Intel, if they had continued along their current path the disaster would have been untenable. Our moles are saying the deed has finally been done.
This isn't to say the road to this point has been easy or straightforward, and the road ahead is even less solid. Intel has continually moved the public bar on 10nm back, incrementally, while singing a different song internally. In their Q1/2018 earnings call they moved the timetables and spun it in a curious way but were telling partners a different story.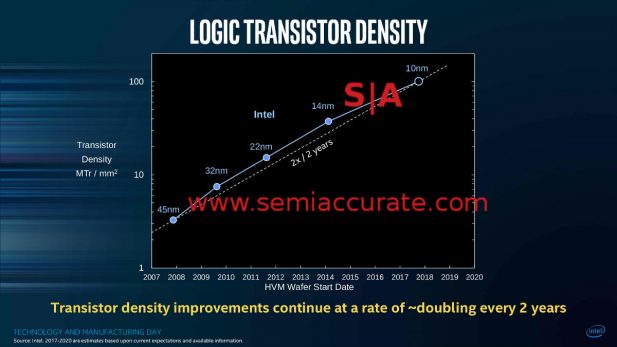 Don't ask questions, just enjoy the message
Nothing however tops the masterful "Hyperscaling" stunt where Intel brought in press and analysts to a 'manufacturing day' in early 2017 to explain how the crippling slide of 10nm was not actually a slide, it was a good thing and not a delay at all. SemiAccurate laughed and stopped just short of calling Intel liars.
The company redefined terms well past the breaking point to show that scaling was 'on track' even if node cadence was 'intentionally' longer. As you can see from the above graph, all was good publicly, internally SemiAccurate was hearing a very different story. (Note: Intel was on track to miss that graph by 1+ year and sliding before 10nm was killed.)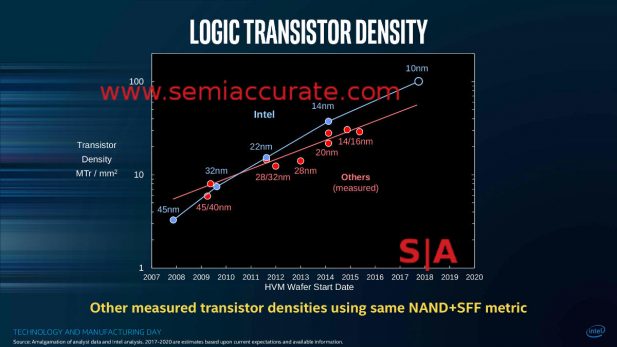 In their own words…..
The knifing of 10nm shows that Intel is finally willing to do the right things for the right reasons even if it costs them some short term pain, it is the first adult decision we have seen from the company in several years. Let us walk through the reasons why it is a good thing, from cost to timetables to competitiveness to management changes to potential product roadmaps. It is not a clean, easy or pithy story to pull a sound bite from but it is interesting.
Note: The following is analysis for professional level subscribers only.
Disclosures: Charlie Demerjian and Stone Arch Networking Services, Inc. have no consulting relationships, investment relationships, or hold any investment positions with any of the companies mentioned in this report.
The following two tabs change content below.
Charlie Demerjian is the founder of Stone Arch Networking Services and SemiAccurate.com. SemiAccurate.com is a technology news site; addressing hardware design, software selection, customization, securing and maintenance, with over one million views per month. He is a technologist and analyst specializing in semiconductors, system and network architecture. As head writer of SemiAccurate.com, he regularly advises writers, analysts, and industry executives on technical matters and long lead industry trends. Charlie is also available through
Guidepoint
and
Mosaic.
FullyAccurate
Latest posts by Charlie Demerjian (see all)