What do you get when you shrink a 14nm AMD Radeon RX580 to 12nm? If you said the new Radeon RX590, well you don't get any points because SemiAccurate feels this one was too obvious.
For both of you that didn't see this one coming, SURPRISE! For the other few million of you this is the obvious step forward for GPUs. GlobalFoundries' push-button not-a-shrink 12nm replacement transistor does what it says, replaces the transistors for a claimed 15% boost in clock speeds and 12% performance boost. Other than that it is a standard RX580, the details look like this.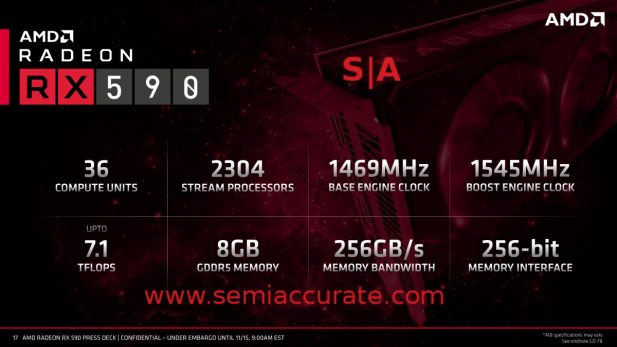 Radeon RX590 Specs
AMD is not shy about saying they are targeting the yawning gap in the market from between the 580/1060 and Vega56/1070 with this new part. With a $279 retail price it won't tempt many current gen RX5xx owners, and the same goes for GeForce 9xx/10xx owners. That said AMD sweetens the deal with three games, Devil May Cry 5, The Division 2, and Resident Evil 2, all of which are equally tempting to the author. Yes that was sarcasm but as we always say, if you were looking at these games anyway, an RX590 might be a decent upgrade.
Four variants at launch
This new GPU is obviously at the high end of the mainstream market and will launch with four cards. All of them are part of their respective vendors' overclocking/enthusiast lines with no mainstream/vanilla/reference rebadge parts out of the gate. If the picture doesn't make it obvious you will have devices from Asus/Strix, Sapphire/Nitro, XFX/noniftyname, and Powercolor/Devil.
Overall it looks like the GlobalFoundries 12nm process is living up to it's pushbutton claims. The originally promised 10% headroom that the not-quite-a-shrink buys is delivered upon and AMD has a new part in the meat of the market. It won't change the balance of power but it will add a few options if you are interested in 1080p gaming. The only thing missing is the inevitable monitor and GPU bundles but they can't be far off.S|A
The following two tabs change content below.
Charlie Demerjian is the founder of Stone Arch Networking Services and SemiAccurate.com. SemiAccurate.com is a technology news site; addressing hardware design, software selection, customization, securing and maintenance, with over one million views per month. He is a technologist and analyst specializing in semiconductors, system and network architecture. As head writer of SemiAccurate.com, he regularly advises writers, analysts, and industry executives on technical matters and long lead industry trends. Charlie is also available through
Guidepoint
and
Mosaic.
FullyAccurate
Latest posts by Charlie Demerjian (see all)