Qualcomm is launching their first 6-Series SoCs with a 5G modem today, the Snapdragon 690. SemiAccurate would love to tell you the gorey details of this new SoC but we really don't have very many.
The importance of this new chip is simple enough, it brings 5G service down to a much lower price point than before. Features that were in the playground of the 7- and 8-series SoCs before, that would be the $500-(My eyes are watering looking at that number) phones, can now be expected to possibly hit the $300 phone market. Since volumes go up as price goes down, this should make 5G phones proliferate quickly.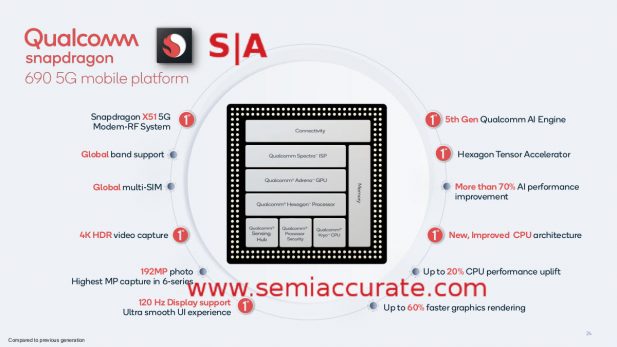 The block diagram of the chip
There were no detailed specs given other than the above slide and the one below but we can point out a few interesting details. First is that the Snapdragon 690 appears to be a symmetric 8C device so likely a tweaked ARM Cortex-A55, and it tops out at 2.0GHz. The process listed is 8nm so that almost assuredly means it is fabbed at Samsung on a modified 10nm node that they call 8nm for marketing reasons. That said it is slower but much much cheaper to make.
Update August 9, 2020 @ 2:15pm: Thanks to a reader we realized that the core info above is wrong. It is actually 2x A77 @ 2.0GHz max plus 6x A55 @ 1.7GHz max. Qualcomm refers to all this as a "Kryo 560" which is intentionally confusing and a practice that they need to change.
The specs for the 690
This cheaper process is counterbalanced by the X51 5G modem you need to make the Snapdragon 690 into the full Snapdragon 690 5G Mobile Platform (TM)(R)(C)(P)(LOL) isn't exactly cheap so expect 690 devices to be at the top of the mid-tier market, not the bottom. That said it will probably be the cheapest 5G SoC you can get, and since it appears to be the full X51, it will probably work pretty well too.
Last up is the imaging and AI. Qualcomm is claiming that the 690 will capture 4K HDR video and support 120Hz screens, FHD+ internal, QHD 60Hz external. This is a mid-range device so that 4K HDR is only 30Hz but that is still better than the competition. The AI is listed as a Hexagon 692 which unfortunately means absolutely nothing useful by itself. That said Qualcomm said that the AI engine is 5th generation so the hardware is the same as the Snapdragon 865.
So in the end what do we have? It looks like the Snapdragon 690 5G Mobile Platform (TM)(R)(C)(P)(LOL) is an octa-core A55 with an unknown GPU and ISP but a pretty powerful AI block. It is built by Samsung on a much cheaper 10nm process variant they are calling 8nm to make it look like the 7nm the higher end devices use but it isn't even close. The X51 5G modem is however the same part as the big boys so expect good things from it. In essence what we have is a mid-market performer with great I/O which should bring 5G down to the masses. That alone is a very good thing, the wider 5G spreads the better it is for everyone.S|A
The following two tabs change content below.
Charlie Demerjian is the founder of Stone Arch Networking Services and SemiAccurate.com. SemiAccurate.com is a technology news site; addressing hardware design, software selection, customization, securing and maintenance, with over one million views per month. He is a technologist and analyst specializing in semiconductors, system and network architecture. As head writer of SemiAccurate.com, he regularly advises writers, analysts, and industry executives on technical matters and long lead industry trends. Charlie is also available through
Guidepoint
and
Mosaic.
FullyAccurate
Latest posts by Charlie Demerjian (see all)