Today AMD is releasing the desktop version of their Ryzen 4000 APUs in both normal and Pro versions. SemiAccurate thinks there is a lot to like about these parts but messaging gets in the way of two thumbs up.
Once again we will say that we like these chips but AMD's non-disclosure of benchmark setups makes their numbers both unreliable and hypocritical. They really need to change the way they do disclosure, and do so soon, this has gone on for far too long already. Why AMD keeps doing this to themselves is beyond us, they win on merit so why taint it?
Back to the launch we have a total of 18 new SKUs, 3x Ryzen 4K with graphics on die (G), 3x with graphics and low power (GE), and 3x rebadged last gen parts labeled Gold/Silver (Bleargh). Repeat the same process with a Pro tag after the name but before the number and you have the other nine SKUs. It looks like this.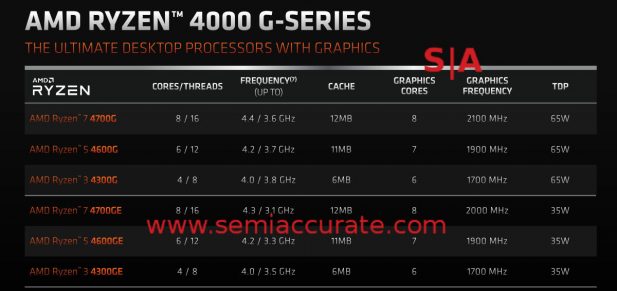 Ryzen 4000G/GE lineup
Ryzen 3000 Gold/Silver lineups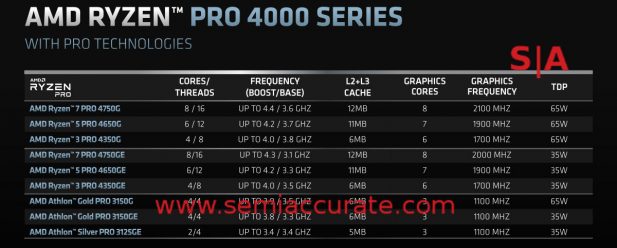 Ryzen 4000G/GE Pro lineup with added Gold/Silver
As you can see, AMD is doing the sane and sensible thing with SKUs, Papa Bear, Mama Bear, and Baby Bear. Unlike Intel which claims 'customer demand' is responsible for the idiotic SKU blizzard, and the same reason is responsible for it's removal when they are being beaten senseless in the market, AMD is opting for the simple approach that customers are actually demanding. It makes sense.
What is there to say about these new parts? 7nm, Vega graphics, 24 PCIe3 lanes (Note: Gold only have 16, Silver 8), and one die covers all of the 4xxx parts. The Pro versions have management and memory encryption not fused off as well. In short these are everything you expected, nothing more, nothing less, but that basically means they are a good thing. It would be surprising if they didn't beat their Intel equivalents at everything but a few corner case benchmarks.
These new parts work with the 5-series chipsets, that would be A520, B550, or X570 so they aren't a direct plug in to existing sockets but some OEMs will probably offer a BIOS that allows them to work on older boards, they always do. Eventually. In any case you know the platform, you know the CPUs from their class-leading mobile brethren, and there isn't much more to say.
When can you buy these new Ryzen 4000G/GE parts? Now if you buy a system with them in it, for the moment they are OEM only. Later in August they will hit retail so you won't have too long to wait for the DIY market. Unfortunately there is no MSRP for now because they are OEM only but when they are launched in boxed form, expect them to beat Intel on perf/$ like always. The real launch of the Milan based Ryzen 4000 line, sans G/GE, is still a ways off but it will be worth the wait, trust us on this one.S|A
The following two tabs change content below.
Charlie Demerjian is the founder of Stone Arch Networking Services and SemiAccurate.com. SemiAccurate.com is a technology news site; addressing hardware design, software selection, customization, securing and maintenance, with over one million views per month. He is a technologist and analyst specializing in semiconductors, system and network architecture. As head writer of SemiAccurate.com, he regularly advises writers, analysts, and industry executives on technical matters and long lead industry trends. Charlie is also available through
Guidepoint
and
Mosaic.
FullyAccurate
Latest posts by Charlie Demerjian (see all)