The part of Avago that was formerly LSI has announced a big update to their Syncro line with the new 9300 series. It comes as a kit or a complete system for two node hot failover but now runs at 12Gbps instead of 6Gbps.
When this part of LSI was still not part of Avago yet, they released a product called Syncro renamed from the older HA-DAS demo days. In short it uses SAS cards and clever software to keep two servers in sync, hence the name. No not Avago, Syncro. The older version was run on LSI, now Avago, 6Gbps silicon, the new news is that it also runs on 12Gbps silicon.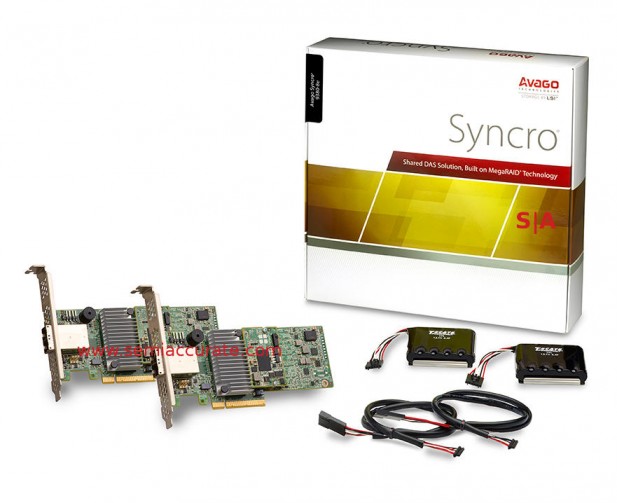 The full kit now with spiffy box
As you can see it comes with two cards, two cables, two supercap backup modules, and a slick box. One presumes there is a manual, a bunch of lawyer inspired warning sheets, and some packing foam not pictured in the above shot. It is hard to make this stuff sound sexy even if it is really useful, bear with me guys and gals.
There are two new models out today, the one above is essentially the 'kit' form called Syncro 9380-8e. If you want a more complete package you can buy the 9361-8i which comes with two server nodes and the cards, cables, supercaps, box, and assorted non-pictured stuff too. It is a cluster in a box in a "reduced form factor chassis".
There are two things that make me hesitate to recommend upgrading to this version, the first is the choice of OSes Syncro support. The 6Gbps version started out as Windows only but then added real OSes a few months later. If you want a 12Gbps Syncro, it is now Windows only once again but Linux and other adult OSes are promised to follow later in the year. To me it doesn't make sense to put high availability hardware on low reliability, unsecurable software but some people are immune to basic logic. For them, Windows Server 2012 R2 is just about perfect, carry on guys.
The other issue is very minor, LSI, pre-Avago but only just, was showing off 4-node Syncro on 6Gbps silicon. Moving from two to four nodes in a load-balancing hot failover mini-cluster has a certain appeal especially since it uses commodity hardware to build on. In short you can achieve a lot of nines for comparatively little cash with a 4-node Syncro cluster. That seems to have either been delayed or is absent, lets hope like Linux support it is just temporary.
In the end the news is about what we expected, Syncro is twice as fast. Once the offerings get fully fleshed out it will be a very useful tool for branch offices and other high availability but not zero downtime server use cases. Other than speed and the complete systems, it is just more of the same good thing.S|A
The following two tabs change content below.
Charlie Demerjian is the founder of Stone Arch Networking Services and SemiAccurate.com. SemiAccurate.com is a technology news site; addressing hardware design, software selection, customization, securing and maintenance, with over one million views per month. He is a technologist and analyst specializing in semiconductors, system and network architecture. As head writer of SemiAccurate.com, he regularly advises writers, analysts, and industry executives on technical matters and long lead industry trends. Charlie is also available through
Guidepoint
and
Mosaic.
FullyAccurate
Latest posts by Charlie Demerjian (see all)